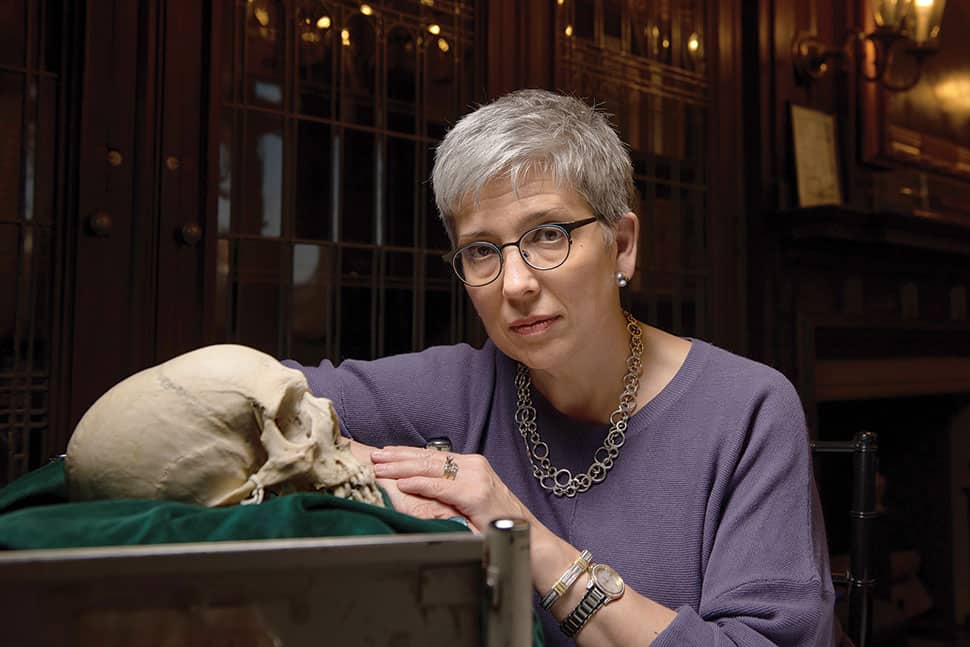 Unexpectedly finding a skeleton lounging in her office doesn't rattle Beth M. Lander, college librarian at the Historical Medical Library of the College of Physicians of Philadelphia.
"That's an excellent example of what it is like to work here," she says. "You never know what might happen next."
The college shares its library with the Mütter Museum, an institution known for its macabre medical materials, which span centuries. Sometimes those artifacts find their way into the hands of playful coworkers, so keeping an upbeat attitude is essential, Lander says.
The library holds more than 146,000 journals, monographs, photos, manuscripts, and other medical ephemera documenting more than 1,000 years of medical history. It also has five books bound in human skin—the largest such collection in the US. Three are bound in the skin of 28-year-old Irish immigrant Mary Lynch, who died at Philadelphia General Hospital in 1869. For unknown reasons, a physician removed skin from Lynch's thigh during her autopsy and used it to bind rare books on women's health and reproduction printed between 1601 and 1797. Lander says these are her favorite books in the collection.
"I'm very protective of Mary," Lander says. "She lacked agency in her life. Her immigrant status and gender would have placed her near the lowest rung of society at that time."
Lander does not consider the books morbid curiosities. "As with the other specimens in the museum, the Lynch books are not freakish," she explains. "They represent a point in time in the history of medicine, as well as a perspective that physicians had toward the human body. Those perspectives continue to inform us today."