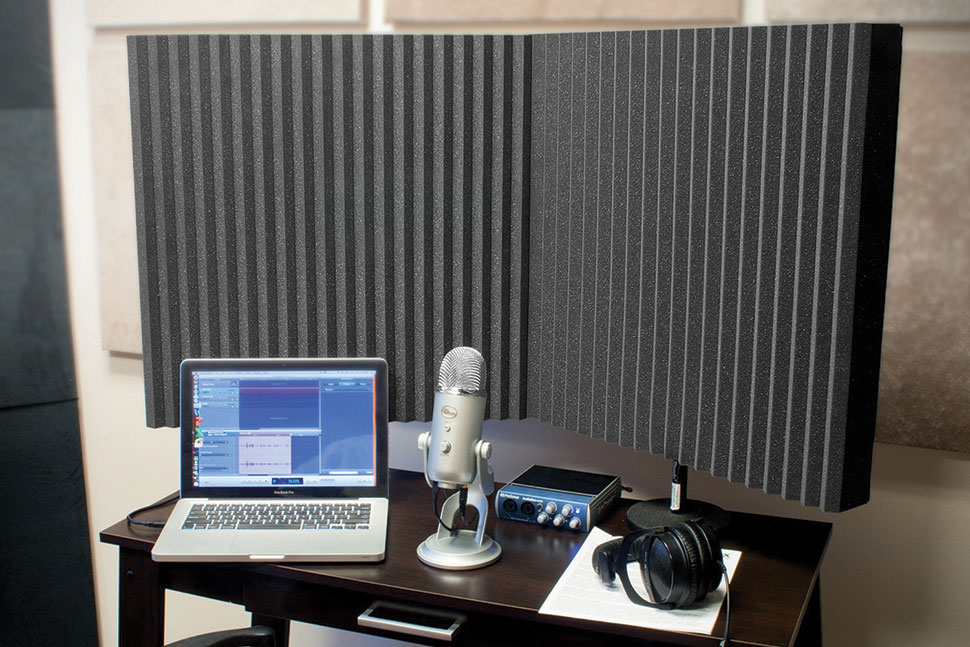 Podcasts have grown from a niche medium into an industry that reaches millions of listeners, while retaining its do-it-yourself ethos. The easy point of entry means that libraries don't have to invest in a full recording studio to assist podcasters, whether they are beginners or seasoned producers. From all-in-one mixing boards and editing and hosting apps to portable acoustic treatments, there are many ways libraries can contribute to the podcast ecosystem.
Auralex portable acoustic treatments
Room acoustics are easy to overlook, but the layout and shape of spaces noticeably affect the quality of audio recordings. Auralex offers a range of portable, lightweight, freestanding acoustic dampeners so you can create a temporary recording space for vocal work in an existing room without committing to permanent modifications.
The DeskMAX is a simple, standalone solution for vocal recording. Two 24-inch, stand-mounted panels can be positioned on a desk or other flat surface to absorb sound and prevent reverberations from solid surfaces behind the recording area. The panels are made of acoustic foam with a hard backing and come in three colors: charcoal, burgundy, and purple.
Launched in 2018, Auralex's MAX Kits bundle portable acoustic treatments in order to more thoroughly adapt spaces, such as meeting and conference rooms, for temporary studio use. The EditMAX and ProducerMAX kits include large, freestanding acoustic panels intended to line walls; stand-mounted bass traps (which control low-frequency sounds in a room); and monitor pads. The pieces in these discounted bundles can also be purchased individually.
In addition to podcast recording, portable treatments are also useful for managing acoustics during presentations, webinars, or other recordings. Portable treatments can be disassembled for storage after use.
Auralex acoustic treatments are available for purchase directly from Auralex or through its network of online and physical dealers. DeskMAX is $339.99, and MAX Kits start at $1,405.99 for EditMAX. For more information, visit bit.ly/Sol-Auralex. 
RØDECaster Pro
RØDE Microphones launched RØDECaster Pro, its fully integrated podcast production console, in late 2018. Users can record, mix, and save their podcast directly without a computer. A combination mixer and beat pad, the console lets users control eight audio sources. Its four XLR microphone inputs and four headphone outputs allow simultaneous recording by multiple guests. For phone interviews—often difficult for podcasters to record without specialized equipment or software—RØDECaster offers three different phone inputs: a 3.5-millimeter TRRS jack, a USB port, and Bluetooth connectivity. Finally, eight touch-activated beat pads, which come with preinstalled sound effects, allow users to add effects, prerecorded interviews, or commercials in real time. Users can also record directly to the pads or drag and drop other audio using a companion app (which requires Windows 10 or macOS 10.11). The pads store up to eight separate banks of sounds, for a total of 64 sound menus.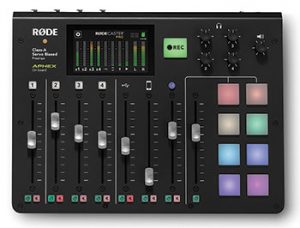 RØDECaster saves recordings to a micro SD card or records directly to a computer via USB port. Beginners can record their podcast as a single stereo file, ready for upload to any podcasting platform. Those who do more advanced editing can export recordings to their preferred digital audio workstation (DAW) as multitrack files, with each audio source on its own track. RØDE offers downloadable walkthroughs for common DAWs, including GarageBand and Pro Tools.
Using the console for multiple podcasts is simplified by the "show" function, which saves a copy of all settings, including recordings on the pads. Settings can later be restored to any RØDECaster Pro.
The RØDECaster Pro is available from online and physical dealers for $599. Library discounts may be available through some retailers. For more information, visit bit.ly/Sol-RODECaster.
Norman Weighs Anchor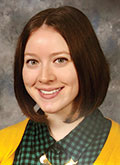 User: Molly Dettmann, teacher librarian, Norman (Okla.) North High School Library
Product: Anchor
Description: Anchor offers free podcast hosting and a suite of editing and creation tools to simplify podcast creation.
How do you use Anchor?
In our library we use Anchor to show learners how easy it is to record their own podcasts. We feature it as a creation tool on our library website and include it in lessons where students are creating final projects for research units, learning about digital storytelling, or creating personal passion projects.
How does Anchor serve your library's needs?
We won a Young Adult Library Services Association (YALSA) Digital Equipment Grant this summer for new podcasting equipment. Our grant project had students record podcasts about some of the YALSA Teens' Top Ten books they had read. For that, we needed a hosting platform, and Anchor was the obvious choice because of its functionality and ease of use.
What are the main benefits?
While some students use the mobile app, we mostly use the web version because each student has a MacBook and can plug in our audio recording equipment. Everything about the site is easy to use and understand. The design is simple, and Anchor's editing options are front and center once you log in. Anchor's single sign-on option—which allows users to log in with a Google account instead of creating a new username and password—made it easy to get started, since our learners all have school accounts. As for the editing capabilities, the background music option is one of my favorites because learners can pick audio to fit the mood of their podcast and preview several sound clips before deciding. Then, with a click, the music is added. It automatically starts off loud but then quiets when the actual podcast begins, giving it a professional feel. There are also transition noises and sounds that can be added, and recordings can be split up. Anchor publishes podcasts to multiple platforms, including Spotify. For our "North's Teens' Top Ten" podcast, almost half of our listeners are on Spotify.
What would you like to see improved or added to the platform?
I would like to see an option allowing users to make multiple podcasts. At this point you can make one podcast with multiple episodes and even break it up by season, but you cannot have multiple podcasts. It would be nice to see this option so learners could have a podcast relating to projects within school as well as personal podcasts.