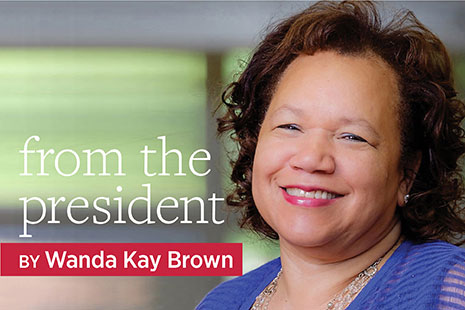 As library workers, we know the vital importance of accurate and complete data. That's why our community is so invested in achieving a complete count in this year's US census.
Quite simply, representation matters. If people aren't counted in, they will most likely be counted out.
That's because the census informs everything from districting for federal, state, and local offices to the allocation of as much as $1.5 trillion in federal funding to states and localities.
The census intersects with the work of libraries in several ways.
First, on a practical level, people are likely to head to their local public libraries to get accurate information and guidance. This year, the census will be conducted primarily online for the first time. This means that many people who don't have reliable access to a computer or internet connection will turn to libraries to complete their census forms online—although options to respond by phone and mail remain. The online form and phone assistance will be available in 13 languages.
Second, the census is an enormous logistical challenge, and it needs hundreds of thousands of people working to ensure its success. In that way, libraries are prime locations for people seeking to apply for one of the approximately 500,000 temporary census jobs open across the country. Libraries are playing an important role connecting job seekers to census employment.
Lastly, and perhaps most crucially, approximately $1 billion in federal funding for libraries will be allocated in the coming decade based on the 2020 data. If our counts are accurate, we can make sure that money is distributed fairly and equitably; if some communities are undercounted, their local libraries could lose out on available funding.
It's important to view this civic duty through the lens of social justice. Hard-to-count groups include recent immigrants, people of color, young children, and renters.
As we know, these populations are the among the most vulnerable members of our society. Therefore, it's our responsibility as practitioners who embed the values of equity, diversity, and inclusion into our professional practice to mobilize our communities and make sure everyone is counted. As library advocates, too, the census is a great opportunity to showcase our impact. Make sure your elected officials know what your library is doing to help achieve a complete count.
To support our members in this work, ALA has updated the Libraries' Guide to the 2020 Census. It includes the most current information available, including Census Bureau contact information, downloadable resources, and updated FAQs so you have ready answers to the questions we know are coming. Find updated information and resources at ala.org/census.
On another note, I want to take this opportunity to welcome Tracie D. Hall, ALA's new executive director. Tracie will work diligently beside Mary Ghikas, who is supporting the leadership transition through ALA Annual Conference this June.
We've been heartened to hear your cheers of congratulations to Tracie on her new role. On Facebook, ALA member Dale McNeill celebrated Tracie's appointment by paying it forward and offering to purchase three new ALA memberships for interested librarians. Thanks, Dale!
It's clear that there is a lot of goodwill and optimism around Tracie's new role, and we're thrilled to have her on board. You will begin hearing from her directly in the next issue when she takes over the executive director's column from Mary.