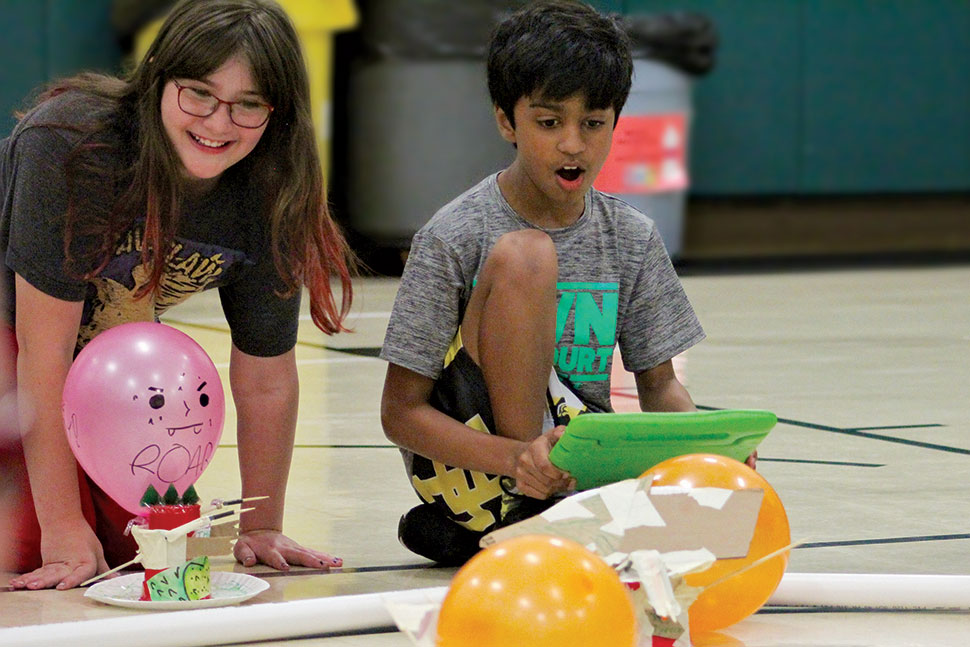 All's quiet on the gymnasium floor as students sit around a five-foot-long octagon made of PVC pipes. A robot, festooned with a bright pink balloon bearing a menacing monster face and the word ROAR, stands off against another balloon-bedecked robot across the battleground. With firm grips on iPad controllers, the students rev the robots toward each other until one balloon pops. The crowd cheers.
"As soon as you popped a balloon, it got everyone's attention," Jill Merkle, library media specialist at Greensview Elementary in Upper Arlington, Ohio, says. "It was fun to see the students rally and root for one another."
Merkle and Kristen Pavlasek, who now teaches 3rd grade at Greensview Elementary, teamed up in 2018 to create a year-end battle bot competition for all 4th graders at the school. The weeklong program included design, troubleshooting, and testing processes. "We wanted to implement design thinking with this project just to emphasize critical skills that students will need for the future," Merkle says.
Greensview Elementary library is just one of many across the country hosting similar clashes. Inspired by TV shows like BattleBots, these programs aim to cultivate a hands-on understanding of science, technology, engineering, and math (STEM) skills—one robot showdown at a time.
Choose your bots
Merkle received a grant in 2017 through the school district's Upper Arlington Education Foundation to purchase 12 Sphero SPRK+ robots—small, spherical robots that resemble the Star Wars droid BB-8. Using Spheros as a base, students built armored robot bodies using classroom supplies like cardboard, paper plates, pipe cleaners, and popsicle sticks to hold their balloons and pop their opponents'.
When librarians at Anythink Libraries in Colorado hosted a robot battle royale series at their Brighton (ABL) and Perl Mack (APML) branches last year, they used programmable DC motor kits available on Amazon.
"We've had some punching robots, one that could sweep the legs off another robot," says Jonah Vallez, teen services librarian at ABL. "We pushed the kids to think of what they could do with the motor kits."
Brittany Jacobs, youth services librarian at APML, says beyond the kits, most of the materials used for the programs were already in-house. Kids also brought in supplies from home they would have otherwise recycled. "It not only encourages creativity and innovation, but it also asks, 'What does it mean to upcycle?'" she says.
Team up
At ABL, Vallez partnered with local artist John Kelly, and the two met monthly to plan improvements and twists on the program. Kelly even has his own robot, Catbot, which he tinkers with to help work with kids. "The end result is usually a learning experience and an improved design," Vallez says.
MaryAnn Burden, youth librarian at Chester (N.J.) Library, sought help from a local teacher, Dan Weissman, who runs STEM programs through his business, Super Science Programs for Kids. While Burden had experience running robotics programs, she says she wasn't an expert, and Weissman was able to offer a helping hand as well as access to leftover parts like motors and controllers from his own programs.
Says Burden: "Finding somebody in your area who has that equipment and is good at doing these types of programs is half the battle."
Enter the ring
So, what's the rest of the battle? Competing with the other bots in the main event, of course. Robots can duke it out in many ways: some as simple as popping balloons or knocking other bots off tables, and some as complex as ABL and APML's Fortnite-inspired battle royale, which featured a shrinking battlefield like the popular online game.
The battlefield was a distinctly low-tech invention: Jacobs made three concentric rectangles with different colors of duct tape. The robots were bound by the outermost rectangle and, as players knocked each other out, Jacobs removed the duct tape to shrink the boundaries.
Still, "it feels like Wrestlemania," Vallez says.
Sometimes, an overall win isn't the only goal. Vallez says librarians build side by side with kids to challenge them. "There's this kid whose one goal in life was to beat me," he jokes. "Just to see him turn it around on his own and figure [it] out with the goal of, 'I will beat Jonah and come out on top,' was exciting."
And although the competition is fierce, each contestant gets to exercise STEM skills that they may not have exposure to at school. A 16-year-old girl who attends the program at APML regularly "went from not knowing any of the language to being my right-hand lady," Jacobs says. "She's been able to showcase her skills and hone them while teaching other kids, which is a cool full circle."
Vallez says the first step to starting a battle bots program is to try it yourself. "If you're curious, build a robot," he says. "It shows you how simple it can be.