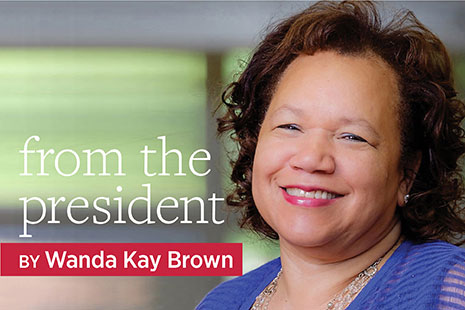 The world around us has changed so much since my last column, it's hard not to get a little dizzy thinking about it.
COVID-19 and the novel corona­virus have upended our way of life and altered the way we as library professionals do our work. Of course, it has also impacted the American Library Association in profound ways. In March, the Executive Board made two difficult decisions: First, to recommend the closing of all libraries to all patrons. And second, to cancel our Annual Conference for the first time in 75 years.
What hasn't changed since the last time I wrote is my faith that as librarians and library workers, our greatest strengths are our abilities to adapt and reinvent ourselves when needed most.
As libraries across the country close their physical buildings, they have opened their digital doors, allowing patrons to apply online for temporary digital cards and leaving on (and in some cases strengthening) their Wi-Fi signals so patrons can still access the internet.
"People depend on our libraries for access to a number of services, including free wireless internet, that they might not otherwise have," Charleston County (S.C.) Public Library Executive Director Angela Craig told a local news station. "Especially while children are asked to work on schoolwork from home, it's vital we keep doing everything in our power to provide for everyone in our community during these challenging times, including those without access."
Distance assistance is becoming common, too. Sure, ebook lending is up, but so too are innovative programs, like those by reference librarians at the Public Library of Cincinnati and Hamilton County in Ohio, who are encouraging community members to book virtual 30-minute one-on-one appointments to help with everything from finding a job to navigating small business loans through their online My Librarian service.
The examples are countless.
Spokane (Wash.) Public Library's downtown location will temporarily house those experiencing homelessness while their community grapples with the pandemic.
Michigan State University Libraries donated more than 100 N95 respirators and 500 disposable gloves to health care workers; they use these materials in the restoration of centuries-old texts, but they also keep them on hand for disaster preparedness.
Dani DiAmico, children's librarian at the Sage branch of the Bay County (Mich.) Library System, is continuing her popular ­storytimes on YouTube.
With their 3D printers idling, staff members at University of Utah's J. Willard Marriott Library, Spencer S. Eccles Health Sciences Library, and Lassonde Entrepreneur Institute are working together to produce and distribute face shields for the health care community.
Hillcrest STEAM Academy's Melanie Ryberg reports that while the Belton (Mo.) School District is closed, the library is assisting teachers and linking staff and students to online resources for readers. Rachel Milani of Hibbing (Minn.) Community College Library has been using Zoom to create drop-in virtual reference services. Robbie Barber at Tucker (Ga.) High School said she is supporting teachers and students via email and text as they learn to operate remotely. She also created a Google Classroom to let teachers see what the interface looks like from a student's perspective.
All these stories make me feel even more confident about something I said when we canceled conference: May these challenging and uncertain times find us working even closer together so that our libraries, our communities, our association, and our families will all thrive.