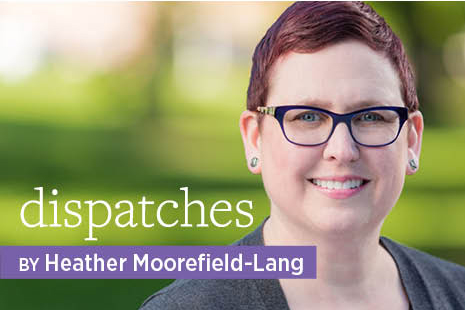 When you hear the terms digital legacy or digital afterlife, what comes to mind? An episode of Black Mirror, maybe, or the sci-fi series Upload, in which characters choose their own afterlives? How about The Good Place?
The themes of afterlife and legacy have become prominent in popular media over the past few years, but the lifecycle of our digital footprint is less understood.
The Digital Legacy Association, a British organization that hosts annual conferences on the topic, defines digital legacy as the digital information left behind when a person dies. How that information is stored, shared, and protected is incredibly important, and this is where we as librarians can play a role as educators and curators.
Librarians have an opportunity to help patrons understand their online behavior while also protecting the legacies they will leave behind. When discussing digital citizenship with library patrons or students, we typically talk about responsible behaviors in a technological society, focusing on topics such as cyberbullying, cyber safety, digital footprints, and sometimes cyber security. It is important for our students and library patrons to understand that the lives they build online will far outlast their physical lives.
While it may not sound like the most exciting lecture or professional development workshop topic, it is still incredibly important. We are digital citizens much longer than we are mortal ones. Facebook pages, Twitter and Instagram posts, Pinterest boards, and even Snapchat snaps—all this content has the potential to outlive the person who created it.
Think back—way back—on everything you have ever posted online. If your digital life were a closet, how packed would it be? How much purging would you need to do to empty it, as if you were making a big move?
Understanding what we digitally own versus what we can access online is important as well. For example, you can access music—but not own it—via services like Spotify, whereas files you store digitally in cloud servers like Dropbox or Google Docs belong to you.
Things to think about:
Just as you might reorganize your closets twice a year, it's also important to review and clean out your digital files and accounts. If you have not used that LinkedIn page in three years, maybe now is the time to delete it. If Facebook has not served your needs lately, maybe it's time to get rid of that account, too. Digital Legacy Planning Librarians can help patrons evaluate their online footprint
If you have not already done so, speak with an estate attorney about your physical and digital property (such as sentimental materials like family photographs). If you do not want to involve a lawyer, you can always research how to write a will online. It is an easy document to fill out, and a notary stamp is all you need to make it official.
Have an open conversation about digital content with your family, friends, loved ones, and heirs. Death is not the most exciting or welcome of topics, but it happens to 100% of us. Failure to discuss the topic realistically can leave your heirs in the lurch.
Be realistic about your digital assets and belongings. What do you have? Make an inventory for those who will inherit it. Revisit and update this list regularly. Make sure you have a way for loved ones to access your accounts.
Appoint a digital executor for your online life. This can be the executor of your will, or it can be a designated web service. For more on this topic, see Jan Zastrow's article "Online Legacies and Digital Estate Planning" in Computers in Libraries.
When it comes to digital legacy, a little bit of advance planning and mindful preparation goes a long way.
Adapted from "Digital Legacy," Library Technology Reports vol. 56, no. 5 (July 2020).