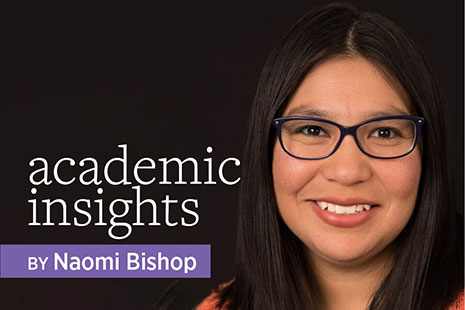 As academic libraries open their doors to students again, public health and safety should be top priorities. And yet some states have banned mask mandates and won't make vaccinations compulsory for students and staff at public colleges and universities. These decisions about public health care affect everyone, but some populations feel the impact more than others.
I am a health science librarian at University of Arizona's Phoenix Biomedical Campus. I am also Akimel O'odham (Pima) from the Gila River Indian Community. From a Native perspective, the needs of the community are greater than the wishes of the individual. Mask mandates are in place on tribal lands, and colleges and universities occupy the unceded land of tribal nations. Earlier this year, I asked my supervisor to purchase KN95 masks for our staff members and wrote an open letter to students encouraging them to wear masks indoors. To me, supporting one another means, at the very least, wearing a mask in your library and in your community.
The COVID-19 pandemic has disrupted life for all of us, but infection and death rates among racial and ethnic minorities in the US are much higher than national rates. Sadly, this outcome fits a pattern: From higher infant mortality rates to the increased risk of being killed by law enforcement, communities of color are disproportionately affected by health care inequities. Learning about racism in medicine and understanding our own privileges and biases are initial steps we can take as we advocate for change.
Students must learn about the bias in algorithms and diagnostic devices that adjust risk assessments or outcomes based on a patient's race or ethnicity. For example, without offering sufficient medical rationale, the American Heart Association's Get with the Guidelines heart failure risk score assigns fewer points to all Black patients, thereby categorizing them as having a lower risk of death when admitted to the hospital, which could delay emergency care, putting their lives in danger.
Communities of color are disproportionately affected by health care inequities.
Librarians can play an integral role in addressing medical racism. In 2020, my library created a LibGuide for the College of Medicine–Phoenix (COM-P) titled "Racism in Medicine and Healthcare," which includes articles, books, and research studies on racism, discrimination, and health disparities. The guide has since been adopted by College of Medicine–Tucson for assigned student readings. I also co-led a journal club with about 20 faculty members, staffers, and students from our campus, as well as a librarian from University of California, Riverside, discussing the article "Changing How Race Is Portrayed in Medical Education: Recommendations from Medical Students" and what actions COM-P could take in this area for our students.
Our libraries' archives and special collections document genocide, historical trauma, slavery, and government policies. Our job as librarians is to ensure that our materials and collections include these items as context for health disparities, social determinants of health, and structural racism. Our own policies regarding access to materials also need to be evaluated to ensure we are providing equitable access for students.
We can speak up to advise our institutions to conduct ethical research and ensure Indigenous data sovereignty, the right of Indigenous people to control information from and about their communities and lands. We can also support community-based participatory research, which bridges the gap between science and practice through community engagement and social action to increase health equity.
The COVID-19 pandemic underscores how important public health is to our campuses and community. In responding to this crisis, we can transform our libraries so that the students we are training now—and the faculty and staff members who are teaching them—will make race-based health inequities part of the past.