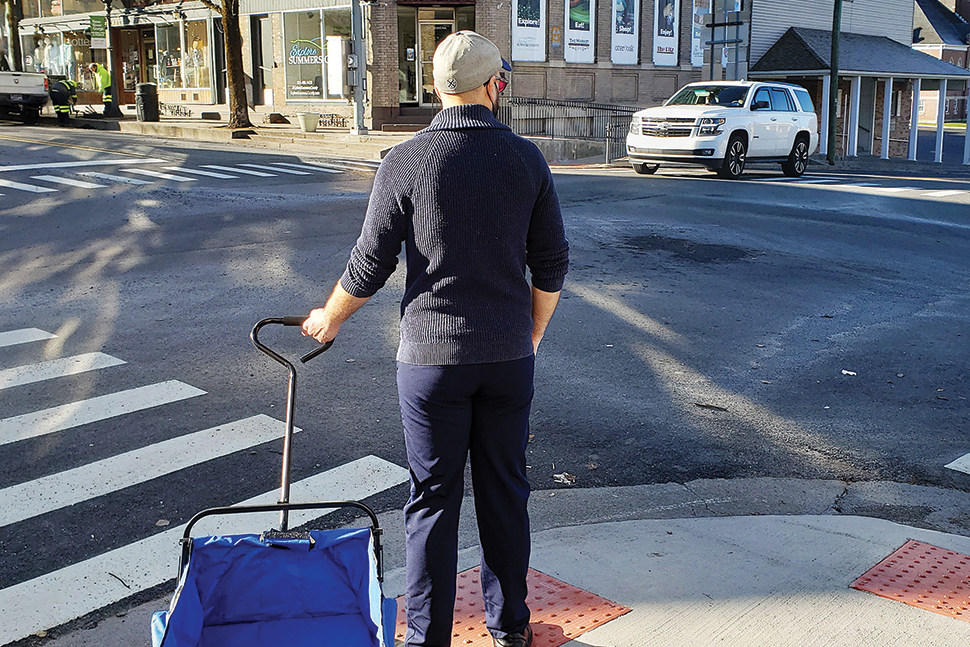 In November 2021, the Hinton (W.Va.) Police Department took to Facebook with a complaint. The department said shopping carts abandoned across the city were an "ugly sight" and warned residents that removing these carts from a store's property was unlawful and would come with penalties. Summers County Public Library Director Austin Persinger read the post and its comments and saw a deeper problem in his Appalachian community—one that he set about addressing in a simple way.
At the core of library work are stories. We listen to our patrons' stories when we perform a reference interview, readers' advisory, or a community needs assessment. We interpret these stories to supply our users with the best information and resources to fit their situation. Often, this is simple, but other times this requires close listening and careful attention.
Last November, our local police department wrote on Facebook that it had received complaints about misused and abandoned shopping buggies strewn about Hinton, our city of 2,800 people. Some community members commented on the thread that the buggies were an eyesore and stores were finding it hard to recover lost property. The police, using the tools at their disposal, threatened disciplinary measures for what it referred to as the unlawful removal of buggies. I thought this was a knee-jerk reaction and not the best solution for the situation.
I read this story through the lens of a rural librarian conducting a reference interview. What I was being told was that the city and stores suffer because people steal and abandon shopping buggies. But the story that I heard was that there are lower-income people in our community who take these carts because they live in a food desert and lack reliable transportation.
Stores in Hinton lie at the bottom of a steep hill. The sidewalk is inadequate and dangerously close to traffic. Depending on where someone lives in the city, going to the store might be one-to-six miles round trip. A gallon of milk and sack of potatoes can weigh about 13 pounds. There is no simple or comfortable way for people to carry their groceries home. Buggies make the trip marginally better, but when they're being pushed uphill on a broken sidewalk—instead of on the polished floors they were designed for—the trip still isn't easy. After walking many miles to get groceries, walking many more to return a shopping cart seems exhausting and unreasonable.
People tell us they are grateful we are assisting them in a real way.
The complaint bothered me, so I entered the conversation to talk about the concept of the Library of Things—that our institutions can loan so much more than books—and how Summers County Public Library could help. I began soliciting donations on various Facebook pages and through the local newspaper for a fleet of lightweight, collapsible utility wagons that cost about $100 each. Project Buggy Buddy had a fundraising goal of $1,200; community response to the idea was enthusiastic, and we raised $2,000. We began checking out six wagons within a month and have six more on order.
The wagons in our fleet are designed to go over rough surfaces, and a five-day checkout period removes pressure to return them immediately after a trip. We don't charge fines if wagons are returned late—though, in the first four months of lending, all of them have been returned on time—and we allow renewals if needed. The program has been successful: It is popular among users, is eliminating the guilt and fear of harassment for taking buggies, and has engendered goodwill and renewed interest in the library.
People tell us they are grateful we are assisting them in a real way. One patron said that using the wagon allows them to buy items in bulk, which has helped them save money on groceries.
We have myriad needs and problems here in Appalachia. Lack of transportation may not be the biggest, flashiest, or first problem one thinks of, but it causes an undue burden in our communities. Our crowdsourced fleet is a Band-Aid on the issue—our way of alleviating the problem in a small but helpful way. Solving the rural infrastructure problem may be too big and complex for me and my library, but I am happy to get the wagon rolling.