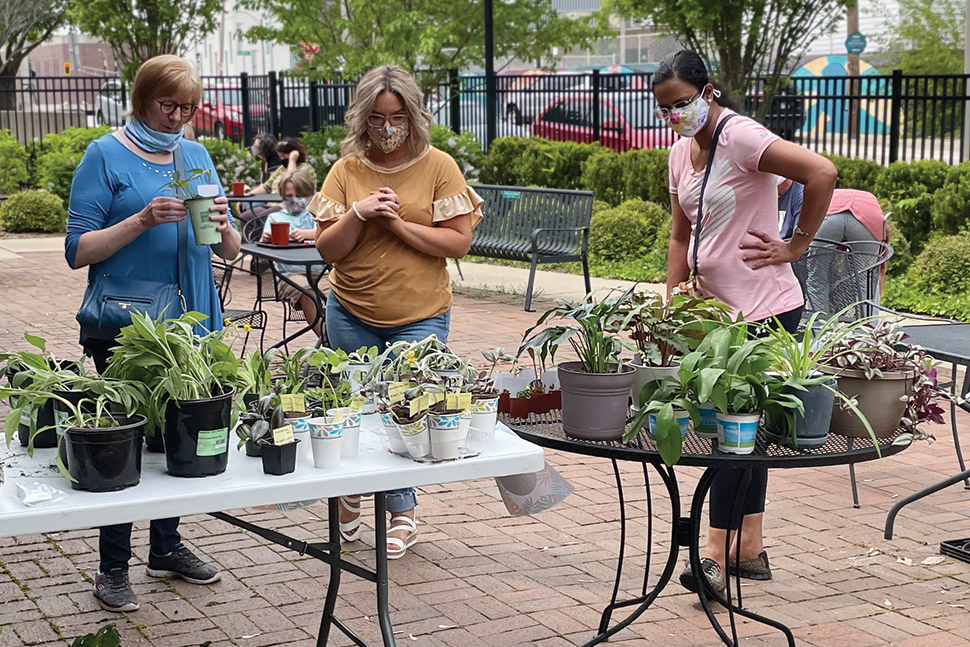 A solitary plant sat on a table after a plant swap at Bloomington (Ill.) Public Library (BPL). It was a large spider plant marked free for anyone to take after a 2020 program, recalls Mimi Davis, BPL's adult services librarian. Although no one took the greenery that day, its abundant plantlets were distributed the following year as part of a kids' program—and the spider plant's original owner happened to be there to see it.
"Oh look, there's Fred!" Davis recounts the plant's original owner calling out, revealing the donated spider plant's name. "And his babies are getting new homes."
These special reunions between plant owners and their beloved sprouts are the culmination of plant swap programs, where gardeners exchange their plant cuttings and share knowledge on how to grow or care for them with their new keepers. In the age of COVID- 19, as librarians have looked for ways to engage patrons outdoors, plant swap programs have naturally blossomed.
"It was a perfect pandemic program," says Davis. "We've hosted it three times, and each time is bigger and better than the one before."
Lancaster (Wis.) Public Library's (LPL) Bring Your Own Plant (BYOP) program kicked off last year, and Manager of Library Services Jennifer Wolfe reports her staff has been thrilled with its popularity. "We were looking for adult programs that would do well outdoors, because we were still very much in COVID times," she says. "It was low cost; we bought some soil and plastic cups, and it was easy to put together, which was ideal since we were also short-staffed."
It soon became apparent that a follow-up program would be needed after the initial program's popularity. LPL scheduled a second BYOP just a few weeks later. "We got so many requests to do it again," Wolfe says.
Cultivating community
Swapping plants can cultivate a community of garden-loving patrons at the library, while also inviting beginning gardeners—or patrons who have never gardened before—to join in.
"It's wonderful to provide a place for people to connect over something they love," says Bette McDowell, adult services librarian at Pflugerville (Tex.) Public Library (PPL), where plant swap programs began a couple of years ago and are projected to run every quarter. "Newer gardeners can learn from those with experience, and gardeners who have been at it for years can share their knowledge," McDowell says. "Growing and raising plants is a fantastic skill to have, and these events help gardening seem less intimidating."
At Bexley (Ohio) Public Library, Adult Services Manager Whitney Carr found her plant swap program to be a valuable conversation starter. "It got people talking and sharing their love for, and knowledge of, plants," she says.
To ensure a plant swap at the library flourishes, Carr recommends taking timing into consideration. "We host them [when] people would be starting new items in the garden," Carr says, adding that the library also recently installed a "plant-sharing station" to accommodate year-round swaps. Her library also tied a plant swap to National Houseplant Appreciation Day on January 10.
Newer gardeners can learn from those with experience, and gardeners who have been at it for years can share their knowledge.
To complement the swaps, PPL invites groups like the local Master Gardeners Association chapter to conduct plant clinics and answer questions about gardening.
BPL's Davis says promoting a collection of gardening and houseplant books and including other library departments, such as teen or children's services, for a collaborative experience—strategies her library has implemented—may also work.
McDowell stresses the importance of having plenty of boxes, garden tools, labels, and old nursery pots on hand. She also points out that librarians should anticipate guests who might be interested but won't have plants of their own to trade. To accommodate those guests, she suggests, the library can have a few extra plants prepared as additional cuttings.
As far as where to host the swap, outdoors may be a convenient option. But if you're hosting indoors, Carr advises leaving ample space for patrons to gather and "geek out about plants." The program at Bexley was set up in the lobby, but she points out that next time, they'll choose a space where people can linger and chat.
"Plants form beneficial relationships with each other, and I think we as humans can learn a lot from that," Davis says. The plant swaps have been "a bright spot of community and togetherness in a time where we've been separated and isolated from each other."