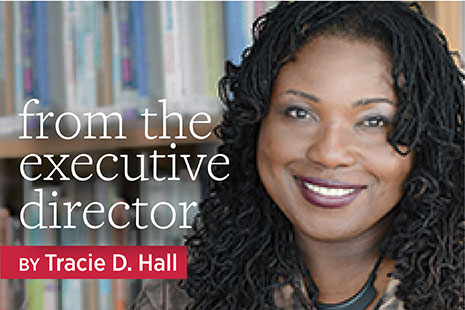 When the younger son of a family I had grown up with was incarcerated, I sent him three books. I had picked out each carefully: autobiographies written by Black men who'd similarly gone to prison in their youth and used that experience to turn their lives around. I was shocked when prison officials returned all three, saying the titles were not allowed. As a young librarian then, I was unsettled that they had labeled the books and themes as contraband. Shouldn't a prison, of all places, welcome opportunities for learning—especially given the connection between low literacy and incarceration, and conversely, the role of reading as a deterrent of recidivism?
There is a long history of denying reading skills or access to particular groups, including incarcerated people, unpaid and low-wage workers, enslaved and colonized communities, and women.
Ken Bigger, a new senior fellow in ALA's Center for the Future of Libraries, connects literacy to civic fluency in his research. Bigger raises this point: The prison industrial complex actually gains from low literacy.
The same is true of any exploitative system whose propagation depends on its subjects having as little information as possible. In these systems, reading is considered a distraction at best or an infraction at worst. Those who gain reading ability and access earn a "fugitive" or transient literacy in which they cannot be "caught" reading and in which full literacy is seen as aberrant, or reading material is policed or confiscated.
Too many institutions that could help instead routinely normalize low literacy and inadequate information access: school systems that fail to ensure all students reach grade-level literacy; social services institutions that ignore needs for adult literacy support despite cyclical underemployment, poverty, and homelessness; and employers that ignore the connection between full literacy and productivity.
Approximately 32 million adults in this country can't read. The last two years have seen a rise in lawsuits in places like California, Michigan, and New York asserting literacy as integral to the 14th Amendment, which provides equal protection under the law. Studies also show that literacy is a multigenerational issue. The National Bureau of Economic Research estimates that 72% of the children of parents with low literacy skills will experience low literacy themselves.
Calls for library intervention and support are not new. In 1979, literacy rose to the fore of the concerns of the more than 3,600 participants convened for the first White House Conference on Library and Information Services. At that meeting, literacy was determined to be foundational to democracy and productivity, and the low rate of literacy at that time was declared a crisis that libraries could not ignore.
Today, as the number of adults—one in five—who are not functionally literate increases, the crisis intensifies. This has been especially true during the pandemic. As John Agada, ALA's second Center for the Future of Libraries senior fellow and inaugural researcher in its new ­Institute for the Study of Race in Libraries and Information Technologies, notes: In times of crisis, people marginalized because of race, income, and literacy face the "harshest ­outcomes." Those with limited literacy are particularly vulnerable, as they have to rely on others to direct them on where to find help.
My next column will close this series on libraries and literacy with a focus on how ALA and libraries nationwide are responding to the profound literacy needs in our communities.