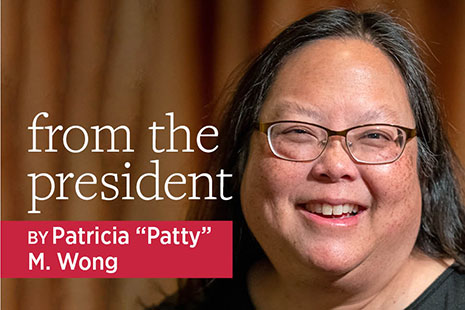 The freedom to read is essential to our democracy. It is continuously under attack. Private groups and public authorities in various parts of the country are working to remove or limit access to reading materials, to censor content in schools, to label 'controversial' views, to distribute lists of 'objectionable' books or authors, and to purge libraries."
Those words were not written about the current spate of book bans, although they certainly apply. They were written nearly 70 years ago, as the ravages of McCarthyism, censorship, and persecution made it necessary to codify a defense of the reading choices of individuals. The 1953 Freedom to Read Statement remains a rallying cry for all information professionals, and it's just as apt and prescient today as it was when it was released.
It is foundational text that I find myself returning to as I consider the state of the Association and the profession, and as I prepare to close my term as president. I'm struck by how much (and how little) has changed since the statement was adopted. Through it all, ALA has been the leading voice in the fight against censorship—from that first statement to the founding of the Office for Intellectual Freedom in 1967, the establishment of the Freedom to Read Foundation in 1969, to this present time—and will continue to be that voice as we enter a new era of attacks.
This is a moment of significant social change. Individuals who are LGBTQ+, Black, Indigenous, and people of color (BIPOC) are seeking more social inclusion and political power. Asian American leaders like myself are addressing historic erasures of our experience as well as confronting the legacy of bigoted acts perpetrated against our ancestors. It is these moments of intense and rapid transformation that compel some to try to suppress that change.
That's not new. What is new: Data shows that librarians and libraries are the subject of a coordinated, well-funded national censorship campaign by partisan advocacy groups targeting our public schools and public libraries. These groups are encouraging local chapters and their members to attend school and library board meetings and demand the removal of books that give voice to LGBTQ+ and BIPOC individuals and their experiences, which often do not match the moral or political beliefs of these partisan groups.
In 2021, ALA reported that 39% of challenges came from parents, 24% from library users, and 10% from organized groups. Censorship requests from organized groups are much greater than in past years. But we must keep in mind: Though they are loud, they are few.
This spring, ALA commissioned a national opinion poll that marked the first attempt to approach the issue of book bans through the lenses of public and school libraries. The findings are remarkable: near-universal high regard for librarians and recognition of the critical role that public and school libraries play in their communities; bipartisan opposition to removing books from libraries; and large majorities voicing confidence in local public libraries' abilities to make good decisions about their collections.
The findings demonstrate that far from being a partisan issue, book bans are opposed by large majorities of voters of all parties. That's why ALA recently launched Unite Against Book Bans, a national advocacy campaign to mobilize public opposition to the banning and removal of reading materials from libraries and schools. This research-informed campaign will provide information, resources, and actionable measures to grow and strengthen a national grassroots effort and empower individuals and groups to take action in their communities and in their states.
As I prepare to pass the gavel, this work is not done. ALA has been at the vanguard of this fight for almost 70 years. And we'll keep fighting for as long as it takes.