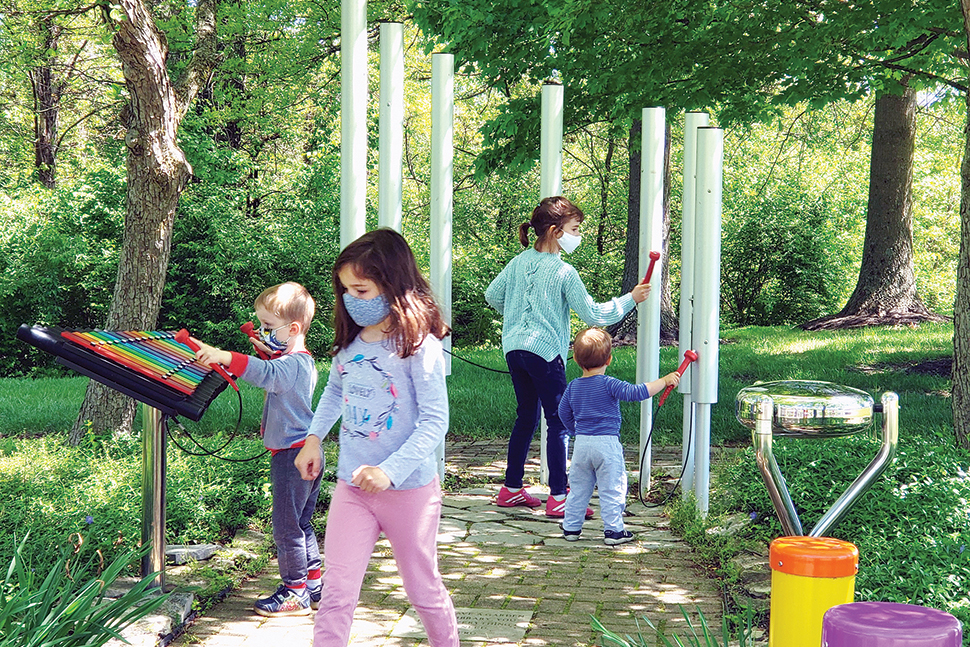 As Tony Howard explored the exhibit hall at the American Library Association's (ALA) 2019 Annual Conference and Exhibition in Washington, D.C., his head was still in his home state of Ohio. Howard, director of Pickerington (Ohio) Public Library (PPL), was wrestling with how to make use of a neglected outdoor area on his library's property. That's when he came across a display for a company that manufactures and installs musical instruments in outdoor spaces at schools, libraries, and city parks, creating music gardens. The vendor, UK-based Percussion Play, had actual instruments—drums, chimes, bells—that individuals could test out, Howard recalls. "And I was like, 'This is it! This is what we're putting in that space!'"
The concept of music gardens isn't new, but it has gained traction since early 2020 as libraries shifted programming and services online and sought ways to safely engage patrons outdoors and spark joy during the pandemic's darkest days. Library green space outfitted with full-size, playable instruments allowed for both sensory engagement and social distancing. Percussion Play reported a 200% increase in sales to libraries from 2019 to 2020. A year later, between 2020 and 2021, the company saw a 122% jump.
In 2021, Bethlehem (N.H.) Public Library (BPL) incorporated an outdoor StoryWalk and a music garden in direct response to pandemic restrictions and anxieties, says BPL Director Laura Clerkin (read more about StoryWalks). "Many people were hesitant to enter the building even with masks," she says, "so we were looking for ways to make use of our backyard and have a space to read and enjoy music." These projects involved support from the library's Friends group and funding through the American Rescue Plan Act.
Howard didn't foresee the pandemic when PPL's musical garden was completed in November 2019, but the timing was serendipitous. Patrons who were rightly fearful of crowds and indoor spaces made quick use of the garden. "We thought, if people are coming to play in the music garden but not necessarily coming into the library, how do we serve them where they want to be?" Howard says. "They want to be outside."
Rain or shine
After this epiphany, Howard and his team fed off the initial momentum from the garden's popularity and introduced more outdoor activities. During the region's hottest months, the city provided permits for temporary tents where patrons could seek shade on the library's lawn and enjoy live music, magicians, food trucks, and a petting zoo—more than 400 people turned out for a big, end-of-summer event in 2021. Recognizing the ongoing appeal of outdoor engagement, PPL has budgeted to install a permanent open-air pavilion on its property later this year.
"We had more people coming to outdoor programming than we ever had coming to our indoor programming," Howard says. Attendance to early literacy classes tripled, which he attributes to the appeal of the children's music garden during the pandemic. "[It] gave us a lot of potential and helped us change the way we're serving the community."
North Mankato (Minn.) Taylor Library (NMTL) already had plans for a music garden before the pandemic; it was installed in June 2020, with some municipal funding and a grant from the state's Arts and Cultural Heritage Fund.
Since then, neither the pandemic nor bitterly cold weather has deterred residents from visiting the colorful drums and xylophone keys that are part of the library's music garden, says NMTL Director Katie Heintz.
"It really promotes the fun that we have here," Heintz says. "It's a fun addition to all the things the library community provides. Everyone feels that they can engage with it, without an invitation."
When the library placed protective tarps over the instruments for winter, patrons requested they be removed so that the show could go on. Later, during outdoor events like storytime, Heintz says, it became common to see children interact with instruments before or after such programming.
Meditative moments
Mesa Verde (Calif.) Library in Costa Mesa, part of Orange County Public Libraries (OCPL), installed a music garden in October 2019. The instruments, supplied by Chattanooga, Tennessee–based Freenotes Harmony Park, have helped draw people into the library, says David Lopez, OCPL marketing and communications librarian. "The greatest use of the music garden since the various stages of reopening has been for unplanned free play," Lopez says. "Patrons enjoy taking a pause and playing the instruments on their way in or out of the branch."
Adult patrons were invited to roll out their yoga mats and enjoy a meditation and sound bath that incorporated the garden's instruments. For younger patrons, Mesa Verde staffers have read music-themed books near the garden and have hosted a workshop where kids could upcycle empty cans to make their own drums. And as pandemic restrictions ease up, the branch is planning summer programming around the music garden, including musical storytimes, music performances, and a summer reading challenge. The project sponsors, Costa Mesa Friends of the Library, have purchased a second set of instruments for OCPL's Donald Dungan Library.
"Instead of being a place where children are told to be quiet, our library offers outdoor activities where sound, discovery, and creativity are encouraged," Lopez says. "The music garden has given the Costa Mesa community a gathering place to simply stop what they are doing, take a moment to produce some meditative notes, and hopefully enjoy the healing powers of music."