The capital city of Jackson, Mississippi—the "City with Soul"—is the state's second-largest metropolitan area, home to many colleges, museums, and libraries, attracting millions of visitors from around the world each year.
Unfortunately, Jackson has also faced more than its fair share of water crises. In late August, heavy rain caused the Pearl River, which runs through the city, to flood. Water from its largest water treatment plant, already running on backup pumps before this flood, couldn't keep up. Many of Jackson's libraries, businesses, and homes were left without sufficient water pressure to operate toilets or showers. Even before the flood happened, an unrelated water boil advisory was in place, enacted in late July.
"It's tiring to still not have some normalcy," says Stephen Parks, state librarian for the State Law Library of Mississippi—and he speaks for many others.
Advocating for safe water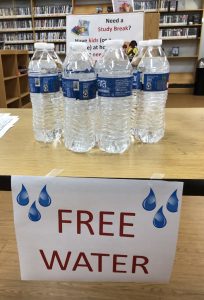 In addition to the Jackson/Hinds Public Library System (JHPLS), Jackson is home to many academic and specialized libraries.
While each library has been affected in its own way by the current water crisis, some were already struggling to keep doors open before the latest round of rainfall.
"This came at a most unwelcome time," says Floyd Council, director of JHPLS, adding that some of his libraries have been overdue for repairs following a 2013 hailstorm. "Our Eudora Welty branch got banged up pretty bad [during that storm]. Our main downtown location has been torn and tattered and leaking ever since then."
JHPLS includes 15 locations and serves about 230,000 patrons, Council reports. The libraries in the system were unaffected by the current flooding, he says, because they're serviced by several different water treatment systems within Hinds County.
The Jackson Academic and Technical Center at Hinds Community College (HCC), however, did have to close for a few days. So did HCC's Nursing and Allied Health Center. "The majority of the restrooms were unavailable, and there were frustrated students and colleagues," says Lakesha Smith, administrative librarian at the Learning Resources Center at Jackson Academic and Technical Center. She says she was able to interact with students, faculty, and staff via email. "[Most] of our departments teleworked or went to other campuses to continue working," Smith says. "Fortunately, our students still had access to the library resources and were able to chat with a library professional directly from our website."
A not-so-new normal?
Libraries in and around Jackson, Parks says, came out of the pandemic with a new understanding of how to adapt and work remotely. "The level of service provided by the libraries had returned to normal"—but with routine water advisories, he points out. "It has become the norm now to just have bottled water readily available."
"People are tired of this situation," Mary Beth Applin, dean of libraries at HCC. "They're tired of the politicians politicking about it and not coming together to fix the problem."
Council adds: "This is not just Baltimore, Flint, and Jackson. It's the whole country. [It's] evidence of America's infrastructure problems that are really big. And it runs parallel with how we've invested in other things."
Responding to crisis
Given the frustration with government resolution, it makes sense that those with the ability to take matters into their own hands are responding with practical solutions—as private liberal arts school Millsaps College in Jackson is doing.
Jamie Wilson, college librarian at Millsaps-Wilson Library, says her staff was able to pivot and provide library services remotely and by appointment due, in large part, to the lessons learned from previous water issues and the COVID-19 pandemic.
Millsaps College is already in the planning stages of building a 150,000-gallon water tank and drilling two wells to ensure water self-sufficiency in the future, Wilson adds. "When the campus becomes water self-sufficient, it will allow [the library] to offer uninterrupted access."
Others lean on community. "HCC is family-oriented, and we're trying to support each other," says Jennifer Smith, an administrative librarian. She hopes that someday, access to clean, drinkable water won't be something that students have to think about daily. Instead, she says, "they can focus on their education instead of a basic human need."
The Community Foundation for Mississippi, an organization of community leaders and partners, is providing a list of resources for those who would like to help people dealing with the aftermath of Jackson's water crisis. Official information and updates, links to response and relief groups, water distribution sites, and other information is frequently updated and available at its website.
"People have a right to free library resources, just as they have a right to clean drinking water," Council says. And now, he adds, "we're doing what libraries do best during a crisis: Program to it. People don't understand the concept of water quality, and the library is a perfect place to facilitate that conversation."
It's important, Council says, because "people's lives depend on the resources they have available to them. Even during a water crisis, people can find refuge in the library with resources that will help them."