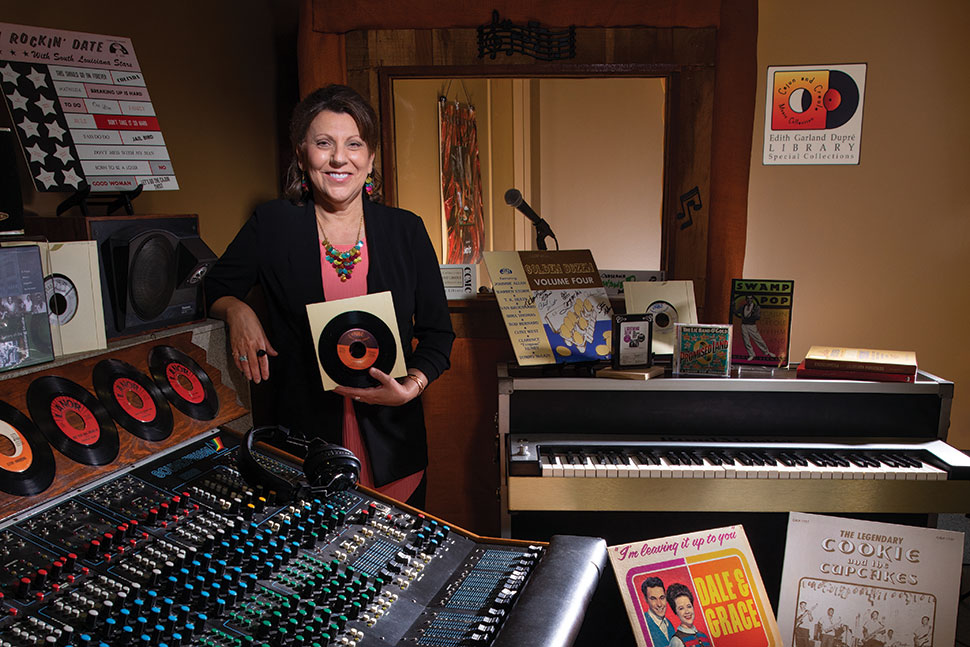 In 1950s southern Louisiana and southeast Texas, a new kind of music filled hopping dance halls: swamp pop. The genre, typified by electric guitars, pianos, brass instruments, and lovelorn lyrics, blended the emerging sounds of rock 'n roll with New Orleans–style rhythm and blues and traditional Cajun and Creole music.
Swamp pop was a favorite among teens in the region, according to Sandy Himel, associate professor and head of government information and the Cajun and Creole Music Collection at University of Louisiana at Lafayette (UL Lafayette). She grew up with it, and it holds a special place in her heart. "I'm a native of Ville Platte, designated by the Louisiana legislature as the 'Swamp Pop Capital of the World,'" she says. "My parents met at a prominent club for swamp pop music."
Himel started UL Lafayette's Cajun and Creole Music Collection with a grant in 2003. The collection boasts more than 9,000 artifacts: vinyl records, concert posters, photographs, awards, and even a vintage vocal recording booth.
Among these artifacts are items from swamp pop legends Johnnie Allan and Rod Bernard. In 2013, Allan donated his own memorabilia to the collection, including copies of his commercial recordings and more than 2,500 photos. "That was a highlight," Himel says. "I got a phone call, and you can imagine my excitement when he said, 'This is Johnnie Allan.'"
Today, music students and nonmajors, families of swamp pop stars, and modern swamp pop musicians frequent the collection to revisit old memories and glean inspiration. "[Swamp pop] can be upbeat, danceable, and fun music, and it can also have slow, beautiful, ballad songs," Himel says. "It's got a little bit of everything, appealing to the young and old."