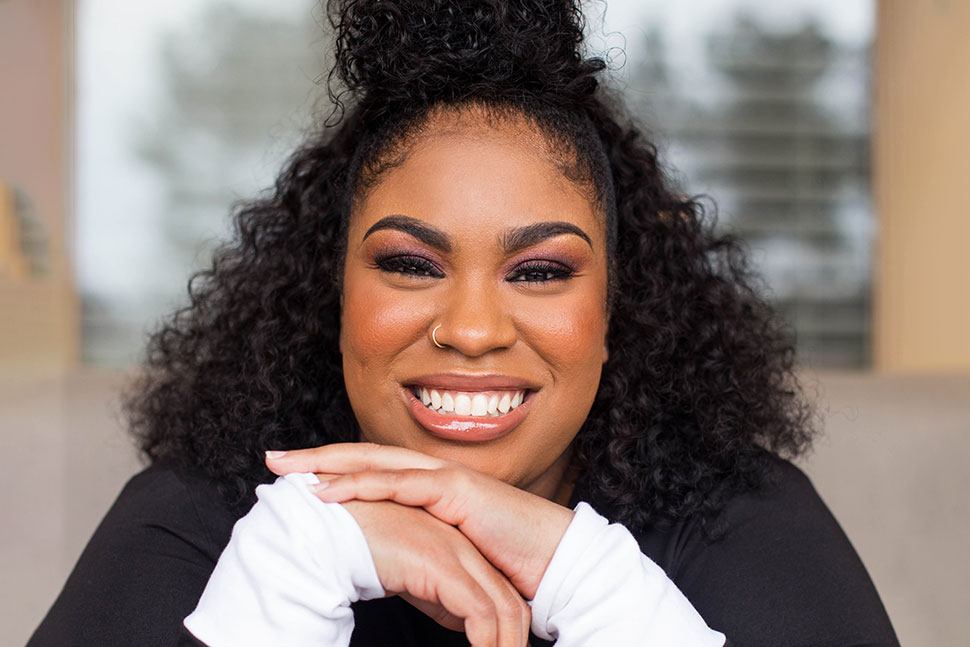 Soon after Angie Thomas released her debut young adult novel, The Hate U Give, in 2017, the book became a common target for challenges in schools and libraries across the US. But the novel also helped change the landscape of the publishing industry, at a time when authors and readers were calling for more diverse stories and better representation.
Thomas continues to champion Black narratives through new and numerous projects, including a TV show currently in production with Barack and Michelle Obama's Higher Ground media company. The show will be based on Blackout (Quill Tree Books, 2021), an anthology she cowrote with Dhonielle Clayton, Tiffany D. Jackson, Nic Stone, Ashley Woodfolk, and Nicola Yoon. With the release of her book Nic Blake and the Remarkables: The Manifestor Prophecy (HarperCollins) in April, she returns to her early interest in crafting fantasy for younger kids.
Thomas spoke with American Libraries about balancing make-believe and reality, book challenges, and how a librarian changed her life.
Nic Blake and the Remarkables is the first book of a planned trilogy. What made you want to write a fantasy series?
It's something I've always wanted to do. Before I wrote The Hate U Give, I wrote another book that was middle-grade fantasy, and it was never published. There was one character in that old manuscript that just stood out to me, a young girl named Nic. After coming out with The Hate U Give and seeing the changes taking place in publishing, and after seeing so many people call for diversity in books—it gave me the push to say, "You know what, why not write that fantasy story about a Black girl?" I have to credit the work of all the people who've gone forth to make diversity such an important part of our industry. They're the reason that Nic Blake is Nic Blake.
How does Nic Blake touch on issues rooted in reality?
There are Guardians who help keep the peace, but the Guardians are also a resource. I did a lot of reading about what a world would look like with reform when it comes to police and prisons. What if we provide structure, opportunities for people to rehabilitate themselves and become new people? That's something I intend to explore as the series goes further, but we get a glimpse of it in the first book.
You just finished your tour promoting Whiteout, the follow-up to Blackout, both anthologies on Black teen love. What inspired you to return for the sequel?
We wanted to talk about love again. We wanted to have something light and fun to bring a smile to readers' faces. Getting to talk to [readers] is probably the best part of it—­meeting young Black girls who are like, "Thank you, because I rarely get to see myself in a love story."
Your books have been frequently challenged and banned. What motivates you to keep speaking up against challenges?
The young people who see themselves in those books that are banned and challenged motivate me. What bothers me about book banning the most is the message it sends. It tells young people, "Your life makes me uncomfortable. Nobody should hear about it. You should be silent." I take issue with that because these are things that Black kids are dealing with. My biggest wish is that the people who challenge my books would read them instead of just taking bits and pieces and jumping to conclusions.
What role have libraries and librarians played in your life?
When I was younger, after a shooting in my neighborhood park, my mom took me to the library and told the librarian what happened—how I was almost caught in the crossfire. She told the librarian, "I can't put her on a plane to take her somewhere to show her the world, but I can hopefully get her some books." The librarian loaded me up with books that showed me there was more to the world than my little piece of it. That changed me; that liberated me. On behalf of 8-year-old Angie and now 30-something-year-old Angie, thank you. Librarians are world changers.