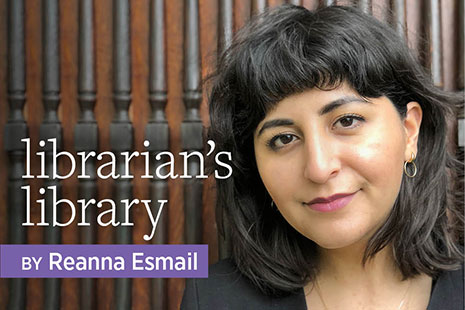 The rise of artificial intelligence, powerful tech corporations, and giant library vendors is fundamentally changing library work today. The following titles introduce critical topics, from algorithms to Big Data, or the massive conglomeration of data sets. They also underscore the role library workers can play in protecting patron privacy, centering equitable information access, and educating ourselves and our communities about the changing landscape of information literacy.
Algorithms of Oppression: How Search Engines Reinforce Racism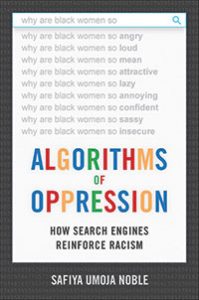 By Safiya Umoja Noble
Understanding algorithms is crucial for library workers grappling with emergent technologies such as artificial intelligence chatbots and their effect on information access. This is one of the first major books to examine algorithms and how they may perpetuate biased representation, remaining on point several years after its release. Drawing on her background in library and information science, Noble explores the ramifications of black box algorithms built for advertising and marketing rather than information retrieval. Her critical overview describes how algorithms work, how they affect information, and their potential harms. As a result, this book should be required reading for anyone working in libraries today. New York University Press, 2018. 248 p. $28. PBK. 978-1-4798-3724-3. (Also available as an ebook.)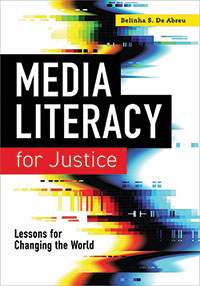 Media Literacy for Justice: Lessons for Changing the World
Edited by Belinha S. De Abreu
This practical reader provides a thorough introduction to digital media and is specifically designed for K–12 educators and public and academic library workers. De Abreu lays out tips and ideas for teaching media literacy that will help update curricula for the 21st century. This book's 10 chapters contain selected readings, lesson prompts, and curricular ideas related to misinformation, social media virality, Big Data, and many other vital topics in information and media literacy. ALA Neal-Shuman, 2022. 184 p. $54.99. PBK. 978-0-8389-4892-7.
Masked by Trust: Bias in Library Discovery

By Matthew Reidsma
The author builds on discussions in Noble's Algorithms of Oppression, calling further attention to library discovery systems. With an overview of what algorithms are and how they structure results in search engines and library discovery systems, Reidsma also shares the ways biases in subject headings lead to algorithmic biases. Though released in 2019, the book still provides a poignant look into how algorithms affect libraries and does so in a way that is applicable and approachable for library workers building and maintaining systems as well as those helping patrons use them. Library Juice Press, 2019. 204 p. $28. PBK. 978-1-63400-083-3.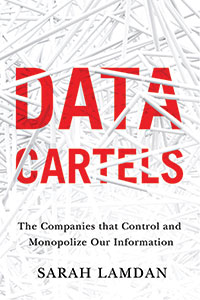 Data Cartels: The Companies That Control and Monopolize Our Information
By Sarah Lamdan
This academic monograph addresses the history and consequences of library vendors participating in data collection, surveillance, and brokerage. Each chapter dives into a different informational market, covering the respective implications of academic, legal, and financial data brokering. This book shows the wide-reaching effects of datafication on information access, information creation, and the lived experiences of communities. Library workers should read it to better understand how increasing vendor costs are connected to tech monopolies and artificial intelligence, and how this could endanger library ethics related to privacy and equitable information access. Stanford University Press, 2022. 224 p. $26. PBK. 978-1-5036-3371-1. (Also available in as an ebook.)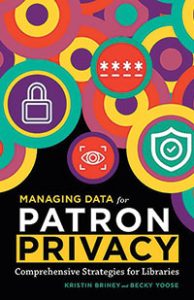 Managing Data for Patron Privacy: Comprehensive Strategies for Libraries
By Kristin Briney and Becky Yoose
The rise of Big Data threatens everyone's privacy rights. As library workers, managing patron privacy is far more complicated than ever before. This title provides a comprehensive guide to strengthening patron privacy policies. With a crash course in digital privacy education, the book outlines different approaches library workers can take when navigating vendor licensing, data retention, staff training, and more. In addition to providing practical advice, the authors highlight the importance of prioritizing library ethics and equitable information access in our day-to-day work, contracts, and policies. ALA Editions, 2022. 176 p. $69.99. PBK. 978-0-8389-3828-7.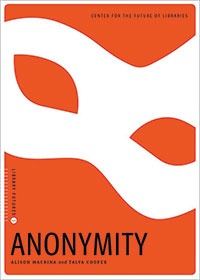 Anonymity
By Alison Macrina and Talya Cooper
Part of the Library Futures series, this pocket-size book packs a big punch. It provides a concise overview of why anonymity is imperative to intellectual freedom and the right to read. It highlights the ways anonymity is threatened by library vendors, major technology companies, and the lack of legislation protecting data privacy. Macrina, founder of the Library Freedom Project, and Cooper, an accomplished digital archivist, bring together discussions about privacy inside and outside of libraries. At 80 pages, it's easy for library workers to read and share with others interested in engaging in the larger conversation about anonymity and privacy rights. ALA Neal-Shuman, 2019. 80 p. $24.99. PBK. 978-0-8389-1633-9. (Also available as an ebook.)