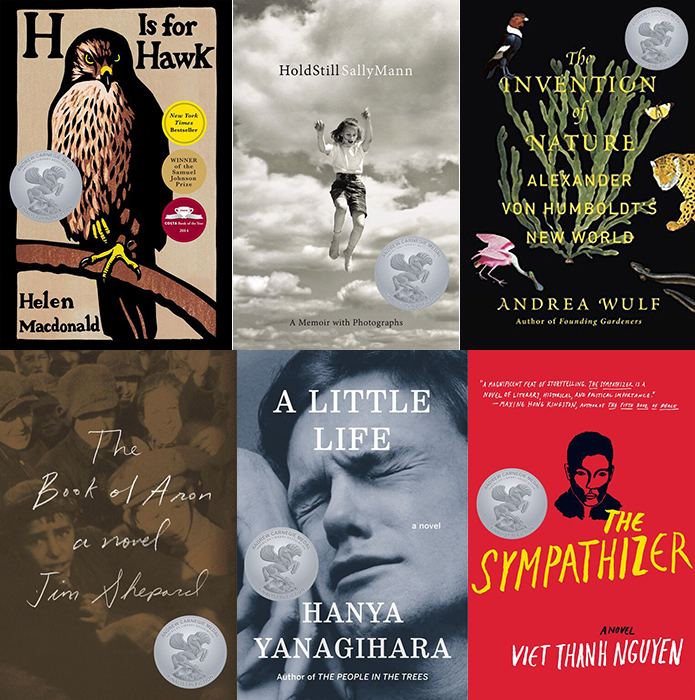 The American Library Association (ALA) has announced the six books shortlisted for the esteemed Andrew Carnegie Medals for Excellence in Fiction and Nonfiction, awarded for the previous year's best books written for adult readers and published in the United States. The two medal winners will be announced by selection committee chair Nancy Pearl at the Reference and User Services Association's Book and Media Awards event at ALA Midwinter Meeting & Exhibits in Boston on Sunday, January 10.
2016 shortlisted titles include:
Andrew Carnegie Medal for Excellence in Nonfiction Shortlist

H is for Hawk, by Helen Macdonald, published by Grove Press, an imprint of Grove Atlantic.
Transfixed by books and birds of prey as a girl, Macdonald became a historian, writer, and professional falconer involved in avian research and conversation. After the sudden death of her father, Macdonald trains for the first time a dangerous goshawk predator as part of her personal recovery. In this profoundly inquiring and wholly enrapturing memoir, Macdonald exquisitely and unforgettably entwines misery and astonishment, elegy and natural history, human and hawk.
Hold Still: A Memoir in Photographs, by Sally Mann, published by Little, Brown, and Company, Hachette Book Group.
Mann reveals the deep wellsprings of her most poetic and disconcerting images. She shares, for the first time, the dark side of her notoriety, as well as the daring adventures behind more recent photographic series. Mann shares staggering family secrets, including her in-laws' deceptive lives and violent deaths, her Mayflower-blueblood mother's scandalously unconventional childhood, and her self-sacrificing country-doctor father's complicated legacy of slave ownership, wealth, and philanthropy.
The Invention of Nature: Alexander von Humboldt's New World, by Andrea Wulf, published by Alfred A. Knopf, Penguin Random House, LLC.
Andrea Wulf, a historian with an invaluable environmental perspective, presents with zest and eloquence the full story of German naturalist Alexander von Humboldt's adventurous life and extraordinary achievements, from making science "accessible and popular" to his early warnings about how deforestation, monoculture agriculture, and industrialization would engender disastrous climate change.
Andrew Carnegie Medal for Excellence in Fiction Shortlist
The Book of Aron, by Jim Shepard, published by published by Alfred A. Knopf, Penguin Random House, LLC.
Jim Shepard, a writer of extraordinary historical vision, psychological acuity, and searing irony, presents a profoundly moving portrait of its young narrator Aron; explores, with awe, our instinct to adapt and survive; and through the evolving consciousness of his phenomenally commanding young narrator, exposes the catastrophic impact of war and genocide on children.
A Little Life: A Novel, by Hanya Yanagihara, published by Doubleday, Penguin Random House, LLC.
This long, claustrophobically written novel follows the lives of four college men from their early post-graduation days in New York through much of their accomplished adult lives, and backward to their childhoods. This profoundly disturbing book is about pain and compulsion, secrets and betrayals, sexuality and loss—but, finally, about friendship.
The Sympathizer, by Viet Thanh Nguyen, published by Grove Press, an imprint of Grove Atlantic.
Viet Thanh Nguyen's cross-grained protagonist exposes the hidden costs in both countries of America's tragic Asian misadventure. Nguyen's probing literary art illuminates how Americans failed in their political and military attempt to remake Vietnam—but then succeeded spectacularly in shrouding their failure in Hollywood distortions. Compelling—and profoundly unsettling.
This is the first time the Carnegie Medal winner announcements will be made at Midwinter Meeting & Exhibits, reflecting a new calendar for the awards, with the shortlist announced in October, the winners in January, and the popular celebratory event continuing at ALA Annual Conference each year. Winning authors each receive $5,000, and the four finalists each receive $1,500.
The medals are made possible, in part, by a grant from Carnegie Corporation of New York in recognition of Andrew Carnegie's deep belief in the power of books and learning to change the world, and are cosponsored by ALA's Booklist Publications and the Reference and User Services Association.
Annotations and more information on the finalists and the awards can be found at http://www.ala.org/carnegieadult.