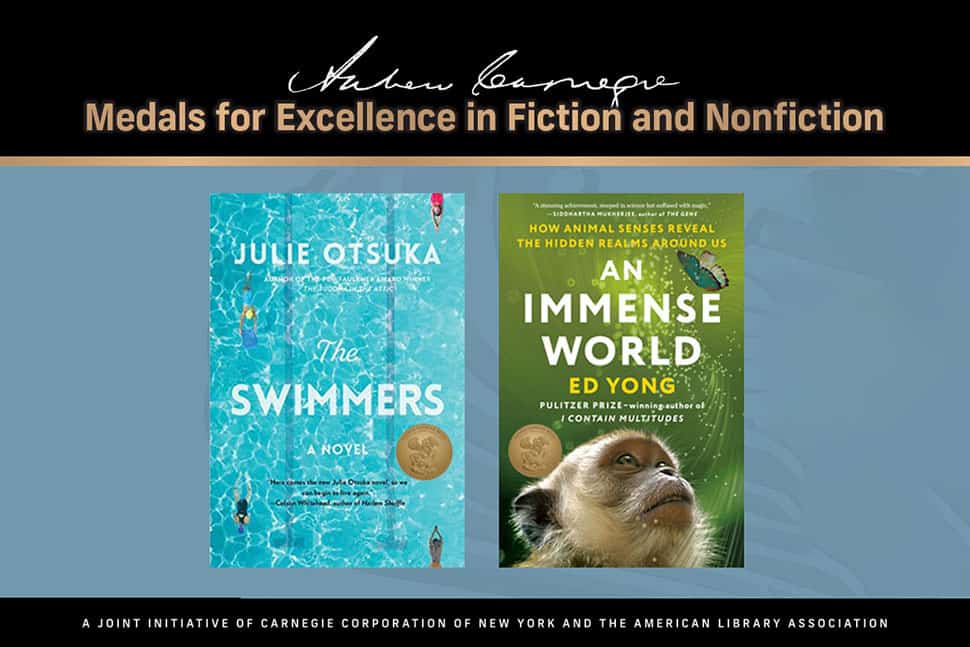 The American Library Association (ALA) has selected The Swimmers (Knopf) by Julie Otsuka as the winner of the 2023 Andrew Carnegie Medal for Excellence in Fiction, and An Immense World: How Animal Senses Reveal the Hidden Realms Around Us (Random House) by Ed Yong as the winner of the 2023 Andrew Carnegie Medal for Excellence in Nonfiction.
The selections were announced during ALA's 2023 LibLearnX conference January 29 at the Reference and User Services Association's (RUSA) Book and Media Awards event, sponsored by NoveList.
Otsuka's The Swimmers takes place in an underground pool, and a collective "we" reports the comings and goings of the titular swimmers—regulars who have established their schedules, lanes, and paces with comforting familiarity—until a crack in the pool floor causes upheaval. The water was an essential haven for protagonist Alice, whose story aboveground is a polyphonic reveal through her fading memories. She survived imprisonment as a Japanese American during WWII, and now a final erasure looms. Otsuka's devastating masterpiece is an extraordinary examination of the fragility of human relationships.
In a groundbreaking work of sensory biology and animal behavior, Yong's An Immense World examines animals' unique perceptual abilities. Yong writes about the platypus with a bill that detects electric fields, the echolocation prowess of bats and dolphins, the ultrafast vision of killer flies, and the outstanding olfaction of elephants. His scientific curiosity is contagious, and his writing is empathetic, impeccably researched, imaginative, and entertaining.
"A hearty congratulations to our medalists for achieving such high standards of excellence with their latest books," said Stephen Sposato, chair of the selection committee for the 2023 Andrew Carnegie Medals for Excellence, in the January 29 announcement. "Julie Otsuka proves herself a master of narrative voice, thrillingly balancing the incredible vitality of community life with the myriad challenges faced by individuals and families within that community. And, standing out even during a recent golden age of nature writing, Ed Yong dazzles with a deeply considered exploration of the many modes of sensory perception that life has evolved to navigate the world, written with exhilarating freshness."
The other 2023 fiction finalists included Greenland (Amistad) by David Santos Donaldson, and Night of the Living Rez (Tin House) by Morgan Talty.
Nonfiction finalists included Constructing a Nervous System (Pantheon Books) by Margo Jefferson, and Vagina Obscura: An Anatomical Voyage (W. W. Norton & Company) by Rachel E. Gross.
The Andrew Carnegie Medals for Excellence in Fiction and Nonfiction, established in 2012, serve as a guide to help adults select quality reading material. They are the first single-book awards for adult books given by ALA and reflect the expert judgment and insight of library professionals and booksellers who work closely with adult readers.
Carnegie Medal winners will each receive $5,000. All the finalists will be honored and the winners will be presented with their medals during a celebratory event at the American Writers Museum in Chicago during ALA's 2023 Annual Conference and Exhibition in June.
The medals are made possible, in part, by a grant from Carnegie Corporation of New York in recognition of Andrew Carnegie's deep belief in the power of books and learning to change the world, and are cosponsored by ALA's Booklist and RUSA.