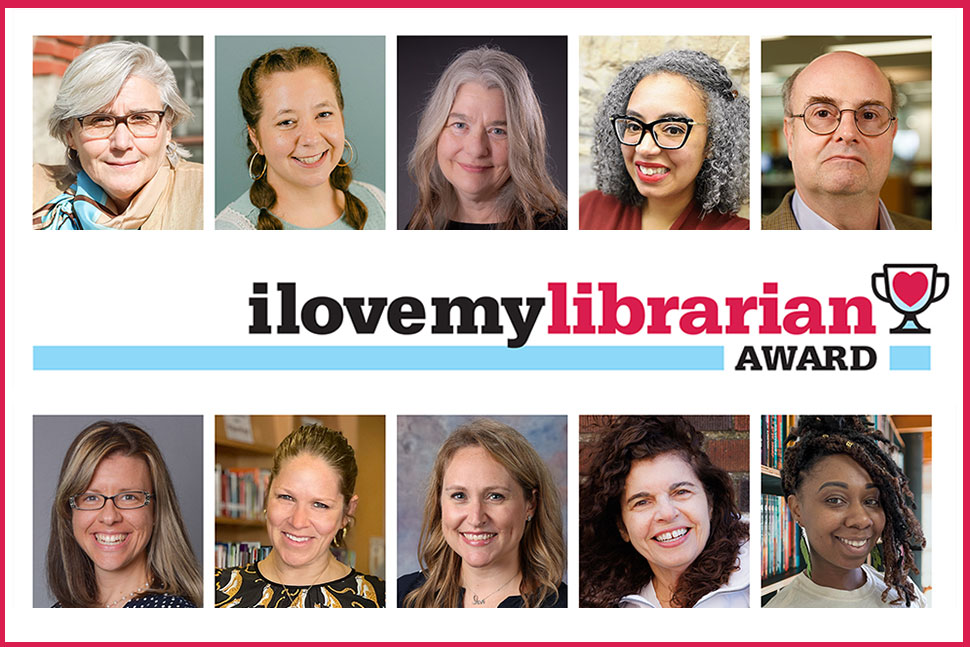 On January 17, the American Library Association (ALA) announced 10 recipients of the 2023 I Love My Librarian Award. This year, three academic librarians, three public librarians, and four school librarians were selected to receive the honor. Each recipient is nominated by patrons for their expertise, dedication, and profound impact in their communities.
"Even in these unprecedented times, and as our nation's library workers face historic levels of intimidation and harassment due to an ongoing wave of book censorship, librarians continue to empower their patrons, teach critical literacy skills, promote inclusion in their space and collections, and provide vital services for their communities," said ALA President Lessa Kanani'opua Pelayo-Lozada in a January 17 statement. "Congratulations to this year's I Love My Librarian Award honorees, who positively impact the lives of those they serve every day."
ALA received more than 1,500 nominations from library users for this year's award, demonstrating the breadth of librarians' impact across the country. Hundreds of nominations focused on librarians' outstanding service during the COVID-19 pandemic and the fight against censorship that continues to roil communities across the US.
Each honoree will receive a $5,000 cash prize as well as complimentary registration and a travel stipend to attend ALA's LibLearnX conference in New Orleans. The award ceremony will take place during the LibLearnX welcome reception on January 27.
---
Kathryn Blackmer Reyes
Librarian
San José (Calif.) State University
As director of the Africana, Asian American, Chicano, and Native American Studies Center at San José State University (SJSU), Blackmer Reyes has worked to identify and give visibility to lost and untold stories of communities of color in the Santa Clara Valley. She has also created a unique and welcoming space on campus filled with vibrant collections and programming.
Among Blacker Reyes's many accomplishments is her oversight of the library's annual Día de los Muertos celebration. Celebrating its 25th anniversary in 2022, the event—held in collaboration with the San José Multicultural Artists Guild and the San José Public Library—highlights the history and cultural tradition of the Mexican holiday with an exhibit featuring altars created by local artists, educational programming, performances, and food.
"Kathy is an inspirational, creative librarian and leader who seeks out and delivers cultural programming and exhibits for SJSU and the San José community that are unique and inclusive," her nominators wrote. "Her passion and love for her profession is infectious."
---
Vikki Brown
Library System Manager and Coordinator
Highlands County (Fla.) Library System
Brown is the manager of the Highlands County Library System (HCLS) and coordinator for the Heartland Library Cooperative, which includes five county library systems and serves the residents of a largely rural and agricultural area in Florida. It's a role her nominators say she has dreamt of having since before she began volunteering at HCLS's Sebring Public Library branch at age 12, and one she stepped into just before the onset of the COVID-19 pandemic.
To provide services for the library cooperative's rural population area, Brown has ramped up its outreach efforts, including securing grants for a mobile library, internet hotspots, storytime events, and more. The cooperative's mobile library, which travels to multiple cities across the cooperative's service area, provides materials for check out, Wi-Fi and computer access, and printing services.
"Vikki's commitment to her staff, patrons, and community is admirable," her nominators wrote. "Her dedication is the stuff that dreams are made of."
---
Cara Chance
Regional Branch Manager
Lafayette (La.) Public Library
As manager of the Lafayette Public Library's North Regional Branch, Cara Chance is on the front lines in the fight against book censorship. Her efforts to construct inclusive displays featuring books with LGBTQ+ themes have put her at odds with the library's conservative Board of Control . Chance has spoken in defense of inclusive materials in the library, and her local community has responded with overwhelming support as a result of her ongoing service to its residents.
Beyond her efforts in fighting censorship, Chance helped establish the library's makerspace program, which has reached learners and creators of all ages. She coproduced Lafayette's first citywide Maker Faire, drawing hundreds of families to the downtown area and featuring a wide array of crafts and creations from local makers.
"Cara Chance exemplifies everything a librarian should be," her nominators wrote. "Thousands of patrons over the years have been positively impacted by her efforts."
---
Tara Coleman
Associate Professor and Program Services Coordinator
Kansas State University in Manhattan, Kansas
Tara Coleman is the mastermind behind Kansas State University's K-State First Book program, a campuswide common reading initiative that serves as a centerpiece of the university's first-year experience program. Since its inception in 2010, K-State First Book has grown into a massive success and a core element of campus culture, with 80%–85% of new students reporting having read all or part of the book selected for their year.
Through Coleman's efforts, the program has grown to include a wide array of campus events throughout the academic year including author talks, lectures, and panel discussions. Faculty are encouraged to incorporate the book into their curricula, and the program offers multiple awards to students, faculty, and staff for engagement with each year's book.
"Tara has helped make a reading practice one of the signature things one does at Kansas State," her nominators wrote, "and she has done so in a way that welcomes the new students to campus and lets them know they belong here."
---
David Ettinger
International Affairs and Political Science Librarian
George Washington University in Washington, D.C.
At George Washington University, David Ettinger uses his expertise in international affairs and political science to support and shape the research mission of the university. This includes helping steward the library's acquisition of one of the largest international affairs collections in the Washington, D.C., area.
From building creative and thematic research guides that incentivize intellectual curiosity to delivering entertaining and accessible instruction sessions, Ettinger's student-centered approach to research assistance is improving student learning while highlighting the library's role in advancing student success. Student and faculty nominators praised Ettinger's classroom instruction and individualized research assistance as engaging, accessible, and formative in shaping their relationship with the library.
"David is an outstanding colleague and citizen of the university," one of his nominators wrote, "and he has had an exceptional impact on a staggering number of students!"
---
Julie Marie Frye
Primary Years Program School Librarian and Tech Coordinator
Childs Elementary School in Bloomington, Indiana
From delivering weekend literacy lessons to immigrant families to facilitating lighting talks culminating from student research to organizing a young authors and illustrators fair, Julie Marie Frye is working to create a more hopeful and just future through literacy and inclusivity. At Childs Elementary School, Frye has taken initiative far beyond the traditional librarian role to highlight and bring understanding to current events and the experiences of other communities.
Following Russia's 2022 invasion of Ukraine, Frye designed an inquiry room for students to learn and ask questions about Ukrainian culture, the war, and conflicting media messages surrounding the conflict. Set up like a museum gallery featuring Ukrainian artwork, clothing, music, maps, statistics and more, students were able to engage with the gallery in a variety of ways, among them writing letters to students in Ukraine. After sending letters to 10 schools in Poland and Ukraine, Frye created a public exhibit with the correspondence and photos from one school that responded, reminding students that small actions make a difference in the lives of others, even across the world.
"She approaches students of all ages with a keen devotion to their unique inquiries and literacy needs," Frye's nominators wrote. "She meets challenges and opportunities with professional integrity and dignity, and we are grateful for the gift of her generous spirit."
---
Lauren Ginsberg-DeVilbiss
Library Media Specialist
Wright Brothers School in New York City
Outside partnerships are a key to Lauren Ginsberg-DeVilbiss's efforts to engage the students at the Wright Brothers School. For years, she has created and grown high-interest programs such as the school's Book of the Month program featuring author talks and a career week that invites an array of professionals to speak to students, as well as created an inclusive environment for students to thrive, learn, and feel welcome.
As the school's library media specialist and sustainability coordinator, Ginsberg-DeVilbiss has focused several of her initiatives on sustainability. In one partnership with Savannah Bee Company owner Ted Dennard, the library received a digital beehive, sparking conversations and lessons about pollinators, sustainability, food, and the importance of bees. In another partnership with local organization Harlem Grown—and with the help of grant funding—the school is working to grow a community garden.
"Lauren is a testament to how vital an inspiring library is for a child's development," one of her nominators wrote. "She passionately advocates for what she believes will most impact her patrons and the school community she serves."
---
Jamie Gregory
Upper School Librarian and Journalism/Newspaper Teacher
Christ Church Episcopal School in Greenville, South Carolina
Upper school students at Christ Church Episcopal School are becoming critical thinkers and finding their voices with the help of Jamie Gregory. Coupling library instruction with her role as the school's journalism teacher, Gregory provides students with strong news and media literacy skills as well as a deeper understanding of censorship and intellectual freedom.
In one collaboration with a history teacher, Gregory curated a variety of resources for students learning about labor unions, including political cartoons, photographs, a memoir and virtual visit from a local author, and a documentary that had been censored in the state. The school's location in a rural-suburban area with previously functioning mills enabled students to connect lessons and resources to family stories related to mills and labor unions while building media literacy skills.
"Jamie Gregory doesn't see students; she sees people, which has allowed her to master using a student-centered approach to instruction through the school library and her journalism classroom," her nominators wrote. "Her library is a springboard for empowering people to value lifelong learning."
---
Roseanna Gulisano
Librarian
Highbridge School in Bronx, New York
In an underserved district with a high rate of poverty and no nearby bookstores, Highbridge School librarian Roseanna Gulisano has made it her mission to ensure students and their families have access to books and more. From securing donations for school materials to distributing clothes and groceries in a local park during the COVID-19 pandemic, she has soared above the call of duty for her community.
Splitting her time between the school's two libraries as well as a full teaching schedule of elementary students, Gulisano has worked to procure funding for a variety of student needs, from books reflecting their lives that students keep to build their own home libraries to groceries and coats for families struggling to afford meals and stay warm in the winter to library technology and furnishings that encourage reading and use of the library space. Additionally, she hosts family reading nights in the community, where families can take home books as well as sign up for public library cards with the New York Public Library, which Gulisano liaises with on behalf of the school.
"Roseanna Gulisano is our school librarian, but her nickname should be Wonder Woman," wrote one of her nominators. "Her energy is radiant, and her students thrive off her energy and love for reading."
---
Elacsha Madison
Interim Innovation and Digital Learning Manager
Evanston (Ill.) Public Library
Just north of Chicago, Elacsha Madison is elevating Evanston Public Library's teen outreach efforts through her work from and beyond the library's teen Loft space. She has brought an abundance of innovative STEAM programs and resources to marginalized communities, including building technology, do-it-yourself cosmetics, community gardening, and more.
In partnership with school librarians in the district, Madison has hosted a recurring "Taste of the Loft" event at local schools and parks, where students could sample various library programs and offerings such as drumming, coding, and crafts. In another partnership with Evanston Grows, a local organization addressing food injustice, Madison coordinated book donations for farmstand patrons to take home alongside free organic produce.
"Elacsha Madison is not just a librarian," her nominators wrote. "She is first and foremost a community builder and friend to all she meets, and more than that, there's nothing about this librarian that the community doesn't love."
---
Since 2008, library users have shared more than 23,000 nominations detailing how librarians have gone above and beyond to promote literacy, expand access to technology, and support diversity and inclusion in their communities. Carnegie Corporation of New York sponsors the I Love My Librarian Award, with additional support from the New York Public Library. The award is administered by ALA.
Read more about previous award recipients on the I Love My Librarian Award website.