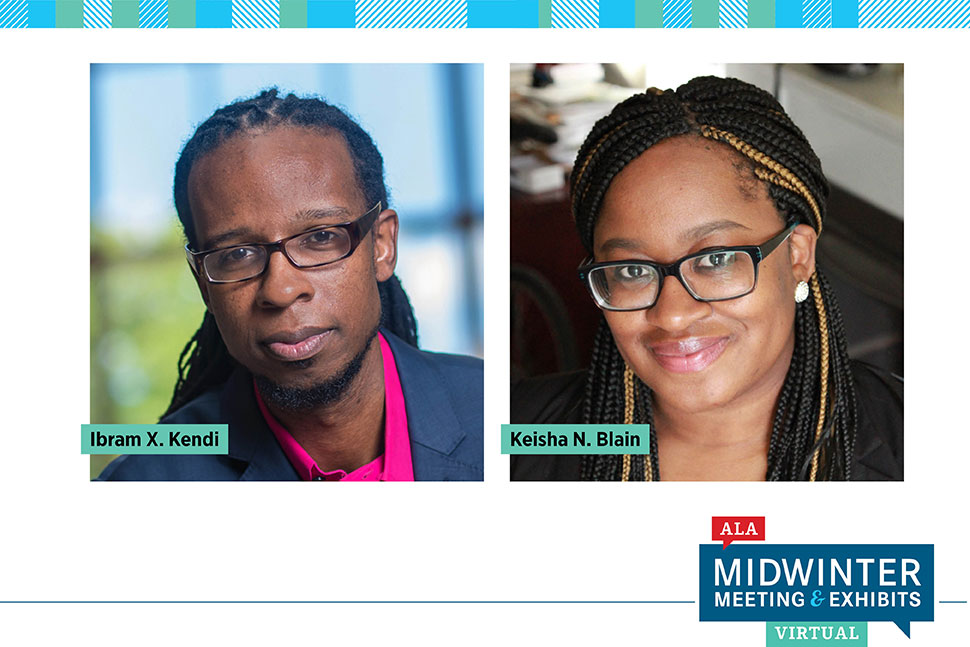 Even as they worked on it, writers and historians Ibram X. Kendi and Keisha N. Blain knew the book they edited together, Four Hundred Souls: A Community History of African America, 1619-2019 (February, Penguin Random House), would make history.
Speaking January 23 at the Opening Session of ALA Midwinter Virtual 2021, the pair described both the significance of the volume and the process of compiling it. It features the work of 90 Black writers—novelists, journalists, poets, historians, and philosophers—on different eras of the Black American experience.
"We brought together a community of Black writers to write the history of our community because, for so much of Black America's history and even our present, we haven't been seen for the diverse, divergent, different people that we truly are," Kendi said.
"Individuals of African descent are rarely allowed to be individuals of African descent," he continued. "It's one of the most pernicious racist ideas that every time a Black person acts in a negative manner that they're somehow representing the race as opposed to just being an individual. That has prevented Americans from seeing the vast diversity among Black people."
In response, Kendi and Blain gathered a cross-section of writers who reflect the entirety of the Black experience—women, men, cisgender, transgender, light-skinned, dark-skinned, immigrants, descendants of enslaved people—to tell the story of 400 years of Black life for the first time.
"Each of the 80 writers writes about five years of African American history," Kendi said. "We also assembled 10 poets who each wrote poems based on 40 years. These people not only write our history and reflect on the Black American past, but they also make history. When people think about what Black Americans were thinking when they symbolically, as a community, turned 400 years old, they can always pick up Four Hundred Souls. We're so excited about that."
Blain echoed Kendi's enthusiasm, comparing the book to a choir with each writer representing a different type of singer—the poets, for example, are soloists—who come together to create a harmonic sound.
"It's powerful to have 90 different voices grappling with the history and dreams of our ancestors," Blain said. She went on to note a saying popular in Black communities for decades: "I am my ancestors' wildest dreams."
"[The saying's] power is unmistakable," she said. "It speaks to everything that Black people have overcome in this country that did not seem possible generations before. But what does it actually mean? Have we actually lived up to these wildest dreams?"
Blain said she pondered these questions while editing the book with Kendi. To answer them, we have to look to our ancestors, she said. "What were their dreams and desires? What obstacles did they face, and how did they seek to overcome them? What did they envision for the future for their children and their children's children?"
All Black people throughout history have dreamed of freedom, Blain added: "The narratives in Four Hundred Souls reveal that Black people have never stopped dreaming. And they have never stopped fighting for those dreams to become a reality."
She relayed the stories of Elizabeth Key Grinstead, who in 1656 became one of the first Black people in British North America to successfully sue for her freedom, and Maria Stewart, who in the 1830s became the first American woman in the US to speak publicly to a mixed audience of men and women when she demanded the rights for Black people.
"These stories capture the spirit of determination that has guided Black people in the United States every step of the way," Blain said. But there is still much work to be done.
"We've come a long way; we have to acknowledge that," she said. "But we're not quite there yet. Today Black people across the nation continue to face many of the same problems our ancestors fought so hard to correct."
Racism and white supremacy persist in all aspects of American life and culture, and many of the socio-economic problems that Black people experience today are linked to slavery and colonialism, she noted.
"I remain doubtful that we are our ancestors' wildest dreams," she said. "But we can be. We still have the opportunity to shape our dreams into future realities. As we reflect on the past and the dreams of our ancestors who fought for social justice, may their stories inspire us to keep fighting and forging ahead."
Kendi elaborated: "I hope this book sitting on the shelves, particularly in libraries, can continue to help forge those dreams."
Update, January 27: The spelling of Maria Stewart's name has been corrected.