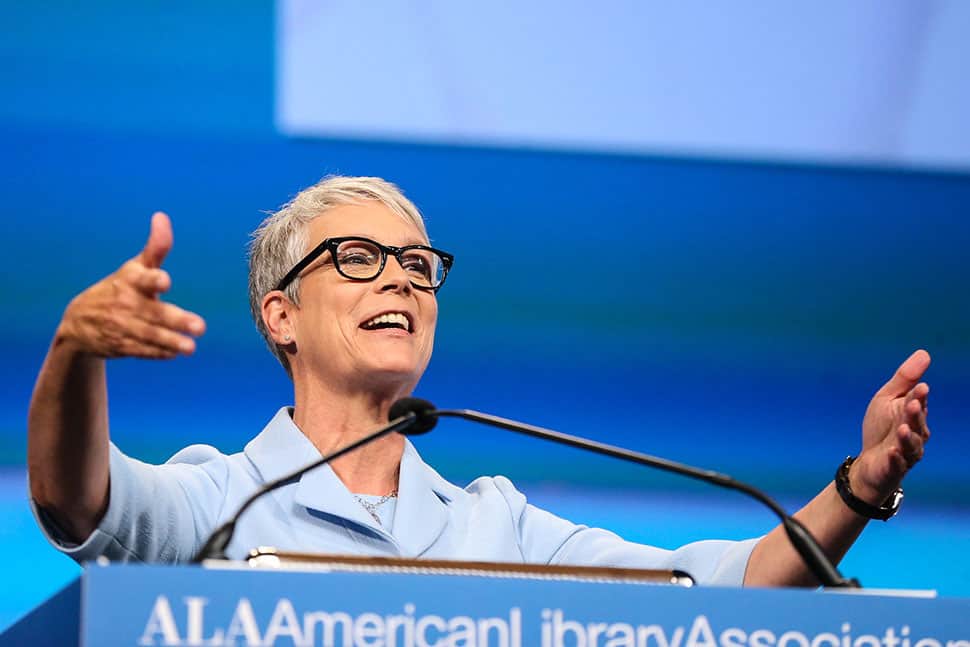 Jamie Lee Curtis is Hollywood royalty. The daughter of silver-screen legends Janet Leigh and Tony Curtis and a celebrated, award-winning actress known for screen-stealing roles in True Lies, A Fish Called Wanda, and Halloween, Curtis has a career to be envied. Despite the cinematic accolades, she says she is most proud of her written work and advocacy for libraries, both of which brought her to the 2016 ALA Annual Conference in Orlando, Florida. Her very funny and personal Closing General Session talk was full of deferential praise for her hosts.
"You are the gatekeepers; the keepers of the keys of education and words, and you've let me in the gate," she said. "It's my privilege to be in your presence."
Curtis's deference was coupled with humble honesty. She spoke openly about her struggles in school as a youth and how it has affected all aspects of her life.
"I'm in a room full of educators, and I'm talking to you as someone who's barely educated," she laughed in disbelief at the beginning of her talk. Curtis admitted to probably having an undiagnosed learning disability as a child, but, if anything, it's driven her to learn more in adulthood. A natural autodidact, Curtis said that she devours knowledge and books now.
That drive to learn and share experiences led Curtis to become a children's book author. Her latest title, This Is Me: A Story of Who We Are and Where We Came From, is the most recent expression of that desire. The book interprets the immigrant and transient experience, reframing it to allow young kids to perceive it as an adventure that can lead to personal discovery and introspection.
In This Is Me, a teacher tells her class about her great-grandmother, who migrated from her home to a new country carrying only a small suitcase holding a few belongings. The teacher then asks the class what they would pack in their own suitcases. Choosing the items becomes a ritual in determining what means most in your life and what defines you.
Curtis used her book's construct to relate her own life and what she holds dear to the audience, listing 12–13 things that she would place in her own suitcase. The items revealed someone disillusioned with celebrity and show business (or "show-off" business, as she called it) and more interested in family, learning, and creative pursuits. Among Curtis's suitcase items are a small gold box engraved with her parents' names, her 8th grade report card, her work with the Children's Hospital of Pittsburgh, her wedding and engagement rings, her sobriety coin, and everything that her children have ever written, drawn, or done in their lives. No awards or accolades from the film world made the cut.
Curtis got visibly emotional describing some of the items and their importance in her life, in particular the Screen Actors Guild (SAG) card she earned when she was 18 years old. The card, which let her work professionally as an actor, represented independence and her first taste of adulthood. The reminiscence triggered an unexpected memory in Curtis, which she shared. Choked up and with tears in her eyes, Curtis relayed how her stepmother had sold all of her father's SAG cards after he died. She had a similar reaction when talking about the gold box bearing her parents' names.
Curtis also joked about her parents' strained relationship, but there was an obvious pain beneath the levity. "I grew up with my parents hating each other my whole life," she said. "But I have this little gold box that says that they did love each other once. It's important for a child to know they were born of love."
Love and laughter were constant themes throughout Curtis's talk. She effusively praised for her two grown children and especially her husband of 33 years, actor and director Christopher Guest. The story of how she met the mind behind film comedies Waiting for Guffman and Best in Show was hilarious and heartwarming.
Curtis said that she saw Guest's photo in an issue of Rolling Stone in the 1980s and mentioned to a friend that she was going to marry him someday. After a series of missed moments that included Guest never calling Curtis after getting her number from a mutual friend, they finally found themselves years later staring at each other from across a restaurant and making funny, excusatory gestures toward each other. Four months later they were married. Curtis jokingly hinted at a secret behind their relationship's longevity.
"You may remember my husband from The Princess Bride, where he played Count Rugen the Six-Fingered Man," she laughed. "Now you know why I married him."