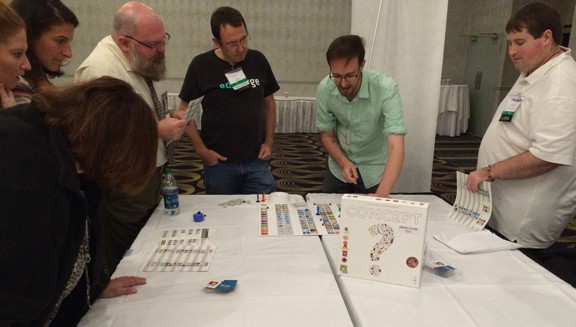 Day two of the Gaming As Meaningful Education (GAME) conference, held September 23–24 in Rochester, New York, and cosponsored by the American Association of School Librarians (AASL) and the American Library Association's Games and Gaming Round Table (GameRT), started with a deep dive into games usage in schools.
Conference cochair Christopher Harris, director of the Genesee Valley (N.Y.) School Library System and editorial director of Play Play Learn, stressed that games should not just be played, they should be treated as any other curriculum-aligned instructional resource. He looked at considerations for selecting games, thoughts on how to align games with the curriculum, and even the importance of modifying games as necessary. After his presentation, he noted that the "importance [of GAME] is identifying that there is a shift to teaching, not just playing, but intentionally teaching through games" and that the "collection development … and pedagogical mastery of librarians" can come to bear on the use of games as an instructional resource.
A session on game design in the classroom led by Tim Cox, assistant superintendent for instructional support services programs at Cattaraugus-Allegany (N.Y.) Board of Cooperative Educational Services, examined more ways that games could meet the instructional needs of educators and the learning needs of students. Game play and game design form a complete curriculum with cross-discipline learning as well as assessment, all wrapped up in interactive fun. Cox's session was an interactive experience for attendees—who worked in groups using a normal deck of playing cards to create a math game—that was both fun and eye-opening. In just a few minutes we collaborated, experimented, debated, and created. Each table's game was vastly different, and the process of design was more important than if the game was playable at the end. Cox also discussed the "zone of proximal development" as it relates to gaming: If you're playing and enjoying a game, you will see it through. If it is too easy, you will get bored and stop. If it is too hard, you will become frustrated and stop. This idea—every player having his or her game—made total sense in the same way that every reader has his or her book.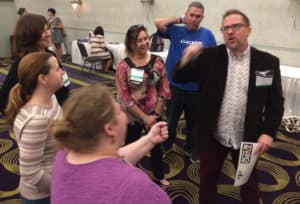 The day continued with sessions looking at partnerships between libraries and the community related to gaming, as well as live-action role-playing. During the breakout period of the day before lunch, attendees explored more games and met with game publishers. One of the highlights was watching Brian Mayer, gaming and library technologies specialist with the Genesee Valley School Library System, lead an Action Castle session—much hilarity ensued, but also much inspiration. Action Castle, an analog version of old-school text-based games like Zork, easily connected with the previous day's session on Twine, the open source game-development tool.
As I wandered the room I began to put all my experiences from the conference together—an overnight lock-in escape room, with educational gaming experiences where participants can solve puzzles, play games, create things, lead games, collect clues… Time to start designing!