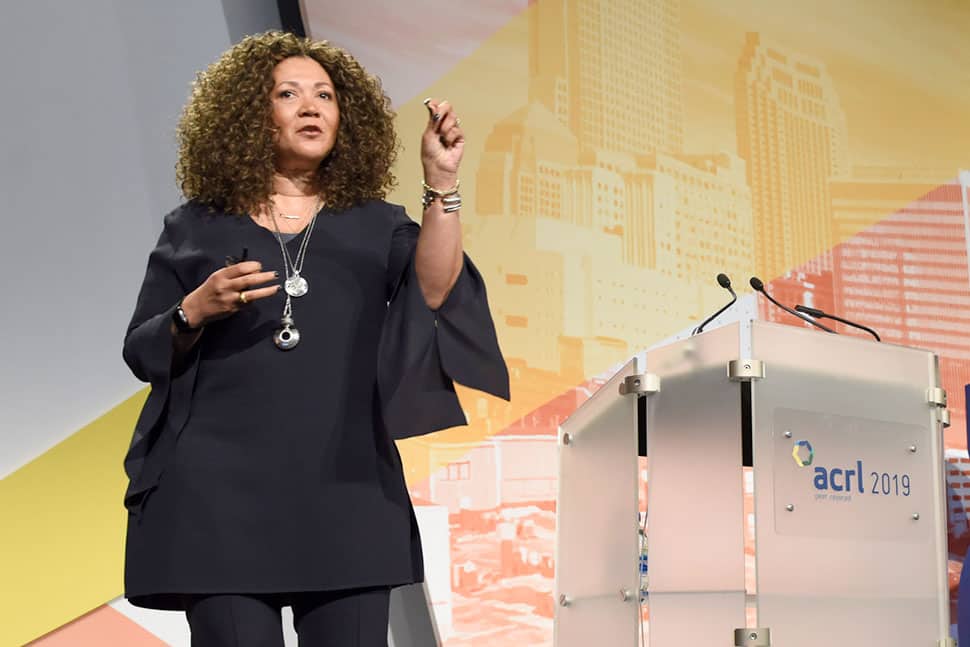 For National Public Radio fans, it's a treat to see the people behind the voices that keep us company and keep us informed. Few listeners would have any trouble pronouncing Michele Norris's first name, having heard her gentle stress on the first syllable over the years as the host of All Things Considered.
That authority and confidence was on full display as she danced onto stage April 10 at the Association of College and Research Libraries (ACRL) conference in Cleveland to the Ohio Players' "Love Rollercoaster." Noting that it was the first time she'd been asked to select her own "walk out" music, Norris joked she would be making that a part of her speaking-engagement rider from now on.
As a Peabody Award–winning journalist, Norris has interviewed world leaders, American presidents, Nobel laureates, leading thinkers, and groundbreaking artists. But she said some of her most profound conversations have been with everyday Americans as part of her work on the Race Card Project, an initiative she founded in 2010 and that she described as an exercise in examining hidden narratives and interrogating hardened beliefs.
Noting that the theme of ACRL's conference—Recasting the Narrative—could be another way of describing her work on the Race Card Project, she started by saying that while stories can define us, they can also confine us. She then asked attendees to turn to their neighbors and say, "Let us learn new things together."
Over the next hour, she spoke candidly on what she's learned about others—and herself—in tackling some of the most challenging questions our time.
She said that when she began the Race Card Project, which asks people to share their stories about race in just six words, she did so under a false assumption: that talking about race is difficult. The hundreds of thousands of stories she has received over the past decade, and the follow-up conversations they engendered, prove that people are eager to engage, she said. "I was not considering all things, even though at 4 p.m. every day I was on a show called All Things Considered," Norris said.
Over the years, she's realized that in asking people to talk about race, the stories they were recounting back to her were actually about identity.
Some notable examples of six-word stories she'd received over the years include: "No, where are you really from?" "Married a white girl. Now what?" "Lady, I don't want your purse." During the Q & A, conference participants shared their stories as well: "Does my name make you nervous?" "What are you? I am human."
Her six-word story? "Still more work to be done."
She closed by saying it was an honor to speak to a room full of librarians, noting that as a little girl of color growing up in Minneapolis with a speech delay, libraries changed her life—and possibly saved it. She also shared that her family in Birmingham, Alabama, created its own lending library during the years they weren't permitted to check out books in the segregated South.
"Libraries showed me the power of community, so when I got the call asking if I'd speak to you all today, it was an easy yes," she said.