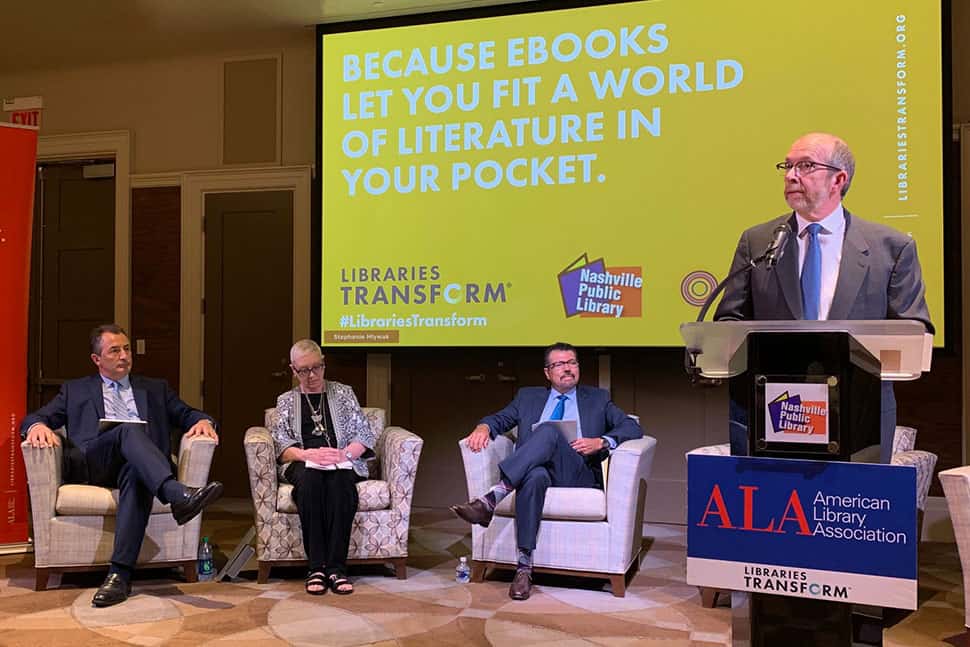 The American Library Association (ALA) rallied library advocates at a September 11 press conference at Nashville (Tenn.) Public Library (NPL), calling attention to Macmillan Publishers' new library ebook lending model and urging library supporters to sign a petition opposing it.
Starting November 1, Macmillan will limit libraries to purchasing one copy of each new ebook and impose an eight-week embargo on buying additional copies.
ALA Executive Director Mary Ghikas said Macmillan's new policy reveals a disturbing trend. ALA, which has been at the forefront of the ebook lending issue for much of the past decade, has "seen the pendulum shift from publishers not selling to libraries at all to a relatively symbiotic relationship between the two," she said. "Now we see a movement toward restricted or delayed access to ebook content, and Macmillan's proposed lending model is the most troubling example of this to date."
She continued, "Libraries serve the local needs of their communities. Macmillan's embargo will make that impossible. That's why it is vital we get the public involved."
In response to the wishes of its members, ALA has developed a campaign to involve patrons in the fight for ebook access. The new initiative, #eBooksForAll, was introduced by Ramiro S. Salazar, president of the Public Library Association and director of San Antonio Public Library. He urged attendees to sign the petition at eBooksForAll.org or text EBOOKS to 40649.
Salazar emphasized the threat of the embargo, saying, "In San Antonio, that means one new ebook for a library serving almost 2 million people at 30 locations," the same number of copies as a neighboring library system serving about 3,000 people. He said the embargo was neither fair nor equitable.
Library directors illustrated the fallout promised by Macmillan's embargo, as well as issues faced by public libraries.
NPL Director Kent Oliver said the restrictions placed by publishers on public libraries make it difficult to purchase ebooks. As a result, he said, patrons do not have access to bestselling titles when they are at peak demand. While "our ability to get ebooks is decreasing, our readers' demand for them is actually increasing," he said.
At his own library, Oliver said, patrons borrowed ebooks just under 800,000 times between July 2017 and June 2018. That figure grew to just under 1 million times over the next year.
He pointed out that libraries pay roughly four times as much for a copy of an ebook as retail customers and must repurchase many of them every two years or after a certain number of checkouts. "Libraries not only pay higher prices, but they must pay them again and again and again to keep ebooks in our collections," he said. "Providing unfettered, undiscriminating access to reading is the core of our work. It is actually in a library's DNA."
The Macmillan embargo is especially troubling, he said, because it will extend patron wait times. After months on NPL's top-five ebook list, just under 2,000 patrons are still waiting to read the bestseller Where the Crawdads Sing. He said that NPL has purchased 358 copies of the book to meet patron demand.
Patrick Losinski, CEO of Columbus (Ohio) Metropolitan Library, joined Oliver in criticizing Macmillan's "hasty and ill-advised policy decision" and called on the publisher to reverse it immediately. Losinski said the embargo has critical implications for equitable access to information. Libraries, he said, bridge the gap between the haves and have-nots.
"Many customers in rural, urban, [and] suburban communities live in poverty or live on fixed incomes, and they rely on our public library system for their reading needs," he said. "And this has never more evident than it is with ebooks."
Those demanding access include students without transportation who need ebooks for homework and nursing home residents who rely on ebooks to maintain their connection to the outside world. The embargo will only foster the digital divide, Losinski said.
He called on Macmillan to engage in a productive dialogue with authors, libraries, publishers, bookstore owners, and others. He said the investment by libraries in ebooks supports readers, authors, and publishers. "We are not competitors," he said. "We are collaborators."
Since they expose readers to authors with whom they may be unfamiliar, "Public libraries are the best marketing tool that authors and publishers have."
Libraries Transform Book Pick
At the press conference Ghikas also announced the Libraries Transform Book Pick, a collaboration between ALA and Rakuten OverDrive to provide unrestricted ebook access.
The first title will be After the Flood by Kassandra Montag (William Morrow and Company). From October 7–21, the ebook will be available for unlimited checkouts by those holding library cards at public libraries using Rakuten OverDrive readers. There will be no waitlist or holds for the title.
"While Macmillan's embargo hurts libraries, this collaboration will help them," Ghikas said.