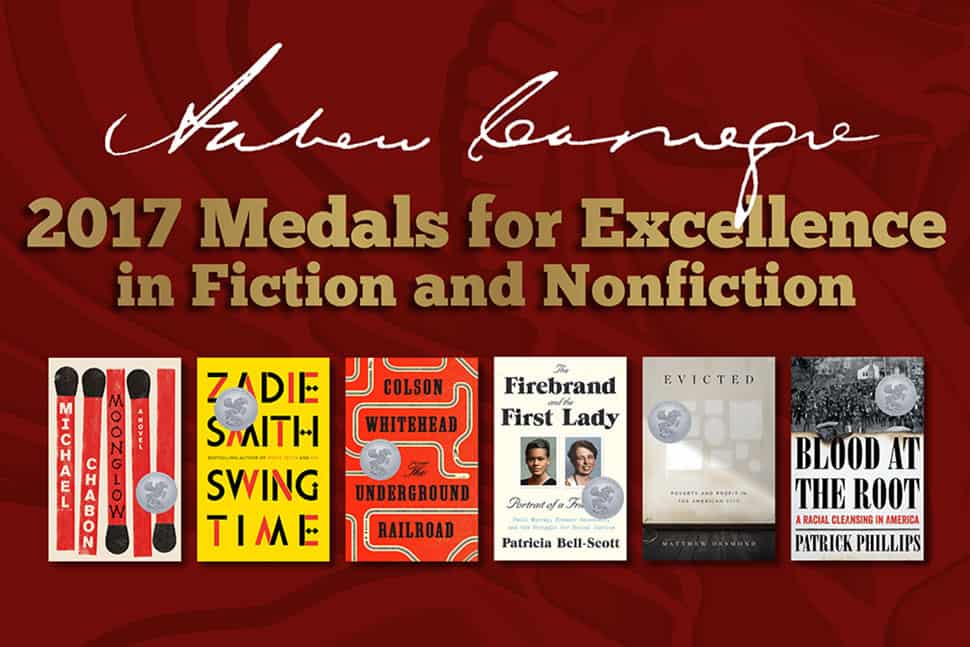 The American Library Association (ALA) today announced six books shortlisted for the esteemed Andrew Carnegie Medals for Excellence in Fiction and Nonfiction, awarded for the previous year's best fiction and nonfiction books written for adult readers and published in the United States. The two medal winners will be announced at the Reference and User Services Association's (RUSA) Book and Media Awards event at ALA Midwinter Meeting & Exhibits in Atlanta, Georgia, on Sunday, January 22, 2017.
2017 Andrew Carnegie Medals for Excellence in Fiction and Nonfiction shortlist titles include:
Andrew Carnegie Medal for Excellence in Nonfiction 2017 Shortlist
The Firebrand and the First Lady: Portrait of a Friendship: Pauli Murray, Eleanor Roosevelt, and the Struggle for Social Justice, by Patricia Bell-Scott, published by Alfred A. Knopf, Penguin Random House LLC. Bell-Scott meticulously chronicles the boundary-breaking friendship of Pauli Murray and Eleanor Roosevelt, telling each remarkable woman's story within the context of the crises of the times, from ongoing racial violence to WWII and the vicious battle over school integration.
Evicted: Poverty and Profit in the American City, by Matthew Desmond, published by Crown, Penguin Random House LLC. Desmond shares harrowing stories of eight families who find themselves facing home evictions in Milwaukee, Wisconsin, shining a light on how eviction sets people up to fail.
Blood at the Root: A Racial Cleansing in America, by Patrick Phillips, published by W. W. Norton. Phillips presents a precise and disquieting account of long underreported tyranny and violence against African Americans in a farming community in Forsyth Country, Georgia, in 1912, which resulted in nothing less than racial cleansing.
Andrew Carnegie Medal for Excellence in Fiction 2017 Shortlist
Moonglow, by Michael Chabon, published by Harper, an imprint of HarperCollins. A young writer listens in breath-held astonishment as his ailing grandfather, whose lifelong reticence has been vanquished by strong painkillers, tells the hidden stories of his hardscrabble boyhood, WWII military service, obsession with moon missions, and love for a French Holocaust survivor.
Swing Time, by Zadie Smith, published by Penguin Press, Penguin Random House LLC. Two "brown girls" growing up in London public housing share a passion for dance but follow divergent paths, which lead to adventures in America and Africa, and raise complex questions about family, friendship, race, creativity, and celebrity.
The Underground Railroad, by Colson Whitehead, published by Doubleday, Penguin Random House LLC. Whitehead reimagines the Underground Railroad in this powerful tale about smart and resilient Cora, a young third-generation slave who escapes the brutality of a Georgia cotton plantation and seeks sanctuary throughout the terrorized South.
The Carnegie Medal winner announcements will be made at the Midwinter Meeting & Exhibits, which now offers 24 hours of ALA book and media award excitement with the Book and Media Awards preceding the ALA Youth Media Award (YMA) announcements. Carnegie Medal winners will each receive $5,000, and the four finalists each receive $1,500. All the finalists will be honored during a celebratory event at ALA's 2017 Annual Conference in Chicago.
The awards, established in 2012, recognize the best fiction and nonfiction books for adult readers published in the US in the previous year and serve as a guide to help adults select quality reading material. They are the first single-book awards for adult books given by the ALA and reflect the expert judgment and insight of library professionals who work closely with adult readers.
The medals are made possible, in part, by a grant from Carnegie Corporation of New York in recognition of Andrew Carnegie's deep belief in the power of books and learning to change the world, and are cosponsored by ALA's Booklist and RUSA.
Annotations and more information on the finalists and the awards can be found at http://www.ala.org/carnegieadult. Book cover artwork is available for download at http://tinyurl.com/Carnegieshortlist .