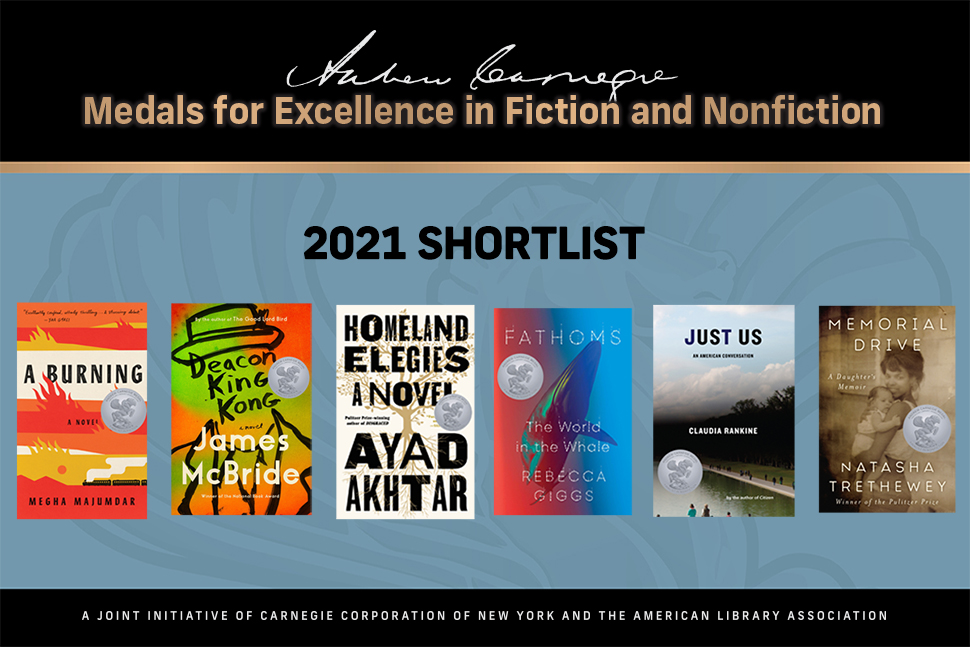 On November 17 the American Library Association (ALA) announced the six books shortlisted for the Andrew Carnegie Medals for Excellence in Fiction and Nonfiction. The award recognizes the best books written for adult readers and published in the United States during the previous year. The two medal winners will be announced online on Thursday, February 4, at the Reference and User Services Association's (RUSA) Book and Media Awards at 3 p.m. Central.
The 2021 Andrew Carnegie Medals for Excellence in Fiction and Nonfiction shortlist titles include:
Fiction
A Burning, by Megha Majumdar (Alfred A. Knopf). After witnessing a gruesome train station attack during her walk home to the slums, Jivan responds to a Facebook post. Days later, she has been beaten, jailed, and accused of terrorism. Majumdar's debut serves as a barometer measuring the seeming triviality of human life and the fragility of human connections.
Deacon King Kong, by James McBride (Riverhead Books). Portraying a 1969 Brooklyn neighborhood through its outsiders, McBride creates tragedies, humor, plot twists, and cultural and generational clashes. When the titular deacon, Sportcoat, the least likely of heroes, shoots a 19-year-old drug dealer, everyone assumes the deacon's days of freedom are numbered. But all is not as it seems.
Homeland Elegies, by Ayad Akhtar (Little, Brown, and Company). Akhtar confronts race, money, family, politics, and sexuality in this bold, memoiristic novel about a young Pakistani American before and after 9/11. Money, and the debasement of other values, is a defining element of narrator Ayad's relationship with writing and his father, while the country's crude racism prods both men to question whether America can ever truly be their home.
Nonfiction
Fathoms: The World in the Whale, by Rebecca Giggs (Simon & Schuster). Giggs considers our ancient and persistent whale wonderment, high-tech whale hunting, the 1970s Save the Whales movement, global warming, mass extinction, and pollution, including the oceanic plastic plague. Deeply researched and deeply felt, her revelatory and haunting investigation urges us to save the whales, the oceans, and ourselves.
Just Us: An American Conversation, by Claudia Rankine (Graywolf Press). With a blend of essays and images perfectly attuned to this long-overdue moment of racial reckoning, Rankine analyzes the overwhelming power of whiteness in everyday interactions. Touching on Beyoncé, blondness, skin lightening, and the inherent tensions in her own interracial marriage, Rankine opens a literary window into the Black experience.
Memorial Drive: A Daughter's Memoir, by Natasha Trethewey (Ecco). In her memoir, Trethewey confronts the horror of her mother's murder through finely honed, harrowing memories, dreams, visions, and musings. She writes, "To survive trauma, one must be able to tell a story about it." And that's exactly what she does in this lyrical, courageous, and resounding remembrance.
Carnegie Medal winners will each receive $5,000. All finalists will be honored during a celebratory event in June 2021 during ALA's Annual Conference.
The medals, established in 2012, serve as a guide to help adults select quality reading material. They are the first single-book awards for adult books given by ALA and reflect the expert judgment and insight of library professionals and booksellers who work closely with adult readers.
The medals are made possible, in part, by a grant from Carnegie Corporation of New York in recognition of Andrew Carnegie's deep belief in the power of books and learning to change the world, and are cosponsored by ALA's Booklist and RUSA.