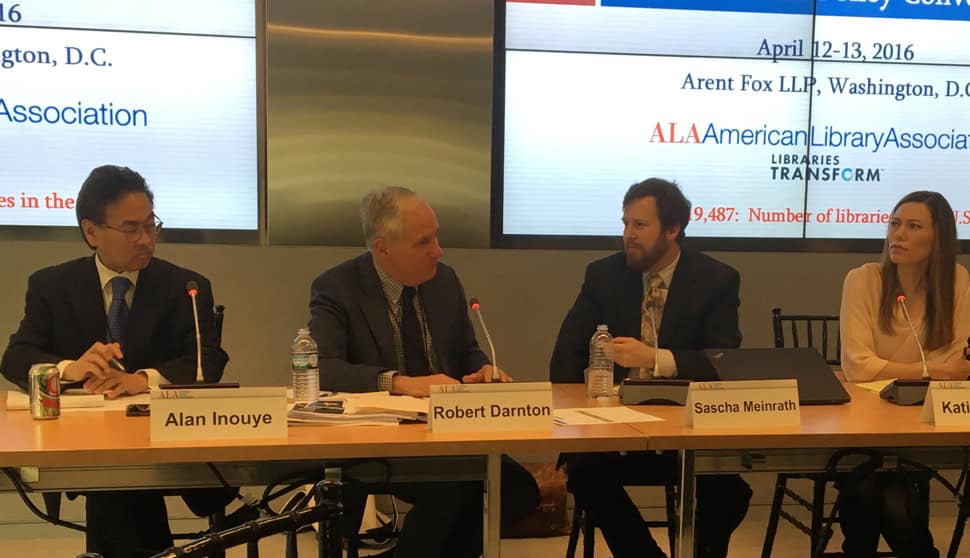 With a new presidential administration and Congress looming on the horizon, library policy wonks are laser-focused on one question: How can the library community position itself to ensure that our issues are on the national agenda for 2017? The American Library Association (ALA) held its first-ever National Policy Convening in Washington, D.C., April 12–13, to explore these issues and cultivate possible collaborators. ALA President Sari Feldman chaired the event.
The National Policy Convening brought together experts from across the beltway policy ecosystem to address some of the most pressing policy issues facing the library community. Programming consisted of three sessions: "Youth Engagement with Technology," "Advancing Economic Opportunities in Communities," and "Future Directions for the Library of Congress."
Youth engagement with technology
Sen. Angus King (I-Maine) and Tiffany Moore, vice president of the Consumer Technology Association (and a member of ALA's new Public Policy Advisory Council), kicked off the session and the convening. They focused on libraries as vehicles for expanding opportunity for youth, whether as centers of technology access or as pipelines for increasing the diversity of talent interested in technology-related education and career paths. Stephan Turnipseed, executive vice president of Destination Imagination and a former president of Lego Education North America, gave the session's keynote address. Turnipseed described pedagogic strategies to help parents and educators prepare children, tweens, and teens for participation in the digital economy.
For Turnipseed, acquiring meaningful knowledge in today's world means more than rote memorization; it requires personal engagement with the surrounding world. Parents and educators must encourage young people to learn creatively by drawing inspiration from things they see and touch in their daily lives. Furthermore, parents and educators must not focus on helping young people acquire any one set of technical skills. Instead, they must focus on helping young people build cognitive, creative, and interpersonal skills that will prepare them for an unpredictable economy, such as critical thinking, communication, and problem solving. Finally, parents and educators must encourage young people to respect, share with, and understand the cultural differences of their collaborators. Turnipseed sees libraries as critical to bringing this overall vision for education to fruition; they are informal spaces that encourage connected learning, collaboration, and creativity.
Advancing economic opportunity in communities
The session on entrepreneurship and economic opportunity began with remarks from Darryl DePriest, chief counsel for advocacy at the US Small Business Administration (SBA).
The Office for Advocacy, which DePriest heads, represents the views of small business in front of other federal agencies and conducts research on the small business sector's economic impact. His presentation highlighted multiple potential intersections between libraries and SBA.
Following DePriest's remarks, a panel described workforce and small business trends and offered strategies for creating more entrepreneurship opportunities for underrepresented groups. Panelists included Emily Robbins, principal associate of the National League of Cities (NLC); Russell D. Greiff, managing director of the Washington, D.C., incubator 1776; Maureen Conway, vice president of the Aspen Institute; Feldman; and DePriest. Moderated by Larra Clark, deputy director of ALA's Office for Information Technology Policy (OITP), the discussion highlighted inequity of skills, resources, and time as major impediments to entering the innovation economy.
Robbins highlighted NLC research that illustrates inequity in workforce skill both between and within cities. Additionally, she pointed out that lack of reliable transportation makes accessing workforce development training impossible for residents living in certain areas. DePriest described access to capital as a major impediment to entrepreneurship, particularly for individuals living in rural areas. Conway described a lack of time as perhaps the greatest inhibitor to entrepreneurship among low-income individuals, who often work more than one job, spend more time in transit, and may be a primary caregiver.
The panel highlighted the library community as a force for reducing this inequity. Feldman described how the technology, classes, and staff expertise at her library's in-house incubator have created opportunities for people of all ages and backgrounds. Robbins offered a similar example, outlining the Dallas B.R.A.I.N., a growing number of coworking spaces across the Dallas Public Library system that cater to entrepreneurs. Greiff plugged the ability of libraries to provide robust access to business information, calling them "the Starbucks of content."
Future directions for the Library of Congress
With the first hearing for Carla Hayden, President Obama's nominee for Librarian of Congress, slated for April 20, the excitement at the April 13 panel on the Library of Congress (LC) was palpable. The panel was moderated by Alan S. Inouye, director of OITP, and included Robert Darnton, Carl H. Pforzheimer University Professor and university librarian emeritus of Harvard University; Sascha Meinrath, Palmer Chair in Telecommunications at Penn State University; and Katie Oyama, senior policy counsel of Google.
Overall, the panelists advocated for a more expansive and assertive role for LC in the digital age. In the realms of copyright and federally funded research, LC should be more involved in education, communication, and advocacy efforts toward advancing the public's access to information. Ramping up work to preserve American culture through digital technology should be a part of such efforts. Furthermore, LC could have a more prominent role in developing our understanding of the challenges posed by the "internet of things," which include privacy and the free expression of ideas.
Moving forward
The National Policy Convening provided much food for thought for this period of flux inside the beltway. ALA will continue its work on education technology policy, entrepreneurship, workforce development, and the future of our information ecosystem. Expect further events, meetings, and reports as we gear up for the post-election period of intense advocacy with the new administration and Congress.