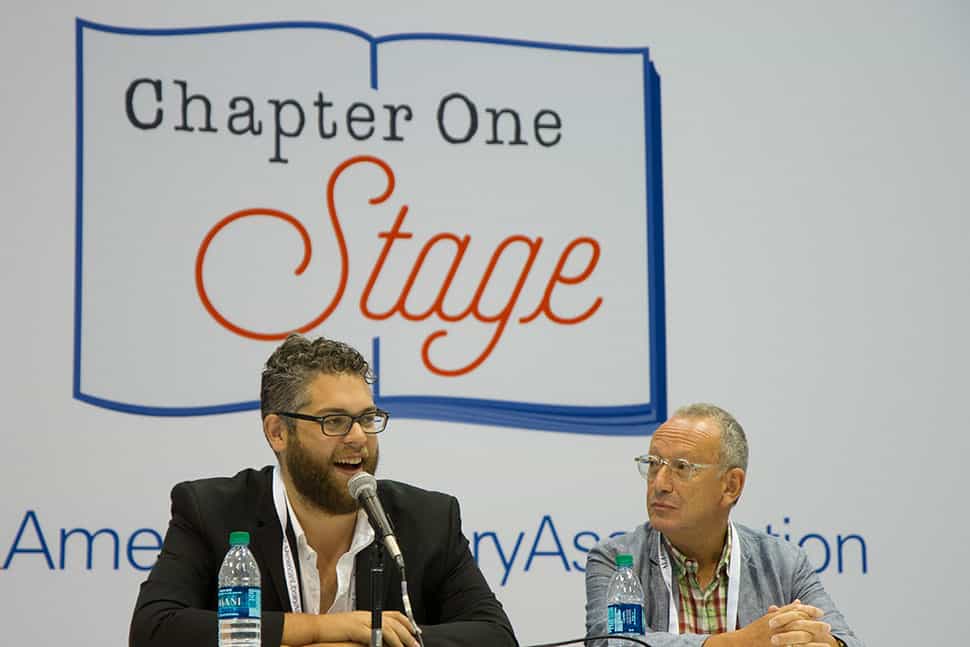 Author Gavriel Savit, narrator Allan Corduner, and producer Orli Moscowitz spoke at the Chapter One Stage about the 2017 Odyssey Award Winner Anna and the Swallow Man. The Odyssey Award is presented each year by the ALA's Young Adult Library Services Association to the producer of the best audiobook available in English in the United States and produced for children and/or young adults.
When asked about the origin of Anna, Savit recalled a conversation between his niece and his brother-in-law. When his niece asked her father if Peter Pan could really fly, her father said no.  Gavit felt this question expressed a state of human being and needed further exploration.
Orli Moscowitz explained the interesting process that leads from novel to audiobook. A lot of her job is logistics. Before she reads a manuscript, she determines the word count to calculate the number of studio days that are needed to record, and then she begins reading and listening.  She listens to her inner voice as she reads. Who is telling the story? Who is the voice, and is it consistent? She tries to picture the actors who match the voice in her head, then compiles a list of potential actors. Once she has a list of voices, she reaches out to the author, because she wants the voice to match what the author hears.
When looking for an narrator for Anna and the Swallow Man, Orli noticed that while the character Anna is seven, someone else is telling the story. Orli almost immediately heard Allan Corduner's voice.  Corduner had narrated The Book Thief ten years prior, and she knew he had all the necessary skills.  Anna is about the power of languages and words, and she knew Corduner would do a great job.
Corduner immediately knew Anna and the Swallow Man was the perfect fit for him because of his own ancestors' journey to escape Nazi Germany.  Corduner felt Anna was a world of wonder and torment and change and fear. This book wasn't patronizing to its seven-year-old character; rather, her instincts were captured well in the text. When preparing for a book with a variety of accents, Corduner initially read Anna like everyone else, and he then read it again to really prepare and color-code the characters.  He said, "It was a wonderful read … it was great fun."
Moscowitz was especially honored to win the Odyssey because it is awarded by librarians who listen to hours of audiobooks but choose just one. Gavit, Corduner, and Moscowitz were humbled and grateful for the recognition for Anna and the Swallow Man.