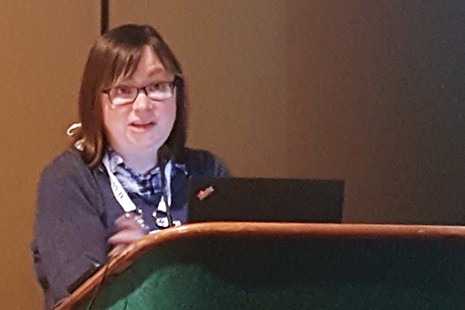 Do I really need to use this microphone?"
Kate Deibel opened her session, "Pushing on the Frontier: Disability Access and the Future of Libraries" on Saturday, January 26, at the ALA Midwinter Meeting & Exhibits in Seattle, with this all-too-common question to make a point: "Always use the microphone. It's one of the most important and easiest things you can do." It helps people with auditory and attention issues, and is the first step needed for live captioning.
Unfortunately, solutions to disability access issues are not all so straightforward. Deibel, inclusion and accessibility librarian at Syracuse University, pointed out that, while the basics of accessibility are evergreen, it's difficult to engage people on the deeper issues because they can be massively complex. She highlighted some of the biggest challenges to grasping accessibility issues:
Accessibility is complex. "[Libraries] have many working parts with working parts underneath," she said. Physical spaces, people, holdings, and technology all need to be accessible.
Disability is diverse. There are many types of disability that affect people to a different extent and in different combinations.
Motivation. People react well to positive encouragement, but often don't follow through. Meanwhile punishing people for noncompliance creates ill will.
Myths are prevalent. "Sometimes you have to have a sense of reality," she said. It's impossible to make something 100% accessible to everyone, and it's a myth that things that aren't accessible can't be used at all by people with disabilities. Reasonable accommodations are required for a reason: It's impossible to meet every need all of the time.
Shortly after she started her position as accessibility and inclusion librarian, Syracuse University was the subject of a federal complaint about web accessibility. In her work to remediate the problems, Deibel led staff training, document cleanup (including more than 3,000 access issues in the library's LibGuides alone), and archives redesign.
Deibel sees these complaints as an inevitable part of the future of disability access on the web. The federal Office for Civil Rights is filing an increasing number of complaints against institutions, some of which are based on automated web scrapers that alert the office to common accessibility issues, meaning a patron doesn't need to have a problem for an institution to be vulnerable to complaints. She also cited several recent lawsuits that have led to new case law, including a ruling against Domino's Pizza that established a precedent that the Americans with Disabilities Act applies to mobile apps. Because these suits are successfully pushing compliance forward, they are likely to become more common.
To get ahead of this trend, institutions have begun to adopt comprehensive accessibility policies on how they acquire digital materials and services. Deibel recommended three ways that institutions can work together to improve accessibility for all:
Share accessibility reviews between institutions to avoid duplicating work.
Coordinate efforts to demand support fixes from vendors. "Support will care if 15 institutions complain about the same thing," she said. Standards for web accessibility were released in 1999, yet "there are lots of basic accessibility bits vendors should have learned by now."
Assess legal grey areas in fair use and licensing so institutions are less vulnerable to challenge for making changes to materials to make them accessible.
Deibel also emphasized the importance of soliciting input from staff and patrons who have disabilities to solve issues. Particularly regarding buildings, she suggested doing walk- or roll-throughs to find pain points. "Have someone who knows Braille check your Braille signs," said Deibel. While doing an accessibility review on the library's first floor, Ellen Bartlett, one of the university's MLIS students who is herself blind, discovered that the women's restrooms signs don't say "Women's"—"They say 'WO107.'"
There's a need to involve all levels of libraries in advocating for access, and Deibel has started a discussion group, Lib4A11y, to facilitate cooperation. She pointed out that the name is very inaccessible for screenreaders: "Hopefully it will be the last bit of inaccessibility to fall."