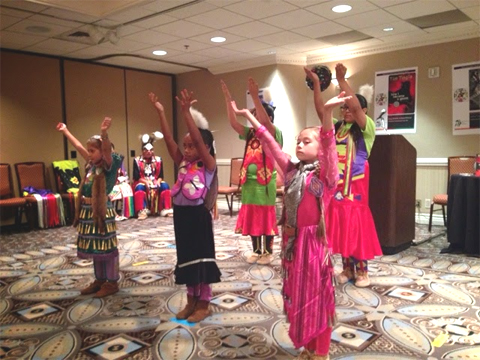 The American Indian Youth Literature Awards (AIYLA) ceremony took place on Sunday afternoon. The awards are presented every two years to authors whose works "identify and honor the very best writing and illustrations by and about American Indians," and present American Indians "in the fullness of their humanity" both past and present.
Naomi Bishop, co-chair of the 2014 AIYLA Jury as well as AILA secretary, introduced keynote speaker Tim Tingle. A 7th-generation storyteller and author, Tingle is also the middle school award winner for 2014 for his novel, How I Became a Ghost, about a young boy and his experiences traveling with his family to Oklahoma on the Trail of Tears. Tingle spoke about the trials his family endured being discriminated against for being Choctaw tribal members, and the importance of documenting these types of stories. He said the recent decision to revoke trademark rights to the Washington Redskins team name and logo gives Native Americans a big opportunity to raise these types of issues in public discourse, so "we will never be ghosts."
Other awards were presented to Tomson Highway for his 2012 book, Caribou Song, and to Joseph Bruchac for the Young Adult Award–winning novel, Killer of Enemies.
MICHELE LESURE a freelance blogger for American Libraries, lives in a house divided, being an MLIS candidate at Florida State University, as well as working in the main branch library at the University of Florida. She tries to remain neutral because she doesn't look good in crimson and gold or orange and blue.
---
See, hear, and read more about what's going on at Annual—in real time and after.
Twitter: @alaannual and #alaac14
Facebook: https://www.facebook.com/events/489205011101981/
YouTube: http://www.youtube.com/user/AmLibraryAssociation
Flickr: http://www.flickr.com/groups/alaac14/
Pinterest: http://pinterest.com/alaannual/
Tumblr: http://ala-con.tumblr.com