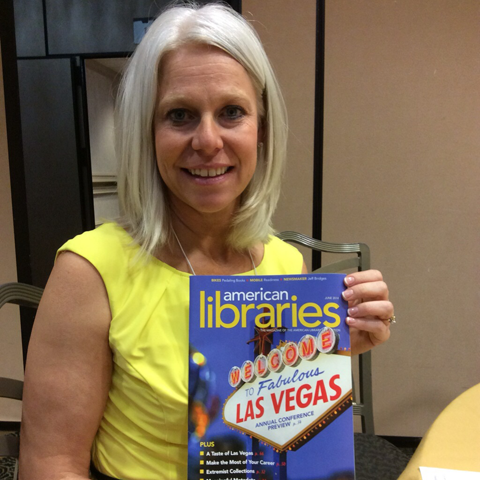 Heather Gudenkauf, author of The Weight of Silence and Little Mercies, was featured as a speaker at the United for Libraries Gala Author Tea at the 2014 ALA Annual Conference and Exhibition in Las Vegas. She sat down with American Libraries to talk about her love of reading, her writing process, and the importance of small gestures.
American Libraries: What were your interactions with libraries growing up?
Gudenkauf: I grew up the youngest of six, and the library was definitely a place that I sought out and really enjoyed getting my books. I grew up in Mason City, Iowa, which is famous for being the inspiration for The Music Man. Part of that story involves the librarian and the footbridge that leads to the library. I went to a school that was very close to that footbridge and library, so once a month our teacher would hand out our library cards and we would make the trek several blocks, cross over the river on the bridge, and go to the library where the librarian was waiting to read us stories about faraway places and help us pick out the books that were just right for us. So that was always a really good memory for me.
You mentioned a story about reading in your toy box as a child.
I was born with unilateral hearing loss, which means I'm deaf in one ear. The difficulty is I can't tell where sounds come from. And when I'm in a crowded situation like a classroom, I miss a lot. It would be like hearing every third or fourth word in a sentence, so you can imagine I was always the kid who was a few steps behind. School was exhausting because with this kind of hearing loss, you have to really work hard to attend to what's happening. I would come home exhausted. And I have great brothers and sisters, Mom and Dad, a house full of pets, but I was tired. I would take my stack of books from the library, pull out all the toys from the toy box—which was a gift to my father who was a counselor at an Indian reservation in South Dakota, and my mom was a school nurse there when I was very young, and his students made this for our family—I would climb in with my pillow, a flashlight, and my books, and that's where I really learned to love to read. Then down the road as years passed, I outgrew the toy box but still loved to read. When I got married, my parents had the toy box repainted a really pretty cream color, stenciled flowers on it, filled it with towels and linens, and gave that to me as our wedding gift. I still have it in our house, and my kids played in it. I'm sure I'll pass it on to somebody.
How did you transition from education into the writing field?
I've been in education for more than 20 years. I still am a Title I Reading Coordinator for our school district, so I work with at-risk schools and their reading programs. But for a long time I was a classroom teacher, and as a teacher we always encourage kids to follow their dream. At the end of our day, with my 3rd and 4th graders, we had a rhyme that they had to recite every day that encouraged them to dream big. And I thought, "Well if I'm telling them to follow their dreams, then I should probably do that too."
One summer I packed up my classroom, bought a really pretty journal, and my family was going to a little trip around Iowa, and I wrote in longhand the first 50 pages of the Weight of Silence. And by the end of the summer, before I went back to set up my classroom again, I'd finished my first draft. Then I stuck it in a drawer, waited until winter vacation to decide what I was going to do—was I actually going to send it off somewhere or keep it in the drawer? I did end up sending it off, and it worked out in the end. Really it's my students. By encouraging children to do what they wanted to do, I had to try to do that too.
Can you describe your writing process now? Do you still write during summer vacation?
I still work for our school system, and I do write during summer vacation, but I try to write all the time if I can. Family comes first, and I have three teenagers now, but I try to set some time aside to write every day. It could be 10 minutes or three hours, depending on what's happening in our lives. But sticking to a schedule is really important for the book to get done on time and also for the flow of the book. I write whatever I can, whenever I can, wherever I can—even sitting in the car waiting for my daughter to get out of basketball practice.
What advice do you have for aspiring writers?
People who may never end up seeing their books for wider audiences do have an audience, whether it's themselves or someone close to them, and I think that's important. The audience can be yourself, and if it's important to you, do it. You find that time and you set aside those precious minutes to write. That's my biggest advice: Just to do it. Sit down and finish whatever inspires you. Write about what you love, because you don't want to spend time doing things that you aren't passionate about. And read. That really can help inform writing, so read far, wide, and deep.
Not expecting miracles is a big theme in Little Mercies. Can you tell us a bit about the importance of that idea?
I think when we're faced with challenging circumstances, we tend to think, "Oh, if only they would just be cured of a terrible disease," or "If I would just get that big job," and we think that might fix it all. But sometimes we get so caught up in the big things, the life-changing situations, that we forget it's the little things that make all the difference in taking that next step forward when we are in difficult situations.
Sometimes you're living day to day, hour to hour, or even minute to minute. Sometimes just a little smile or pat on the shoulder can get you to the next minute. I think that's what the book is about: recognizing those small gestures, and whether we're giving them or receiving them, knowing they can make all the difference to people.
---
Twitter: @alaannual and #alaac14
Facebook: https://www.facebook.com/events/489205011101981/
YouTube: http://www.youtube.com/user/AmLibraryAssociation
Flickr: http://www.flickr.com/groups/alaac14/
Pinterest: http://pinterest.com/alaannual/
Tumblr: http://ala-con.tumblr.com