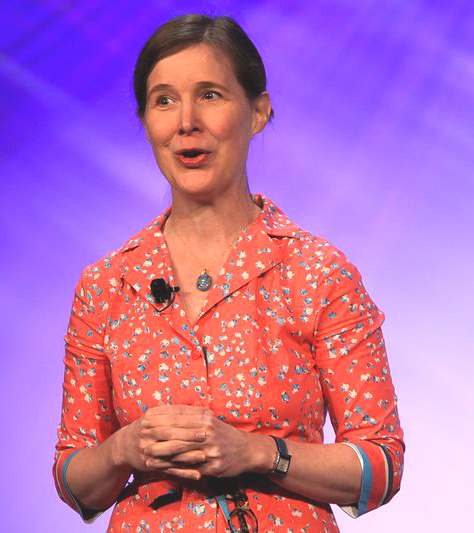 Without using the library buzzwords "readers' advisory" or "booktalking," Ann Patchett spent the first half of her appearance at the PLA President's Program describing her passion for the former, and the second half displaying her skill with the latter.
Patchett's bio was impressive enough when it was primarily a bibliography, since, as PLA President Eva Poole put it, "Her books are always surrounded by phrases like 'best-selling this' and 'award-winning that.'" (In December 2015 "opera inspiration" will be added when Bel Canto is scheduled for its world premier at Chicago's Lyric Opera.) Now it's also a David vs. Goliath tale, as the independent bookstore is Patchett cofounded in Nashville thrives in a challenging market. In the version of the Parnassus Books origin story that she recounted, former Nashville Public Library director Donna Nicely played a starring role. Nicely, who was Patchett's neighbor when she first came to Nashville from Atlanta, started working at Parnassus when she retired from the library. In doing so, she doubled back to the passion that made her want to become a librarian in the first place: connecting readers with books. Nicely and Patchett's friendship helped forge a tight bond between Parnassus and NPL, a relationship that Patchett recommended every librarian in the audience cultivate with a local bookstore.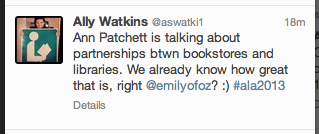 Connecting readers with books is Patchett's passion, too. She confessed that she doesn't even really care about selling the books she recommends. In fact, she has been known to take books away from shoppers. A woman who had selected two books from Patchett's "Recommended" shelf—The Yellow Birds by Kevin Powers and A Constellation of Vital Phenomenon by Anthony Marra—to bring to the hospital where her daughter was in labor was firmly instructed to put them back. "Yes, I recommend those books," said Patchett at the time, "but they're war novels." Of course, the soon-to-be grandmother did not leave Parnassus empty-handed. "Get Where'd You Go, Bernadette?" suggested Patchett. "There's a book that you can dip in and out of between contractions."
Maria Semple's Where'd You Go, Bernadette? made the list of 10 books that Patchett recommended during the second half of the program. (The rest are on this annotated BiblioCommons list.)
Patchett's booktalking was virtuosic. She is unapologetically obsessed with books. "I have exactly one hobby: I read," she said, adding that her favorite thing about helping to run Parnassus is that "Finally, my lifetime hobby is getting put to really good use." Was she assuming that the librarians in the audience also get to spend their entire professional lives reading and recommending books? No. "I know you're doing things so much more complicated than just books," she acknowledged, "and I'm just representing a tiny slice of it today. But you know, the books made me," Patchett concluded. "When you give a book to someone, you are making them. With all my heart, thank you."
BRITA ZITIN is participating in the ALA Student-to-Staff Program.