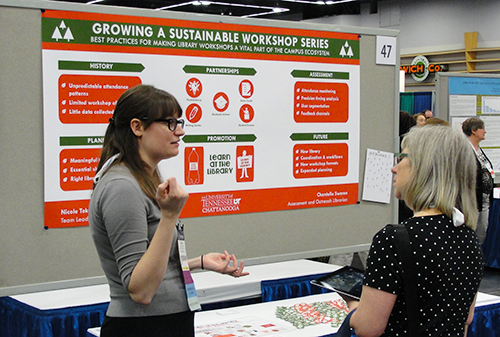 The theme of the 75th anniversary ACRL Conference in Portland, Oregon, is "Creating Sustainable Community," and with nearly 1,300 first-timers at the event and numerous new sessions and activities, it was also about change and growth.
The session "Saving Our Students: Higher Education Affodability Issues and the Expanding Role of Libraries with Open Educational Resources" drew a large crowd to listen to panelists Kristi Jensen of University of Minnesota, Sarah Cohen of Open Textbook Network, Dana Ospina of California Polytechnic University, and Shan Sutton of Oregon State University.
Cohen talked about how students at Cal Poly were required to take math courses, and though most students purchased the books, the books were too heavy to carry all over campus. "Students were turning to the library for reserves. Students didn't want to lug the textbooks around, so reserve lines would literally go to the back of the room, waiting for textbooks to use in between classes. We started this program area from a 'I want to shorten those lines and help the student experience,'" she said.
Jensen said she has been working on e-learning efforts for two years. "Our goals focused on student affordability. It goes beyond OER (open educational resources) in my perspective. We wanted to lower student and faculty frustration in accessing material and streamline faculty access." Themes developed, such as working with people who were working with faculty one-on-one when redesigning a course and educating those partners. "We wanted to be working with faculty at key decision points. With a new course, think of it as a wedge—can I wedge myself in that space where faculty are talking?"
Sutton reminded the audience that the faculty hold the key. "To me the number-one talking point of classroom materials and textbooks is the part that faculty have 100% control of. Getting faculty to see that, helps to reduce costs without compromising the educational experience," he said. There is a need to get departments to get commitment across sections to make it really effective, he noted.
This is why libraries are uniquely positioned to be leaders and facilitators, Sutton argued. "It fits our mission of removing barriers to access. Our librarians have expertise in locating and evaluating. We have strong connections and opportunities with the student body. We feel the pain, observe the pain of textbook costs on students."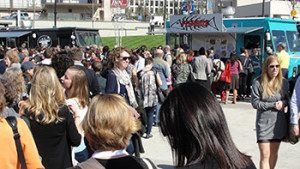 In addition to programs, many attendees took advantage of the HeadShot Lounge, which offered free professional photos and a brief professional makeup session, with results delivered via email immediately afterward. Book club discussions were also popular, and donations to Abby's Closet, a local nonprofit that helps make prom achievable for girls in need, brought donations of dresses, shoes, and handbags.
At the lunch hour, long lines formed around the many food trucks that lined the conference parking lot.
Robert A. Seal, dean of university libraries at Loyola University Chicago, received a plaque and $5,000 from YBP Library Services as the 2015 ACRL Academic/Research Librarian of the Year at the final session on March 26. After answering an ad to work as a library book shelver during his undergrad years, Seal went on to get his library degree and serve more than 40 years as a librarian. His award recognizes an outstanding member of the library profession who has made a significant national or international contribution to academic/research librarianship and library development.
Public radio's "Radiolab" host and creator Jad Abumrad entertained attendees at the keynote session. Abumrad's open-ended "laboratory" show, which he hosts with Robert Krulwich, is one of public radio's most popular programs. Abumrad shared clips and thoughts about his creative process.
"I'm the guy who tells stories for a living. It's great to be in a room with people who help people who tell stories," he said. "You're in a moment. This is a transitional period to be a librarian. Incredibly exciting moment and an incredibly scary moment. I'm here to tell you what it feels like to move through these spaces."
He described the creative process with a clip from Krulwich, who called the feeling "gut churning."
"It wasn't about plans or strategy, it was about gastric acid. The sound of my stomach at 3 a.m. on deadline day," Abumrad said. "People talk about failure, but no one talks about that crappy queasy space you've got to swim through. You're very, very afraid and you feel inexplicably that you're going to die."
The theme of nervousness, going into dark spaces, and occasionally coming out with really good work he likened to being in a dark German forest from a Richard Wagner opera. He wove this motif throughout his presentation. "The story structure is the process of getting lost, briefly getting found, then getting lost again.When you're in one of these mini-gaps, you don't know if you're going to get out. We kill a surprising amount of our stories because we don't get out," he said.
Abumrad referred to a number of his stories and those of other public radio hosts, such as Ira Glass. In one story that Abumrad pursued, he figured out why this dynamic of pursuing more stories than will ever be aired is necessary. His enlightenment came during an interview with professional poker player Annie Duke who described how she figured the pot odds while making bets.
"You're going to lose three out of every four times," said Abumrad. "You're going to feel crummy and feel shame, but in this case, those feelings are just noise. In this case, you float above them, and you say, 'Hello old friend. You don't matter.' There is a real psychic benefit to thinking about change in this way."