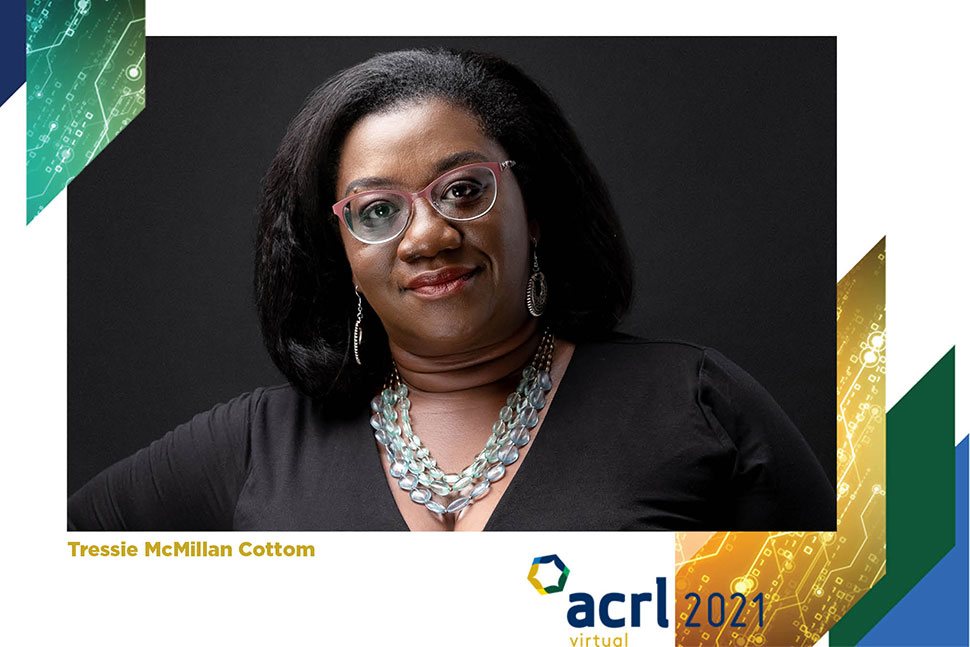 Award-winning author, educator, podcaster, and cultural critic Tressie McMillan Cottom opened the Association of College and Research Libraries (ACRL) 2021 Virtual Conference on April 13 by noting how the conference theme—"Ascending into an Open Future"—parallels conversations she's been having with colleagues around the idea of what openness means in an information-based society.
Cottom, associate professor at University of North Carolina at Chapel Hill's School of Information and Library Science, spoke about how these discussions inform the courses she teaches as well as her current thinking about the role of the academic library. One course, "Networks of Racial Capitalism," examines the effects of information capitalism and structural inequality. The class asks: What does it mean to live in a platform-based world—not just with Google and other tech giants but with library management systems? What are the terms for using these platforms, and who shapes them?
The modern academic library helps users to not just access and store information but to think through the implications of that information, Cottom observed in her keynote. "Access in and of itself is not a solution to unequal returns and experiences," she said. She recommends The Promise of Access: Technology, Inequality, and the Political Economy of Hope (MIT Press, April) and "Information Has Value: The Political Economy of Information Capitalism" as two texts that underscore this view.
"Within the university, we rarely talk about the rights of our stakeholders to information, not just access," Cottom said. "What would it look like for an academic community to develop a code of data rights?" She proposed that this code should be people-centered and would guide not just data privacy but also areas such as data autonomy.
Jon E. Cawthorne, ACRL president and dean of Wayne State University Library System in Detroit, moderated the discussion portion and fielded questions from the chat for Cottom. Several attendees wanted to know how the concept of data rights might apply to a topic like learning analytics.
"Questions about justice are the heart of how we are going to determine which platforms we adopt," Cottom said. "Which platforms align with our ideals of a just world?" The platforms that libraries use aren't merely tools, she said; they shape student experience, opening some avenues of learning and closing others. Learning analytics platforms are designed to measure "success," Cottom said, but how that concept is defined and what assumptions that definition makes depends on who is in the room when platforms are being considered and whose ideals are valued.
Access and universal design learning
Academic libraries are responsible for providing accessible collection materials to patrons with disabilities, but librarians are often unsure about the policies, budgets, and training it takes to acquire and supply these materials. This disconnect was the basis of "Where Are the Captions? Using Universal Design for Learning to Develop a Model for Accessible Library Media Access," a session presented by Rebeca Peacock, assistant professor and instructional design librarian, and Amy Vecchione, associate professor, both at Boise (Idaho) State University, at ACRL's Virtual Conference on April 13.
Peacock and Vecchione surveyed academic libraries in the Northwest United States to determine how they meet accessibility needs when providing streaming media services and other collection materials.
Most respondents recognized the importance of providing accessible materials but weren't sure how to acquire them or who was responsible for providing them. The majority of institutions had not participated in accessibility training, while 70% indicated they had no budget to provide support for adding captioning to materials. Additionally, most respondents felt the responsibility for making materials accessible lay outside the library.
As part of their study, Peacock and Vecchione identified a four-part universal design learning model to help libraries move through the phases to adopting accessible practices.
Initiating: Libraries may be aware of user accessibility needs but have not been trained.
Considering: Library researches accessibility needs but does not know how to implement change.
Exploring: Library determines needs, conducts training, and considers funding.
Adopting: Library establishes funding model, provides training, collaborates with other units, and enacts policies.
Vecchione reminded attendees that accessibility is the library's legal responsibility, but features like captions can help all learners. "Providing greater options benefits everyone," she said.