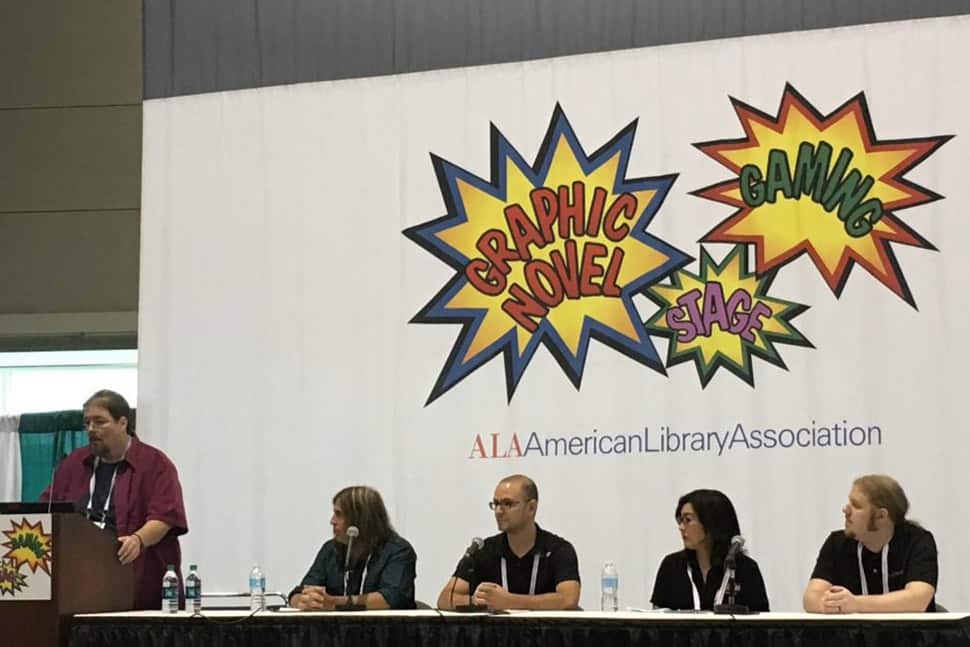 In Monday's panel discussion "Table-Top Games 101" at the Graphic Novel/Gaming Stage of ALA Annual Conference, audience members learned that librarians are noticing the popularity of tabletop games and capitalizing on the benefits for their patrons. Tabletop game experts gave a quick-and-dirty rundown of the types of games available and the best ones for libraries.
Card games such as Yu-Gi-Oh can be played between two people or as tournaments between four people. The objective is to get your opponent's score to zero. The benefits of card games include sportsmanship, problem solving, and strategy. Meanwhile, role-playing games  allow players to collaboratively use their imagination to tell stories.
Libraries can also host a make-your-own-board game night. Patrons can create a traditional board game or a cooperative game similar to Pathfinder. Patrons can even create their own pawns or die using a 3D printer. Relatedly, libraries can be a resource for game developers who need a place to make prototypes.
Because of the popularity of tabletop games, International Games Day is now International Games Week (October 29–November 4), sponsored by ALA's GameRT.
The pros gave some useful suggestions for incorporating tabletop games into your programming, such as contacting local game shops to choose, teach, and even run games.
Update, November 7: Removed reference to Ticket to Ride.