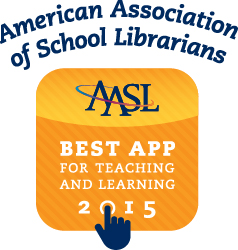 The American Association of School Librarians presented its best apps for teaching and learning in a packed session on Saturday.
The apps were evaluated on numerous criteria, including innovation, engagement, user-friendliness, cost-effectiveness, minimal (or no) advertising, a clear connection to education, and being geared to the individual learner.
Apps were also divided into categories—a book app has different qualities and requirements from a STEM app, for example. The panel acknowledged that the categories may evolve over time.  Full details about the winners are available on the AASL site.
The winning apps are:
Books
David Wiesner's Spot. Three-time Caldecott Medalist David Wiesner turns early elementary users into explorers of the many complex layers of Spot as they zoom closer and closer into the illustrations and discover unseen worlds, which beg to be further investigated.
Incredible Numbers. Professor Ian Stewart guides middle and high school students through an amazing variety of mathematical concepts and topics. Included are 23 articles and 71 interactive demonstrations that bring mathematics to life.
Loose Strands. Loose Strands will appeal to upper elementary fans of Choose Your Own Adventure books. Readers help to create a wry story by following along and choosing their desired outcomes.
Seamus Heaney: Five Fables. This app brings Scottish poet Robert Henryson's adaptations of five Aesop fables into the modern age for upper elementary students.
The UnStealer.  The Unstealer is a creative story that teaches the meaning of the prefix un-. Early and upper elementary students follow along as a stealthy thief turns an unhappy day around and makes an unconfident girl confident again.
Content Creation
Adobe Voice. This simple, elegant tool allows all ages to create stories by recording voice over their own images or a library of themes, images, fonts, and music.
Buncee. This app helps elementary and middle school students create beautiful digital stories using audio recordings and libraries of backgrounds and stickers. Wizards support beginners' efforts.
Glogster. This app adapts a favorite web-based interactive poster tool with the drag-and-drop Glog canvas and an impressive library of educational graphics.
Lego Movie Maker. All ages can create their own stop-motion movie with this intuitive app that makes it easy to stage LEGOs and other objects, take multiple pictures and bring them to life as a sophisticated animation.
Pixel Press Floors. This social gaming/problem-solving app inspires intermediate and secondary students to create (by literally drawing) and share their own video games.
STEM
Algodoo. Algodoo uses 2D simulations to create scenes and allow upper elementary through high school students to experiment with physics concepts by building interactive inventions or games.
iBiome Wetland. This app allows upper elementary students to explore three different wetland habitats (mangrove swamp, saltwater marsh, or freshwater marsh) by building bio domes.
My Incredible Body. My Incredible Body lets upper elementary and middle school students learn about human anatomy by exploring medically accurate 3D models and animations.
WWF Together. WWF Together is a beautifully designed app to help teach upper elementary and middle school students about different endangered animals.
Motion Math Educator. This suite of six games covers elementary math skills from addition and subtraction, to multiplication and division, to fractions and decimals.
Organization and Management
Kahoot. Teachers can use Kahoot to create a quiz or a survey that students respond to through any device that has a web browser (iPhone, iPad, Android device, Chromebook). Questions can include pictures and videos.
Remind. Remind offers teachers a free, safe, and simple way to instantly text students and parents.
Seesaw. Seesaw is a student-driven digital portfolio that empowers students (as young as 5) to independently create, capture, and store artifacts of learning.
Skitch. Skitch is a free app that helps you communicate visually with friends, coworkers, and the world.
Spider Scribe Jr. SpiderScribe Jr. is a mind mapping and brainstorming tool for upper elementary ages and up. Users can organize their ideas by connecting notes, images, and geographic locations in free-form maps.
Social sciences
Amazing World Atlas. Amazing World Atlas allows elementary students to explore and learn about world geography.
Ripped Apart: A Civil War Mystery. The Smithsonian Institution's Ripped Apart uses an inquiry-based approach to teach upper elementary and middle school students about the Civil War.
Think Like Churchill. This high-interest history app gives middle and high school students an opportunity to see events through the eyes of Winston Churchill.
Touch Van Gogh. Touch Van Gogh is a multilayered art history app that examines six paintings by Vincent Van Gogh. Upper elementary through high school students can explore the location, history, style, and composition of the paintings.
Digital Public Library of America. The DPLA brings together the riches of America's libraries, archives, museums, and cultural heritage sites and makes them freely available to students and teachers.