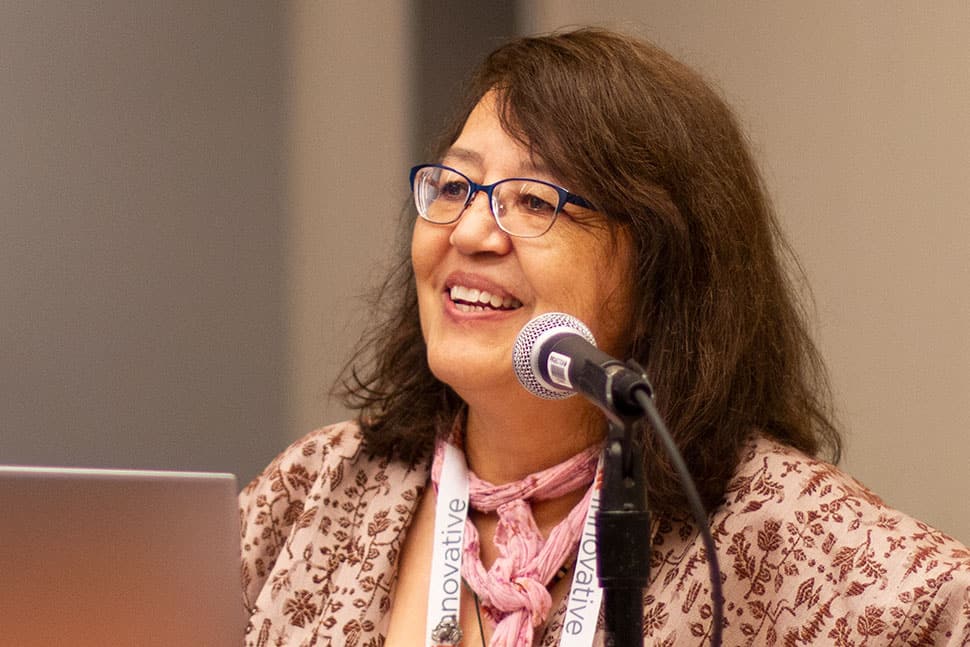 "The magic number for one's home library is 80 books or more."
That's the number at which literacy levels of all types significantly improve, said Anthony Chow, associate professor at the University of North Carolina at Greensboro, at "Resources for Rural and Tribal Libraries," a June 24 session at the American Library Association's (ALA) Annual Conference and Exhibition in Washington, D.C.
Of the Blackfeet Nation individuals he and his coresearchers surveyed, 75% reported they did not have at least 80 books in their home libraries.
"There is a strong feeling of the importance of reading and literacy [in the Blackfeet Nation], for their children's future in particular," Chow said. "But poverty is definitely a challenge."
Chow and Loriene Roy, professor at the University of Texas at Austin School of Information and former ALA president (2007-2008), presented findings from their one-year Institute of Museum and Library Services study "Reading Nation: Understanding Libraries and Literacy on the Blackfeet Reservation," conducted with Aaron Lafromboise, director of library services at Blackfeet Community College (BCC) in Browning, Montana.
The study started with a guiding question: How might libraries collaborate to foster a reading-supportive environment for Blackfeet children, youth, and their caregivers?
Blackfeet Nation is located in northwest Montana near Glacier National Park, with 15,560 enrolled tribal members and about 7,000 living on the reservation. Those living near Browning have physical access to a school library, the Browning branch of the Glacier County Public Library (GCPL), and the Medicine Spring Library at BCC. But there are unique cultural needs and barriers preventing the community from accessing library services.
Chow said that Lafromboise—herself a member of Blackfeet Nation and instrumental in clearing the way for the research team to randomly survey the community and interview them at a powwow—shared with him her own experiences not having permanent housing for much of her childhood.
Other challenges brought to the fore by the study included a school library that didn't have high-quality resources or flexible scheduling for students to visit the library (kids would get to go to the library, on average, once every three months) and a public library that didn't have a culturally relevant collection or a welcoming presence (a tall fence was erected around the library to curtail vandalism but mostly scared users away).
"I've never seen a public library with bars around it," said Chow of GCPL's Browning branch. "This is not a way to welcome the community in." Roy said the image that stuck with her was seeing someone ride their horse to the fence outside the public library, get their phone out, and use the Wi-Fi from horseback rather than go inside.
Chow said that the study indicated that the materials circulated at GCPL were more reflective of the tourists who visit Glacier National Park than the people who live there. He added that the library director not having an MLIS is a significant point: "When you don't have your master's, you might not have the sense of what a professional librarian can do."
Instead, it's Lafromboise's library at BCC that is seen as the "public" library in town. "Aaron does a great job of bringing culture in," Chow said. "She sees the library as a place to drop in."
The study inspired some priorities going forward, including a focus on getting books into Pre-K and elementary schoolers' hands, expanding the reservation's Little Free Library program, supporting school and public library partnerships, and getting tribal members on the advisory board for public libraries.
Another benefit of the study is the inroads the outreach has created in the community. "Aaron said, over and over again, this has been really good in building relationships with everyone we've talked to," Chow said.
Added Roy, "If you want to capture native people's opinions, go to a basketball game. … [Go to a powwow] and get a Wi-Fi hub and get some good swag."