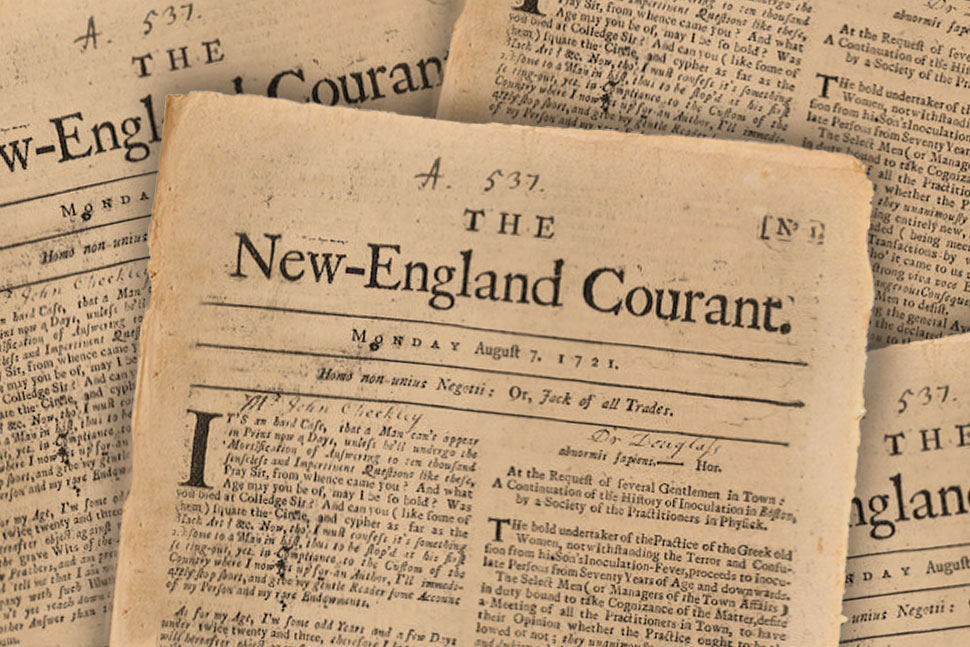 23 million
Number of items contained within the Boston Public Library (BPL) system. BPL is ranked second only to the Library of Congress in collection size.
3
Rank of Harvard University, another Boston-area institution, on the same list of the nation's largest libraries by volumes held.
1721
Year that the New-England Courant, considered the first independent newspaper in the colonies, was established in Boston by James Franklin—older brother to Founding Father and printer's apprentice Benjamin Franklin, then 15 years old.
15.1
Percent of people who walk to work in Boston, the highest among major US cities, according to a US Census Bureau report.
3,249
Area, in square miles, covered by the Massachusetts Bay Transportation Authority. The system averages approximately 1.3 million passenger trips per weekday.
15,251
Number of places to eat and drink in Massachusetts, according to the National Restaurant Association. Be sure to check out "Boston's Best Eats," AL's dining guide for Midwinter, for inspiration.
450
Number of organizations expected to exhibit at Midwinter this year. For more on what to expect in the Exhibit Hall and at Midwinter, read our "2016 ALA Midwinter Preview."
6
Number of years since Midwinter was last held in Boston.
3
Number of years since the Red Sox last won the World Series.
92,000
Pounds of British East India Company tea that was dumped into Boston Harbor at the Boston Tea Party, the night of December 16, 1773.
112 1/2
Beacon Street address of the fictional TV bar Cheers. (Cheers Boston, a tourist attraction, is located at 84 Beacon Street.)
9
Age of Sylvia Plath when the Boston Herald published her first poem, "Poem," in 1941.
100 million
Number of copies of Richard Scarry books that have sold around the world. Scarry, who is a Boston native, illustrated more than 150 books in his career.
1
Number of ALA-accredited library and information studies master's programs located in Boston. That would be the program at Simmons College's School of Library and Information Science.