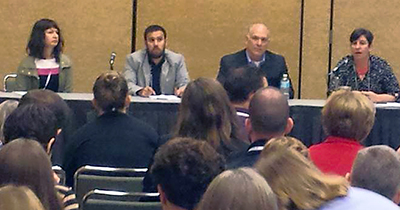 In the library world, data drives almost everything we do. It is at the core of cataloging, it's essential to collection development, and it is the demographics that we collect and analyze in order to learn more about our patrons and our communities. But while many librarians are expert data gatherers, it can be a challenge to translate that raw data into the stories or services that are most valuable to our patrons and constituencies.
In answer to these challenges, Saturday's PLA-sponsored session, "Rethinking Patron Engagement: Making Data-Driven Decisions," featured four presenters from libraries across the US who discussed the approaches their respective library systems have used to move beyond traditional data gathering and analysis to gain a deeper, more nuanced understanding of the needs and interests of current and potential library users.
The first speaker, Daniel Tilton, teen and adult services librarian with the Seattle Public Library (SPL), gave an overview of SPL's Millennial Factor Project Team (MFPT). Specifically, Tilton talked about the tools SPL used to learn about Seattle's Millennial population, in order to better engage with the age group and increase its use of the library.
First, SPL began tracking age-specific usage data from vendors like OverDrive, Boopsie, and Hoopla, which gave the MFPT a clearer understanding of which SPL resources were being used by Millennials, and how often.
The MFPT also wanted data on those Millennials who didn't have or use library cards, so they contracted with Seattle-based company, Paradoxes, to conduct market research.
Paradoxes surveyed hundreds of Millennials and used two specific survey questions—"How often do you visit a library branch?" and "How many books do you read in a typical month?"—to predict other library-use behaviors. Using the data they gathered, Paradoxes divided Seattle's Millennial population into five distinct groups (market segments) based on their interests, potential behaviors, and level of engagement with the library.
The MFPT used demographic analysis methods to learn about Seattle's Millennials, which, Tilton explained, "provided a much more detailed picture of who lives in a specific geographic region and are an invaluable tool for understanding what kind of services will benefit a specific neighborhood."
In the end, the MFPT had data-driven, composite sketches of the library-use behaviors and potential behaviors of Seattle-area Millennials, and used this information to design user-focused pilot projects.
The next presenter, Tess Mayer, director of public services and mobile service with King County (Wash.) Library System (KCLS), discussed how KCLS used the data collected through the MFPT's research to develop pilot programs targeted specifically at Millennials.
Mayer noted that the raw market analysis data received from Paradoxes was instrumental in revealing specific areas of interest for each market segment. For example, they were able to determine that streaming media, convenient access, and downloadable resources were the top-ranking services that Seattle's Millennials look for.
In addition, an examination of the Millennials in a given geographic region helped determine the types of programs to provide in those areas, as well as the best locations to provide them.
With this data in hand, the MFPT implemented three Millennial-focused pilot projects:
Open Air: A pop-up library with modular furniture, this project allows SPL to embed a library presence in a variety of off-site locations. Open Air is designed for versatile, dynamic outreach, and by setting up at music festivals and near grocery stores the pop-up venue enables SPL staff to engage with Millennials in the course of their daily lives.
Seattle Cooks: Market research showed that interest in cooking—and resources about learning to cook—cut across all market segments. To serve this need, SPL brought in culinary students from Seattle Culinary Academy to lead cooking demonstrations; during each event, which proved to be very popular, library staff heavily promoted SPL's food and wine materials collection.
Seattle Writes: The final pilot program focused on Seattle's local community of writers, of which Millennials make up a large segment. SPL hosted a writing contest where the winner had their book published in ebook format and added to the library catalog.
With all of these programs, Mayer explained that they leveraged social media and the library's online presence to engage Millennials by promoting programs and services on Facebook and Twitter. She also stressed that an important part of reaching out to, and fully engaging millennials, means moving past generalized marketing avenues, toward an approach where the marketing message is crafted to the needs, interests, and delivery methods preferred by each, specific market segment within the millennial age group.
Mark Andersen, Director of Learning and Economic Advancement at Chicago Public Library (CPL), presented next, focusing on outcome-based measurements and how these data analysis methods can help libraries to ensure that their programs and services are achieving the expected goals.
Andersen explained that, fundamentally, outcome-based measurements can help libraries determine whether or not programs or services are making a difference by answering these primary questions: "What did they [the patrons] do in the program? How did they learn? And, are they better off?"
Andersen shared that, at CPL, these outcomes are measured using a tailored Logic Model, which is a process of evaluation that helps determine if the desired outcome for a project has been achieved.
By outlining a program's inputs (resources needed to run the program), outputs (number of participants, number of items created in a program), outcomes (skills or abilities learned in a program), and key performance indicators (signs that determine if the outcome has been achieved), the Logic Model serves as both a planning tool, and an evaluation method, for ensuring the success of a program or project.
The session's final presenter, Diana Plunkett, manager of strategic initiatives at the Brooklyn Public Library (BPL), spoke about data gathering and the challenges that libraries face in turning data into clear, accessible stories about the value of the library.
Plunkett contended that libraries need to transparently and consistently share data, make it clear where their data comes from, and make obvious decisions with that data. "The numbers are not the whole story," she said, "they're a part of the narrative."
As an example of effectively gathered and distilled data, Plunkett talked about how BPL created Library Tabulation Areas (LTAs) using census-tract maps and overlaid those with the locations of branches in Brooklyn. The result was a data-rich map that allowed BPL to compare demographic data and library-use information across LTAs.
BPL also used Tableau, a data visualization tool, to compile circulation and other statistics for the entire library system into a single database. They then translated the data into pictures and graphics, to make the data accessible to people who were not as comfortable working with numbers and charts.
Finally, Plunkett spoke about BPL's PowerUser Program, which, she said, was designed to "engage deeply with patrons and to have patrons help us understand what they need from the library." Supported by the idea that all library-use behaviors matter, the PowerUser Program tracks database usage, check-outs, and program attendance. Patrons earn points, are ranked based on their library use habits, and can go online to see how their usage compares with other library users.
While BPL has had some successes, Plunkett noted, "What's challenging about all of the information we want to track, is in finding the data. Some ebook vendors don't track users by barcode. Also, sharing the data is challenging" because they have to convince patrons and staff of the value of sharing the data, all while balancing privacy concerns.
Still, Plunkett strongly believes in the power of data, and its usefulness in proving the relevancy of libraries. "Take small steps," she advised, in closing, "and gather data from all of the things that we do. We can really learn, and add value by telling our story, and making sure people are aware of all that we do."