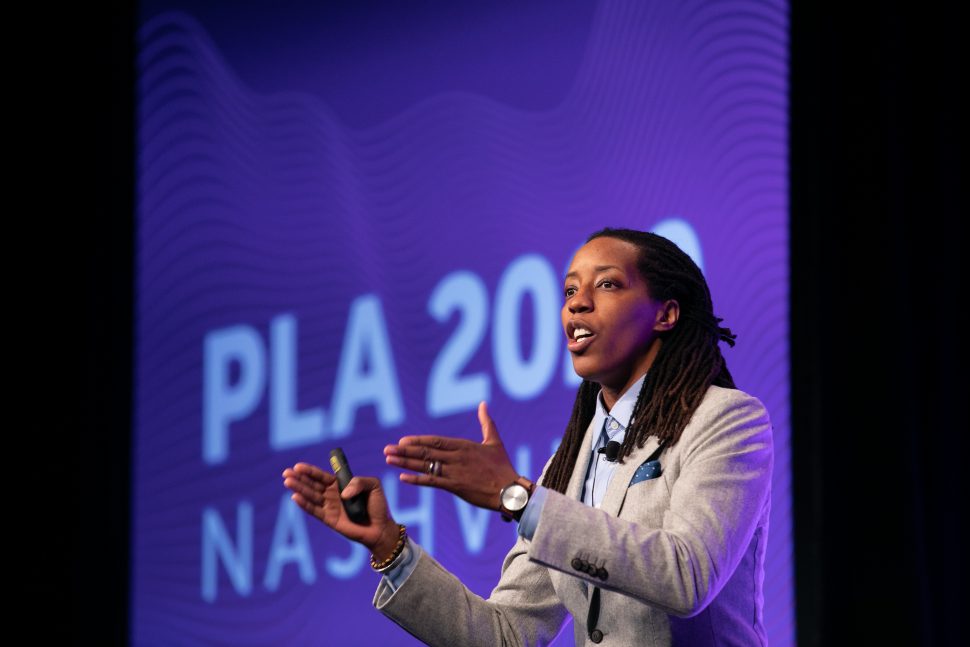 No one in this room will see the end of racism, but what if we fight as if it's around the corner?"
Bettina Love, education professor and author of We Want to Do More Than Survive: Abolitionist Teaching and the Pursuit of Educational Freedom (Beacon Press, 2019), posed this question to attendees of the Public Library Association 2020 Conference's Big Ideas session in Nashville on February 27.
In her dynamic talk, she confronted the ways in which "black and brown people are seen as deficient," described an "educational survival complex" that mirrors the prison industrial complex and treats people of color as criminals, and explained why people with privilege need to move beyond allyship—and become "co-conspirators."
"'We who are dark can see America in a way that white Americans cannot'… [W. E. B.] DuBois says this in 1926," Love said. "Listen to us! When we have conversations about equity and diversity, and we don't have any people of color around that table, we're not really having that conversation."
One conversation that's overdue? The education system in the United States commits a "spirit murdering" of black and brown children, she said. She showed the audience a headline from just two days earlier about a video that had surfaced of an Orlando police officer arresting and zip-tying a 6-year-old black girl for having a tantrum at school.
"How does this young black girl go back to school the next day and feel loved?" she asked. "The conversation has to be 'What do you see when you see us?'"
Love implored audience members to become abolitionists. "Our schools, our libraries, are some of the most segregated places in the country," she said. "This whole world is developed around whiteness; that's what it means to be marginalized." She cited examples, from the 3,000 deaths in Puerto Rico caused by Hurricane Maria that were largely ignored, to the drinking-water crisis in Flint, Michigan, to the fact that automatic soap dispensers may not recognize black skin. There isn't a playbook for dismantling whiteness, she added, but it takes work, dedication, and struggle.
A place to begin, Love said, is by changing how we talk about the experiences of people of color. "If we're going to tell the story of black and brown folks in this country, tell the full story. Don't just focus on the pain," she urged, but also relay the joy, creativity, and imagination of these people.
Love also told attendees to go above just being an ally. She recounted the story of Bree Newsome, the black woman who climbed a flagpole in 2015 to take down the Confederate flag flying at the South Carolina State House—but also the story of James Tyson, the white man who was arrested with her and protected her from getting tased.
"James Tyson used his privilege to save that black woman's life," Love said. "That's what it means to be a co-conspirator—to take a risk for someone else."
Love closed her presentation by highlighting organizations and movements across the country that are doing the heavy lifting for anti-racism, including Black Lives Matter, police and prison activist group Dream Defenders, immigrant youth–led United We Dream, youth-organized protests for environmental justice, and the Black Educators Network in Madison, Wisconsin.
"Education can't save us—we have to save education," said Love. "We must be prepared to go for broke."