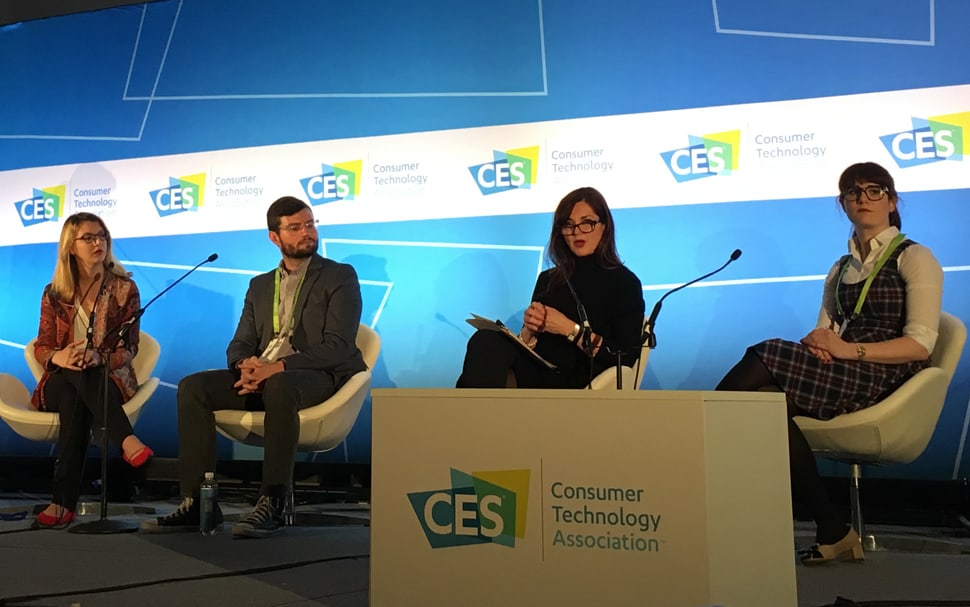 The theme of this year's CES (formerly the International Consumer Electronics Show) was "Whoa." And yes, the event—which attracted more than 184,000 attendees to Las Vegas January 9–12—is impressive in scope. Session topics covered sleep technology, quantum computing, karaoke systems, and tech advances in autos in addition to the more library-related areas of artificial intelligence, net neutrality, the future of video, and a book club featuring interviews and signings with big-name tech authors.
CES also has a public policy track, which included the "2018 Preview: Federal Communications Commissioner Roundtable" with commissioners Brendan Carr, Mignon Clyburn, and Michael O'Rielly, moderated by Julie Kearney, vice president of regulatory affairs for the Consumer Technology Association (CTA). Much of the roundtable talk focused on recent net neutrality actions; Clyburn is a Democrat, and Carr and O'Rielly are Republicans, so the discussion on this hot-button issue was occasionally tense.
A wide-ranging panel on public policy issues, "Protecting the Internet Economy," was moderated by Michael Petricone, senior vice president of government affairs at CTA and a member of ALA's Public Policy Advisory Council. Panelists included Rachel Wolbers, policy director of Engine; Austin Carson, executive director of TechFreedom; Nuala O'Connor, president and CEO of Center for Democracy and Technology; and Sasha Moss, technology policy federal affairs manager at R Street Institute. They spoke about technology's role in democracy, net neutrality, and the roles of the FCC and the Federal Trade Commission. Another popular topic was what the US regulatory framework should look like, given that technology moves faster than Congress's ability to make new laws.
The 2018 CES Innovation Awards Showcase provided opportunities to learn about emerging technologies and trends for libraries. For example, the Short Edition kiosk dispenses short stories of one, three, or five minutes in length at the push of a button. LooxidVR is the first mobile virtual reality headset to provide eye-tracking cameras and brainwave sensors that seamlessly measure both eye and brain activity. The Anyractive and Cremotech C300 transforms any display surface (such as TVs, monitors, or projectors) into interactive touch screens that allow people to draw, write, and collaborate.
As consumer technology and services proliferate, consumer expectations for information access rise. Broadly speaking, many of the opportunities and challenges for libraries in the coming years can be seen now at CES exhibit floors and panel sessions. Librarians should understand how to use this information to benefit their libraries and the communities they serve.