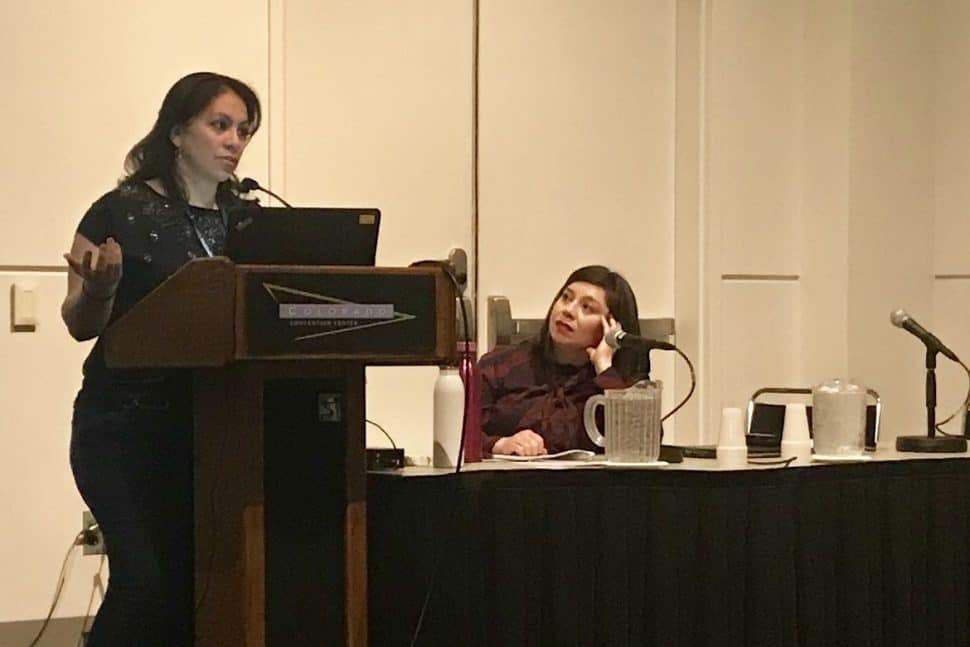 Societal shifts happen so often and so quickly that it can be difficult for public libraries to develop library programming that will meet the needs of their patrons in the future. Two staff members from the Denver Public Library (DPL), Viviana Casillas, a program administrator, and Yanira Duarte, the Summer of Learning program coordinator, shared how their library is responding to the needs of their changing community.
The session, titled "Equity-Driven Services and Programs: Exploring Alternative Information Services at the Library," took place on Monday morning as part of the Symposium on the Future of Libraries at the American Library Association Midwinter Meeting & Exhibits in Denver. Even as the Midwinter Meeting winds down, leaving some librarians exhausted, Casillas and Duarte held the attention of their audience by energetically sharing the measurable change that their programs are creating in Denver.
Duarte and Casillas started their presentation by explaining the "Inward → Outward" method that DPL uses to respond to community needs. Their initiatives typically start with an inward perspective that is based on input from library staff members. Everyone is encouraged to make suggestions, from janitorial staff to upper level administrators. DPL uses these suggestions, along with community assessments and input from community partners, to create strategic initiatives for programming and services. Each project is also evaluated for outcomes, providing valuable feedback about the impact that the programs have on the community.
Duarte gave an example of what this process looks like in practice. From the inward perspective, DPL developed a Leadership Academy in order to grow future leadership within the library. One of the Leadership Academy projects led to an initiative called Community Conversations that turned the library focus outward. From these conversations, the library was able to connect community members with their legislators and civic leaders, with architects and contractors building in their neighborhoods, and to connect neighbors with each other. In doing this, DPL also gained some passionate community advocates for the library.
Career Online High School (COHS) has also become a part of DPL's response to evolving community needs. DPL staff identified low graduation rates in parts of Denver as a major problem in the community, and decided to change their library-centric approach of offering GED study materials and classes. DPL now allows community members of all ages a way to get their diplomas in their own time without taking the anxiety-inducing GED test or even showing up at the library (although computer access and assistance is always available if needed). Casilla noted that COHS is a non-judgmental way to go back to school and described the pride of the students and their families when they are offered scholarships and ultimately graduate with their high school diplomas.
The audience was eager to ask about and implement similar programs in their own libraries. The other projects presented were DPL's Summer of Adventure, the development of a community resources department to assist the homeless population using the library, and Plaza programming that provides services to immigrants and refugees.