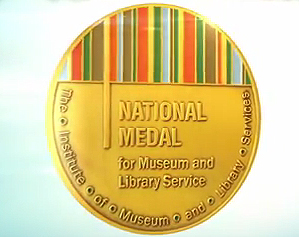 Chicago Public Library (CPL) is among five libraries nationwide to receive a 2014 National Medal for Museum and Library Service, it was announced April 24. Awarded by the Institute of Museum and Library Service, the medal is the nation's highest honor given to libraries and museums for service to their communities.
CPL's distinction is the culmination of several particularly innovative years for the 80-branch system. In fall 2012 the system opened a joint public–high school library facility that made the cover of American Libraries' September/October 2012 issue. In that same issue, CPL's prototype Innovation Lab received a shout out. Since then, freelance AL blogger Timothy Inklebarger has taken note of CPL's new interactive website, powered by BiblioCommons, and will be covering the international NEXT Conference, to be held at CPL just prior to the ALA Annual Conference and Exhibition in Las Vegas, as well as the library's citywide 2014 summer learning program.
IMLS cited CPL for:
the development of its Maker Lab, which offers patrons of all ages free access to 21st-century tools such as 3D printers and 3D design software;
reinvention of the summer reading club into the 2013 Summer Learning Challenge, in which a record-breaking 71,000 children participated;
expansion of the innovative teen YOUmedia digital-learning center, which has grown from a central-library space to a five-branch program and has been replicated in approximately 30 cities. The dedicated YOUmedia spaces enable young adults to experiment with media-creation tools such as turntables, laptops, desktops, software, and of course, books, and will expand this summer into six more branches.
In an April 24 statement, Chicago Mayor Rahm Emanuel said: "This honor is a ringing endorsement of the new chapter that we are writing in the great story of the Chicago Public Library, and it is another confirmation of a recent study that named Chicago home to the best library system in America." He congratulated CPL Commissioner Brian Bannon and library staff and volunteers "for making Chicago's libraries not just a place where students and the community can share knowledge of the past, but where they can shape the future."
Bannon will travel to Washington, D.C., for a May 8 ceremony to accept the medal. He will be accompanied by Alarm Press founder and Editor-in-Chief Chris Force, who says he used the library as his business incubator. "The staff at Chicago Public Library is fantastic. Along with being knowledgeable, they're very supportive." Force insists that his new hires obtain a library card.
Other winning libraries
The four other libraries receiving medals are:
Five museums received medals as well.
Watch IMLS's video (6:37) about all the winners.