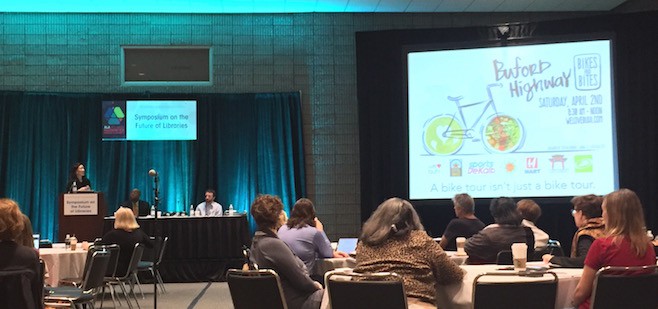 Sunday's Symposium on the Future of Libraries programming kicked off with a session on civic innovation. A panel moderated by Felton Thomas, Jr., executive director and CEO of the Cleveland Public Library, discussed how libraries can help people reshape the communities where they live and work.
Marian Liou, founder of We Love BuHi, began the session by saying "thank you" to the librarians in the room for the work that they do and for being on the front lines of our communities. She then explained how she decided to start the project. "Buford Highway is a big ugly scar of a road," she said. It stretches 50 miles from Atlanta to Buford, is bordered on either side by restaurants that serve international cuisine, and is surrounded by people who call the area home. The road does not accommodate those people, however. Liou said that Buford Highway is known to be one of the most dangerous roads in the state, but she hopes to change that.
We Love BuHi's mission is to "catalyze and support a livable, inclusive, sustainable Buford Highway through creative place-making collaborations with other social enterprises and nonprofit organizations and strategic partnerships with local businesses and governments." One specific goal is to get people to slow down, take interest, and reshape how they think about the place where they live and work.
To accomplish this goal, Liou has organized events like a bike tour of Buford Highway meant to help community members "reimagine how they use their streets." She also ran a series of international films in international restaurants on Buford Highway to give a sense of and affirm the character of the community. We Love BuHi also hosted a bus crawl as a means of "encouraging people to think about how infrastructure and design shape their lives." In doing all of this, Liou hopes to facilitate the creation of a master plan that helps the community "stitch itself together" to be stronger and connect.
Kyle Kessler, community program manager at the Center for Civic Innovation Atlanta, spoke next about the Center's mission "to inform, engage, connect, and empower people to shape the future of their city." Civic engagement is a fundamental component for success in that mission, and Center staff "feel that Atlanta needs a physical place for people who are looking to make a difference." The Center offers an inexpensive space for offices, events, and more.
One project to come out of the Center and its partnerships is Elevate, a temporary public art program. Elevate also organized a dinner for nearby residents, business owners, clergy, transit riders, and others, which took place on a street surrounded by temporarily installed murals.
Kessler and the Center have also partnered with Creative Loafing, a multimedia company founded in Atlanta in 1972. Together they examined the possibilities for renovating the Atlanta Central Library. They hosted a panel discussion in the library to talk with the public about the fate of the library before the renovations were started in order to ensure that it wasn't just a single politician's decision. During the panel, the group discussed "what a library can be," and they had the opportunity to make informed decisions together before action was taken.
In 2017, the Center for Civic Innovation will focus on upcoming elections in order to help people better understand the roles of the positions being elected. The Center will also ask individuals to submit their ideas for innovative initiatives, and match selected ideas with appropriate partners to help bring them to fruition. These ideas might include creative projects that get people to the polls, ways to get people talking about the issues, murals about quality of life issues, podcasts, community festivals, and more.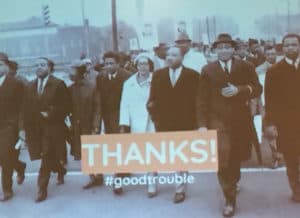 On his concluding slide, Kessler included #goodtrouble, taken from a quote by John Lewis, and reminded us to "look the problems that the city faces directly in the eye and try to solve them."
Save
Save
Save