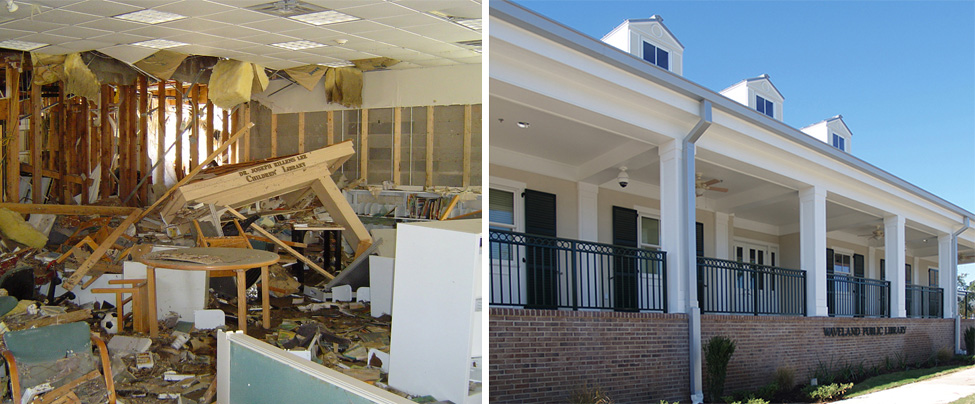 This post is the fourth of a six-part series commemorating libraries and librarians 10 years after Hurricane Katrina.
Hancock County (Miss.) had already lived through the destruction of Hurricane Camille in 1969. "We were measuring everything in terms of Camille," says Courtney Thomas, executive director of Hancock County Library System (HCLS). "When Katrina came along, we learned that Camille was not the strongest thing that could hit us."
More than 50 people in Hancock County died as a result of Hurricane Katrina, and Thomas believes that's because many had stayed in structures that had withstood Camille. "There's a saying around here: Camille killed more people the second time around."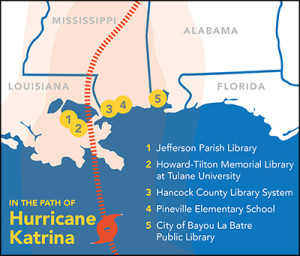 Two of HCLS's four branches—the Pearlington and Waveland libraries—were completely destroyed. The American Library Association's Chapter Relations Office initially reported that the assessment of loss and damage for the library system totaled $6 million. But the Kiln Public Library branch still managed to open two weeks after Katrina made landfall, in an effort to provide a central meeting point and essential services for a struggling community of about 43,000.
A medical clinic was set up outside of Kiln, and Harris Communications set up satellite phone service until the downed cellphone network could be restored. By October, the Bay St. Louis branch was reopened and hosted a telephone bank and the National Guard. It was important that residents had a place to use the phone and internet, get food stamp cards, copy documents, and get information and referrals—as well as a place with clean restrooms, air conditioning, and a space to relax after cleaning up all day. HCLS made DVD and book collections available as soon as possible. "People needed something to take their mind off things," says Thomas, who was not working for HCLS back then but was a resident of Bay St. Louis. And like many libraries did at the time, HCLS suspended fines and fees.
Donations poured in from across the country. The Maryland Library Association drove a bookmobile to Mississippi to be used at the Pearlington branch. SirsiDynix donated computers, and the Mississippi Library Commission provided funds for the purchase of new materials and furniture. The Rebuild Mississippi Libraries Funds and ALA made a major gift of $35,000. With a combination of insurance, FEMA assistance, and bond grant money from the state, HCLS was able to reopen the Waveland branch in 2011 and the Pearlington branch in 2013. Local government even decided to open a fifth branch—the East Hancock Public Library—in 2013, as a result of community development grants available after Katrina.
We can't just say, 'We need to move forward.' We need to remember. We're not healed yet inside.—Mary Perkins, public affairs and development officer for Hancock County Library System
"We've come so far in 10 years, but there's still so far to go," says Thomas. While she states that the library system is fortunate because Hancock County residents support and embrace the library, she says that making sure HCLS has adequate funding to run the buildings has been a challenge. "It's not an isolated problem—it's something every library faces—but we have that problem on the heels of two major disasters," Thomas says, referring to Hurricane Katrina and the 2010 BP oil spill.
With the Katrina anniversary approaching, Thomas says it gives people another chance to tell their stories. "We're still in Katrina recovery—it's just more of an emotional recovery." The library is recognizing the anniversary with special programming, including photographs by Bay St. Louis native LaChina Tillman Ozment in an exhibit called "Hurricane Katrina: Black & White," running at the Bay St. Louis and Waveland branches through the end of the month. Thomas says the community has been very receptive to the exhibit.
"I'm a firm believer that we need to recognize the people who died," says Mary Perkins, public affairs and development officer for HCLS. "We can't just say, 'We need to move forward.' We need to remember. We're not healed yet inside."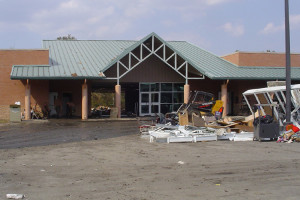 Thomas remembers how everyone transcended politics to work with one another. "There were no Democrats or Republicans. It was, 'We're Mississippians and we need to come together,'" she says. "I think that's why we were able to come as far as we did, as fast as we did."
"When something like [Katrina] happens to your community and you see the outpouring coming in from all across the country, it changes you, it humbles you," Thomas says. In a strange turn, HCLS would have the opportunity to give back to some of those who helped them directly in their time of need.
"Our county took it upon ourselves to fundraise for the Ocean County Library in New Jersey for Hurricane Sandy because we saw what their community did for us," Thomas says. "We gave what we had."