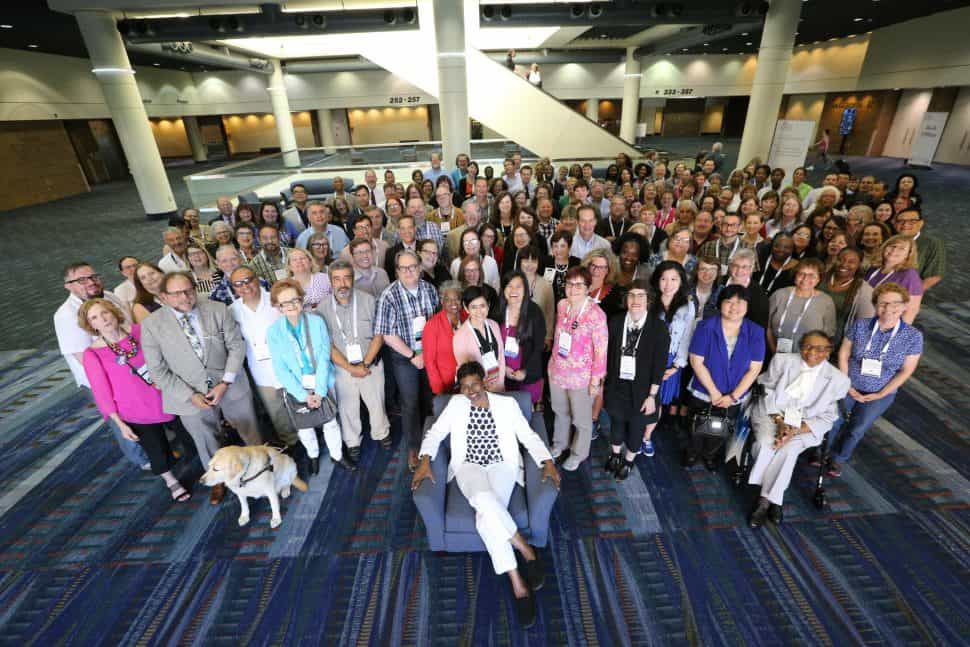 American Library Association (ALA) President Jim Neal called the meeting to order at 7:46 on Tuesday morning.
Memorials were read for Herbert Biblo (M#7), Heather Lanier (M#8), John Byrum (M#9), Mary Lynette Larsgaard (M#10), Bernard (Bernie) A. Margolis (M#11), deg farrelly (M#12), Krista McKenzie (M#13), and Stephanie Squicciarini (M#14).
Tributes were offered to honor the 50th ALA anniversary of Lois Ann Gregory-Wood (T#4), to mark the retirement of Pat May (T#5), and to thank Don Wood for his service to ALA and ALA Chapters (T#6).
Kenton Oliver, chair of the Committee on Legislation (COL), announced public policy highlights and other COL activities since Midwinter (CD#20.1–20.4). A motion to recognize the 25th anniversary of the GPO Access Act and calling for the enactment of the FDLP Modernization Act passed (CD#20.2). A resolution to reunite detained migrant children with their parents passed (CD#20.3).
Helen Ruth Adams reported on the recent work of the Intellectual Freedom Committee (IFC) (CD#19.3–19.8), including rebranding the Choose Privacy Week website as Choose Privacy Every Day to serve as a year-round reference. IFC is also developing resources for libraries hosting controversial speakers and programs. Motions to adopt several interpretations of the Library Bill of Rights regarding meeting rooms (CD#19.6), library-initiated programs as a resource (CD#19.7), and services to people with disabilities (CD#19.8) all passed.
Gay, Lesbian, Bisexual, and Transgender Round Table (GLBTRT) Councilor Ann Symons proposed a resolution on increasing the number of gender-inclusive bathrooms at ALA conferences and meetings (CD#42), which passed with an amendment.
ALA Executive Director Mary Ghikas reported on the final registration totals for the Annual Conference in New Orleans: 12,423 attendees and 5,176 exhibitors, for a total of 17,599 registrants. This compares with 22,172 registrants in Chicago in 2017 and 16,395 registrants in Orlando in 2016.
The meeting adjourned at 8:51.