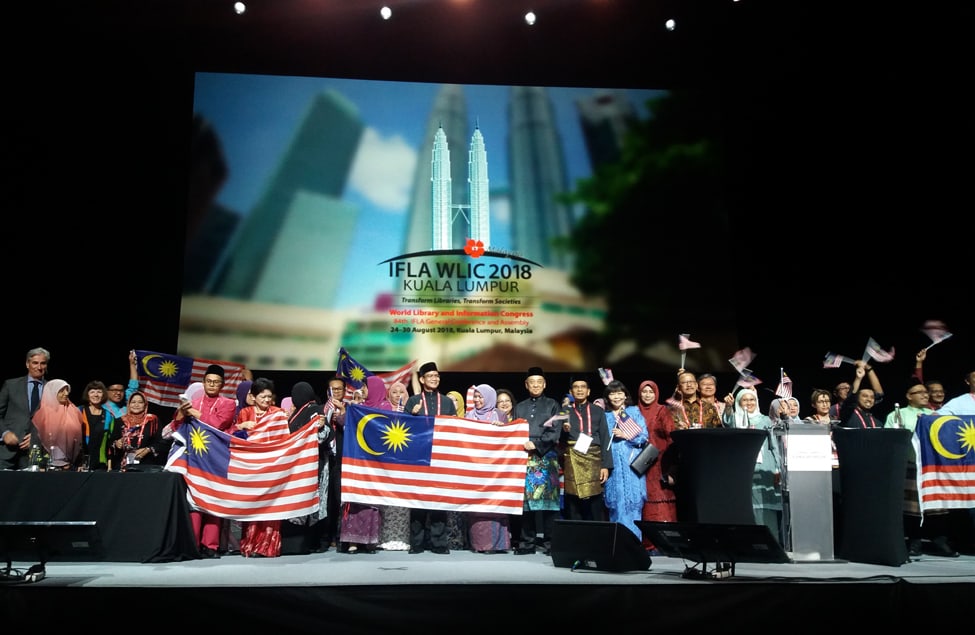 "There is no truly sustainable development without access to information, and no meaningful, inclusive access to information without libraries," International Federation of Library Associations and Institutions (IFLA) President Donna Scheeder told the delegation at the Closing Session of the World Library and Information Congress (WLIC) in Wrocław, Poland, on August 24.
Scheeder, addressing the crowd for the last time as president before Glòria Pérez-Salmerón's term begins, emphasized the organization's commitment to supporting the United Nations' 2030 Agenda for Sustainable Development and strengthening regional strategy during her term. "I never imagined we would travel so far together, so fast," she said. "You create the kind of change that you want to see for your libraries and yourselves."
Presentation of awards and recognition
This year's IFLA Professional Unit Communication Award joint winners are the Academic and Research Libraries Section and the Knowledge Management Section.
Best IFLA Poster 2017 was awarded to Sabariah Sayuti, Mastura Hj Muhamad, and Norjasmin Jumhar, all from Malaysia, for their poster "The Buggy Ride."
IFLA Scrolls of Appreciation were extended to: the Polish National Committee, including Wrocław Mayor Rafał Dutkiewicz, Polish Library Association President Elżbieta Stefańczyk, and National Library of Poland Director Tomasz Makowski; Elena Escolano Rodriguez, in the area of development, review, and internationalization of IFLA standards for cataloging and bibliographic control; Terry Weech, in the area of internationalization of library and information science education; and Nancy Bolt, in the area of development of government libraries and through her commitment to library services for people with special needs.
The IFLA Medal was awarded to Martyn Wade, for championing freedom and access to information and core professional values, spanning a career of more than 40 years. Wade was previously chief executive for the National Library of Scotland until his retirement in 2014. A former IFLA parliamentarian, his clarity and inclusiveness within the organization was praised.
The winner of the IFLA #WLICWOW contest, for the most inspiring social media demonstrating the benefits of attending WLIC to a wider audience, is Vuyokazi Jamieson (South Africa). Out of 106 entries, Jamieson was selected for free admission to next year's WLIC.
The winners of the WLIC Passport Competition are Anita Rucioch-Golek (Poland) and Anoja Fernando (United Kingdom). Both receive free admission to next year's WLIC.
Announcements
Datuk Rashidi bin Hasbullah, the deputy secretary general of the Ministry of Tourism and Culture for Malaysia, was on hand to promote the 2018 IFLA WLIC, to be held in Kuala Lumpur. "It is exactly one year from today," he said to applause. "I'm very positive that the WLIC in Malaysia will continue the same tradition, and we'll show you that Malaysia can offer the best meeting experience to all delegates."
The location for the 2019 IFLA WLIC was not announced at the Closing Session. The IFLA governing board is giving candidates more time to develop their bids, and an announcement is expected by the end of 2017.

Do widzenia, Wrocław
IFLA Secretary General Gerald Leitner announced that the conference was attended by more than 3,000 people, and more than 23,000 tuned into the livestream of the conference.
The Polish National Committee thanked the delegation for making the trip. Dutkiewicz professed his own commitment to multiculturalism and the importance of organizations like IFLA. "I deeply hate everything that is connected with nationalism," he said to a crowd representing 120 countries, to a standing ovation.