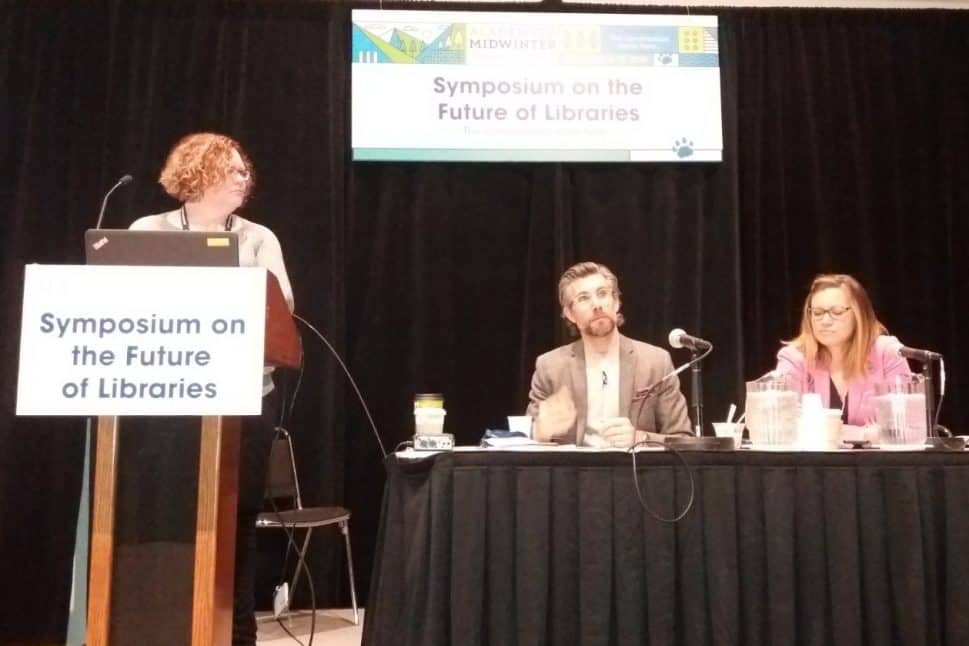 BlackBerry, Blockbuster, Circuit City, Hostess, MySpace, Polaroid, Xerox. "Who can tell me what all of these organizations have in common?" asked Peter Piccolo, executive director of innovation at the Imaginarium: Denver Public Schools Innovation Lab. "These were [brands that] were on the cusp of making millions of dollars if they could innovate, and yet they failed."
Piccolo kicked off "Libraries Transform: Education Innovation" at the American Library Association's 2018 Midwinter Meeting & Exhibits in Denver on Saturday by sharing his organization's framework for creating change: design thinking and research, two concepts familiar to library professionals. The session was part of the Symposium on the Future of Libraries series, and Piccolo was joined by copresenter Nina Sharma, managing director of the University of Denver's Project X-ITE.
"As human beings, we're not biologically wired to change," Piccolo said. "You have to manage change intentionally." He offered 10 key takeaways to spur innovation and inspire attendees, including creating psychological safety for employees so they're inclined to take risks; eliminating structural barriers so people have incentive to innovate; inviting "diversity of perspective and creative chaos" instead of waiting for eureka moments; and being an ambidextrous leader who does not confuse innovation with implementation.
Piccolo also stressed that innovation means having a bias toward action—even if that means failure. "Failure has been romanticized," he said. "There's bad failure and good failure, and when there's good failure you have to know how to improve."
Failure is a tenet embraced in the manifesto of Project X-ITE, a cross-disciplinary campus initiative designed to "get shit done," joked Sharma. She described Project X-ITE—an entity that helps students incubate startups, facilitates networking with entrepreneurs, hosts pitch competitions, and "throws people in a room together and sees what happens"—as an organization that works with each of the school's 11 deans to bring projects to 90% completion.
"We're supposed to challenge the paradigm," said Sharma. "We're not seeking perfection. It doesn't have to be right. It just has to be out there."
How can libraries get started with innovation?
"You can start innovating without senior leadership support," said Piccolo, who suggested setting aside a nook where people can use sticky notes, whiteboards, and other materials to harness inspiration. He adds that it's important to establish values for your team in order to create the conditions for productive chaos.
"Look outside your sector for innovation and ideas," said Piccolo. He noted that the Imaginarium was influenced by the micro-level service of food trucks, and told attendees about a hospital whose surgery team found inspiration in the movements of a NASCAR pit crew.
Piccolo capped his presentation with a question he thinks about often: "If public education doesn't innovate, will it go out of business?" He added, "I'm sure this applies to public libraries. Where will people go for information?"