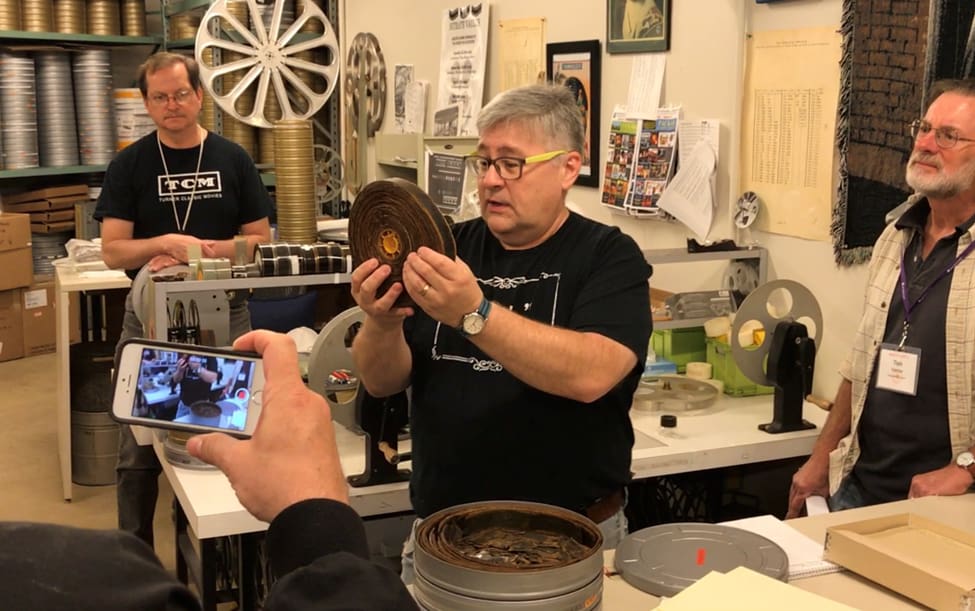 Film scholars, archivists, and enthusiasts huddled in the dark movie theater with a steady stream of live piano music playing in the background. Those in the theater fastened their eyes on the flickering film screen, drawing on their pooled expertise and yelling out clues. Some recognized model years of cars. Others spotted actors, locations, and even dates on calendars in the background. Several had their laptops open and were frantically searching the Media History Digital Library for blurbs in trade papers of the period.
Nearly 200 people had gathered for a labor of love and a test of their research skills and knowledge of film history June 15–17 at the Library of Congress's (LC) Packard Campus for Audio-Visual Conservation in Culpeper, Virginia.
The 45-acre campus is where LC acquires, preserves, and provides access to the world's largest and most comprehensive collection of films, television programs, radio broadcasts, and sound recordings. It includes 124 individual vaults for nitrate film, as well as a 206-seat theater with a projection booth capable of showing nitrate prints.
The purpose of the sixth annual "Mostly Lost" workshop was to screen films from various archives, including LC, that remain unidentified and, by culling the collective expertise of attendees, succeed in unmasking these elusive clips.
Film decay
Although some of the films had sound, the lion's share of reels date back to the silent film era—many of them lost forever because of decomposition of nitrate film stock, film studio neglect (both benign and malign), and disastrous film vault fires.
As explained by the National Film Preservation Foundation on its website, "Cellulose nitrate film stock was in commercial use through the early 1950s, when it was replaced by cellulose acetate plastic 'safety film.'"
It continues, "Nitrate degradation is a slow chemical process that occurs because of two factors: the nature of cellulose nitrate plastic itself and the way that the film is stored. As nitrate film decays, it can become highly flammable at relatively low temperatures."
The carnage wrought in this fragile area of film history has been amply documented in David Pierce's book, The Survival of American Silent Feature Films: 1912–1929 (Council on Library and Information Resources and the Library of Congress, 2013). Pierce, who is now on staff at LC, revealed that only 2,749 (25%) of American silent feature films survive in complete form; another 562 survive in fragments.
Identifying rare images
Back in the theater, a team diligently took notes on everything that was said, while Rob Stone, moving image curator at LC, and Amy Jo Stanfill, LC moving image archivist, repeated the information into a microphone and occasionally brought the mic to individual audience members. Meanwhile, three accompanists, Ben Model, Philip Carli, and Andrew Simpson, took turns at the piano to provide live music.
In many instances, only short fragments survive. And some clips are so old, primitive, and obscure, with forgotten casts and painted sets, that only a hardened researcher with a keen eye for film company logos embedded somewhere within the frame, title card typefaces, and sprocket hole styles could even begin to find the trail.
Nevertheless, these intrepid cinema archaeologists identified several, including a Selig Polyscope Company film from 1913, The Girl and the Judge, with Hobart Bosworth and Kathlyn Williams, popular actors of the period, and a circa-1910 Western starring Francis Ford (brother of legendary director John Ford and a prolific director in his own right) and produced in America by Georges Méliès's brother Gaston.
Others clips were partially identified, including several silent comedies, an early silent film shot on the East Coast with Native American actors James Young Deer and Mona Darkfeather, and a 1930 silent comedy with the duo of Syd Saylor and William Irving blatantly ripping off Stan Laurel and Oliver Hardy (with Saylor sporting Laurel's hair style and characteristic hand gestures) and stealing premises from two Laurel and Hardy films, including the lost Hats Off.
Not all the films screened were fictional. The treasure trove included an industrial film advertising the inner workings of the Dodge Brothers' automotive plant in Detroit, travelogue footage depicting a hiking trip through 1930s Germany, scenes of a Zeppelin dirigible test from the 1920s, a charming puppet show filmed in color, and shots of life on a Russian farm that was, according to records, owned by the son-in-law of author Leo Tolstoy.
Fires, wars, and zombies
In addition to the screenings, several film historians, authors, and scholars delivered presentations, including a rather sobering one by Pierce on the apocalyptic 1937 Fox film vault fire that destroyed the studio's output dating back to 1914. Original negatives and backup material were consumed, and today what has been salvaged amounts to only 14% of what was produced. Even worse, Pierce revealed that other studios had stored their material in those vaults, located in Little Ferry, New Jersey. The non-Fox material included negatives to Buster Keaton's short films.
Writer Kelly Robinson's presentation focused on silent horror films, many lost, that were the first examples of werewolves, vampires, and zombies on screen.
Attendees also had a chance to view rare films, including the powerful 1926 film Corporal Kate, which graphically re-created the horrors of World War I through the story of a nurse stationed in France, and the recently rediscovered fragments of the feature Now We're in the Air, with Wallace Beery, Raymond Hatton, and Louise Brooks.
Also shown was the 1910 Edison version of Frankenstein, which had been long coveted and held and jealously guarded by a private collector; a 1915 feature, The Devil, which featured blue tinting during one of the scenes; and a film featuring Fox studio head William Fox welcoming stars and executives to an anniversary celebration for the studio in 1926.
Newcomers were treated to a tour of the facility's nitrate vaults, with its system of protection that includes firewalls, sprinklers, and appropriately frigid temperatures.
During the tour, George Willeman, who is nitrate film vault manager at LC, demonstrated what happens to nitrate film when it decomposes. He also deflated a few myths about nitrate, including one contending that shock will cause nitrate to explode—he took one can of nitrate film and banged it against a table without any effect.
"Mostly Lost 7" will take place June 2018. Find out more by contacting mostlylost@loc.gov or visiting the Facebook group Friends of Mostly Lost.