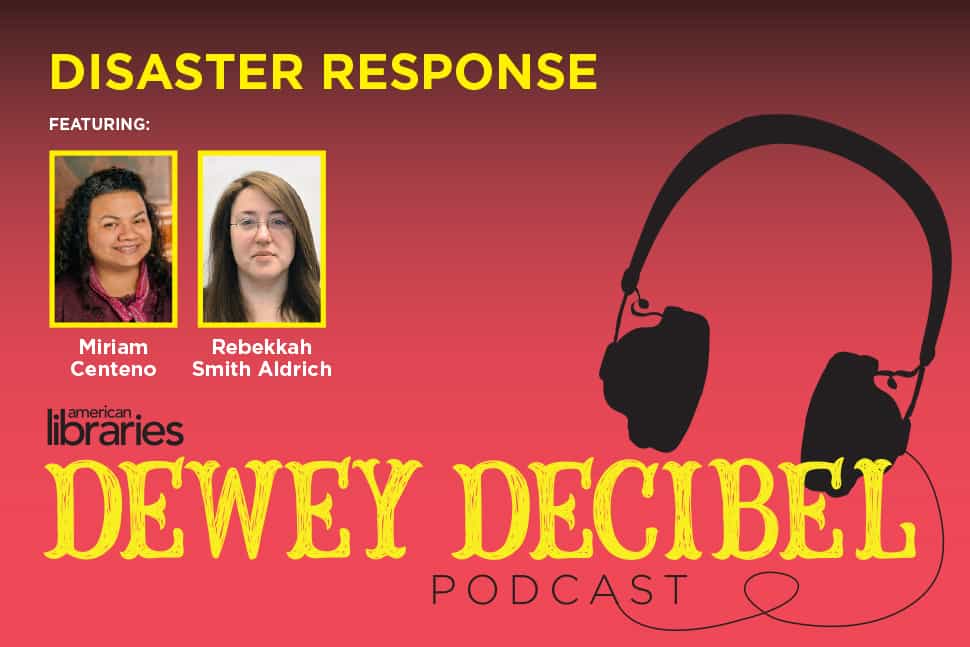 In Episode 25, Dewey Decibel talks with two librarians whose expertise has them on the front lines of disaster relief and preparedness.
First, American Libraries Associate Editor Terra Dankowski talks with Miriam Centeno, a collections care coordinator at the University of Illinois at Urbana–Champaign Libraries, who traveled to Puerto Rico to help train librarians in preservation and collections care following Hurricane Maria in September 2017. Centeno shares what she saw and learned during her trip to the storm-damaged island. (Centeno invites those with information on activities at Puerto Rico's archives, libraries, and museums following Hurricane Maria to take a survey that will help create a timeline of funding, initiatives, and media coverage.)
Next, American Libraries Associate Editor and Dewey Decibel host Phil Morehart speaks with Rebekkah Smith Aldrich, coordinator for library sustainability at Mid-Hudson Library System in Poughkeepsie, New York, and author of Sustainable Thinking: Ensuring Your Library's Future in an Uncertain World and the forthcoming book, Resilience, both published by ALA Editions. Aldrich discusses the different kinds of disruptions that can affect libraries and why libraries are vital to communities after a disaster.
If you have feedback for the Dewey Decibel team, email us at deweydecibel@ala.org. Tell us what you like, what you don't like, or what you'd like to see us cover. Follow us on Twitter and leave us a review on iTunes.